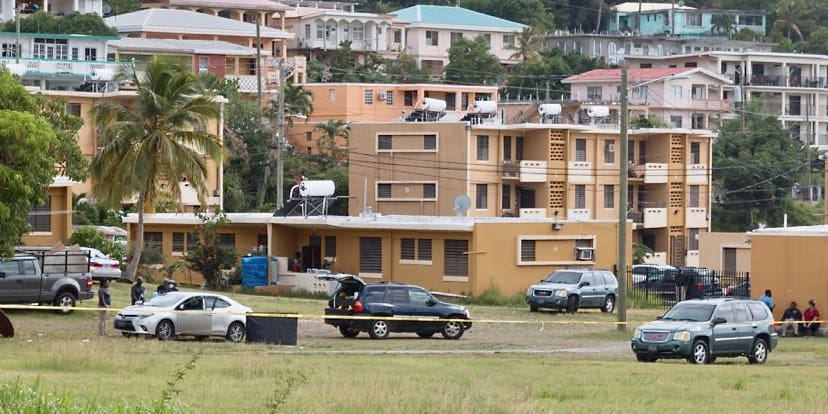 A St. Thomas man was arrested over the weekend, charged with fatally beating and stabbing a neighbor at Oswald Harris Court. Police investigators say the accused confessed he attacked the woman while she was sweeping a hallway outside the place he lived.
On Monday morning, defendant Ajhara Francis, 37, appeared in an orange Corrections jumpsuit on a video conference link before Superior Court Magistrate Paula Norkadis. Nokadis set bail at $500,000, declaring Francis a flight risk and a danger to the community.
First responders arriving on the scene on Saturday found 41-year-old Laura Blyden unresponsive, and she was later pronounced dead. Police Detective Delbert Phipps, who responded to the scene after picking up a radio call about a disturbance, said Blyden was believed to have died from a stab wound to the neck. The detective also submitted a statement to the court that included interviews with witnesses reporting what they saw and heard at housing community on Saturday afternoon.
One witness said he heard a man banging on an apartment door with an umbrella, demanding that the occupant let him in. But before that, the witness said he saw someone he called Jara assault Blyden outside the building, saw a spray of blood, and saw her fall.
An attorney for the Justice Department told Norkadis the evidence in the case showed Blyden was sweeping out the hallway and the defendant accosted her and struck her about the head. "And she died as a result of her injuries," said Assistant Attorney General Brenda Scales.
Norkadis upheld the charges of first-degree murder, first-degree assault, third-degree assault, and use of a dangerous weapon during the commission of a crime. Scales asked for $1 million bail; the magistrate rejected that request and set bail at half a million dollars with a 10 percent provision for pretrial release.
But the prosecutor pointed to a dilemma for the court; if Francis were released, he would return to Oswald Harris Court, where the crime occurred, where the victim also lived, and to a household where he allegedly assaulted a relative in 2021.
There was also evidence of volatility on the part of the accused and suggestions that the relatives Francis lives with cannot control him. The magistrate said if the bail conditions are met, the defendant can return to the residence but must wear an electronic monitor.
A third-party custodian must also be appointed, "but he must have a third-party custodian other than family members," Norkadis said. "The court does view Mr. Francis as a flight risk, based on the severity of these charges."
Public Defender Mary Ann Matney asked that her client receive a mental health evaluation within the next 30 days.
The next court appearance for Francis is an arraignment, where he can plead guilty or not guilty to the murder, assault, and related charges. That hearing is set for Nov. 23 at 10 a.m.