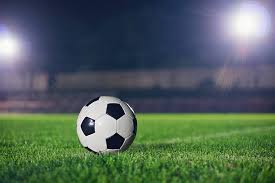 On a breezy and rainy Sunday afternoon on the eastern end of St. Thomas, the U.S. Virgin Islands Soccer Association's (USVISA) Men's Premier League started with a flurry of goals.  A total of 16 goals in two matches gave spectators plenty of excitement despite the inclement weather.
In the first match of the afternoon LRVI, FC came back from a 2-0 deficit at halftime to beat New Vibes SC, 4-3.  Amon Bascombe scored a penalty in the 48th minute and the final goal of the match in the 89th.  Adam Fuller had a brace, scoring in the 78th and 87th and helping to secure the LRVI, FC victory.   New Vibes SC, goal scorers were Bernado Antione 21st, Jean Valentin 25th, and Kensley Eugene 45th+2.
Along with the downpour of afternoon showers, the second match also rained goals.  A total of nine goals were scored between Waitikibuli SC and Raymix SC.  At the end of the 90 minutes of regulation, Waitikibuli was the winner, 8-1 final score.  Raymix's lone goal was made by Aubin Atemazem.  Waitikibuli's Schneider Bosse and Mibalson Joseph had a goal each, in the 30th and 78th  respectively.  Cordero Lake recorded a hat trick with goals in the 15th, 82nd and 90th.  Currently leading the most goals category for the season is Djeffererson Toussaint.  He scored in the 9th, 25th, 32nd and 62nd.
USVISA 2022-23 Men's Premier League will be in action on St. Croix, with Rover SC taking on Helenites SC, at 6:30 p.m., Thursday, Nov. 3, at the Bethlehem Soccer Complex.
Join the games next Sunday, Nov. 6, at the Ivanna Eudora Kean High School when Raymix SC faces off with LRVI, FC at 2 p.m. to be followed by United We Stand SC and Waitikibuli at 4 p.m.
All USVISA Men Premier League matches are free to enter.  Bring the entire family out.  There will be refreshments on sale and giveaways.
The USVISA is recruiting match officials.  Individuals interested in becoming a certified match official should call the office at 719-9707 or email marcusch@hotmail.com.
For more information on USVI Soccer Association programs, contact the USVI Soccer Association office at 719-9707 or email usvisoccer@gmail.com. Follow on Facebook at USVI Soccer Association