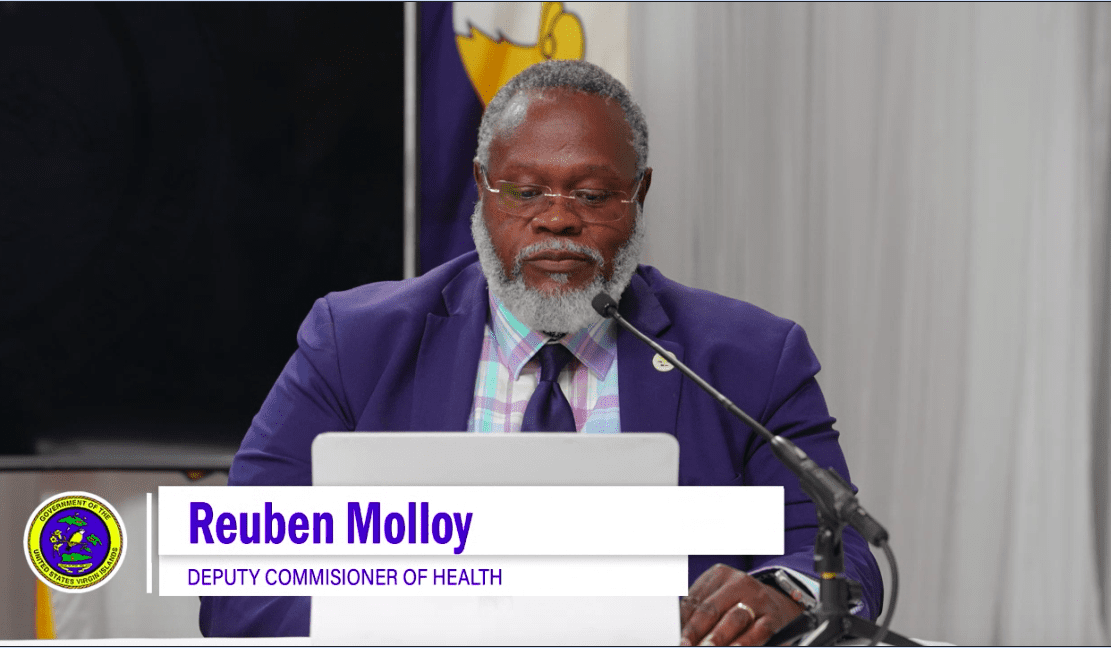 A V.I. Health Department official stressed Monday the importance of getting vaccinated against COVID-19 and the flu since both viruses are expected to increase in the winter and a respiratory syncytial virus (RSV) is creating a trifecta of health concerns – especially for children.
Respiratory syncytial virus – most common in children – is an infection of the lungs and respiratory tract with cold-like symptoms. Most cases are mild without symptoms, but some people have been hospitalized with severe coughing, sore throats, fever, and headache. There is no vaccination.
According to Assistant Health Commissioner Reuben Molloy, the U.S. Centers for Disease Control announced the October level of flu is at a level normally seen in December. So far, there have been 360 flu deaths nationally and for the first time, a child has passed from the virus. Seventy-six percent of the nation's pediatric beds are filled, he added.
"We are urging all parents of children over the age of six months to vaccinate their child for the flu now, so they can be protected as soon as possible," Molloy said.
Molloy reminded residents to wear masks in close quarters, use hand sanitizers and be aware that tourists may bring all three viruses when they visit the territory in the next few months.
Due to technical issues, the assistant commissioner said he did not have current COVID or RSV statistics for the territory but will send them to the media.
Vaccines for COVID and the flu for residents from 5-year-old and up are available by calling the Health Department at 340-244-0016 (St. Croix) 340-777-8803 ext. 2600 (St. Thomas) and on St. John at 340-776-6400.
The bivalent booster is available for anyone over the age of five who has had the previous shots.
COVID testing continues to be available on St. Thomas Mondays, Tuesdays, Thursdays, and Fridays from 9:30 to 10:30 a.m. at the Schneider Regional Medical Center loading dock and on St. John at the Port Authority gravel lot on Wednesdays from noon – 3 p.m. Testing on St. Croix is from 9:30-10:30 a.m. daily at the Charles Harwood Clinic parking lot.
The good news is that the territory has recorded no cases of monkeypox.
Molloy also reminded the community about the Best Life Program on Wednesdays at 5:30 p.m, which includes the soca Zumba classes at the McBean Clock Tower in Frederiksted and Emancipation Garden on St. Thomas and St. John's basketball court.
Richard Motto, Government House communications director, began the weekly briefing, announcing that a glitch in the disbursement of checks from the Government Employees Retirement System had been remedied. The "slight delay" was caused by "technical issues" with one of the main banks used by the GERS, he said.