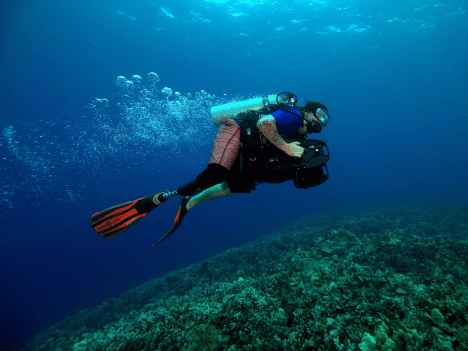 A group of veterans who have suffered degrees of disabilities while serving in the military will enjoy a week of activities on St. John starting Nov. 5, thanks to the generosity of many local businesses and the organization Servicemembers Undertaking Disabled Sports.
Low Key Watersports has arranged complimentary diving for the group during Veterans' Week, as well as a complimentary trip on Ocean Runner Power Boat Rentals to Lime Out for their gourmet tacos and specialty cocktails, according to a press release announcing the visit. Many restaurants on St. John, as well as The Lime Out, have offered a complimentary lunch to the group, it said.
John Thompson, a PADI dive instructor, worked with Low Key Watersports in 1998/1999. He returned to the states, and after visiting his wife at Walter Reed Army Medical Center, he encountered some of the injured service men and women and was compelled to seek service working with them, the release stated.
Volunteering for the American Red Cross gained him experience and contacts, and working with the head of physical therapy at Walter Reed in 2007, Thompson created the first dive program — Servicemembers Undertaking Disabled Sports — and S.U.D.S. was born.
Thompson has worked with hundreds of veterans since 2007 and taken groups from Guantanamo Bay, Cuba, to Truk Lagoon, Micronesia, and Roatan, Honduras, according to the release. This will be his second trip with S.U.D.S. to St. John.
A large number of donors have stepped up to make sure the trip is memorable, the release said, including Kathee and Edward Kramm, who have donated their home, Isla Vista, for the week. The Bonvi Hospitality Group assisted with the group reservation, and St. John Car Rental donated a car for the week. 
The following restaurants, in alphabetical order, are hosting the group for a complimentary dinner: High Tide, LaTapa, Lovango Rum Bar, Morgan's Mango, The Raintree at Cinnamon, The Tap Room, and 1864. 
For lunch, they will dine at Cruz Bay Landing, Lime Out, Maho Bay Food Truck, North Shore Deli, Sam & Jacks, and Tap & Still. 
Starfish Market donated a gift card for food, Cool Signs created the artwork for the sandwich boards, photography was donated by Marine Scenes, and gift baskets have been assembled for each veteran, including items from The Papaya Cafe, St. John Spice, and beautiful clay bowls from the artist, Catherine Perry. 
To learn more about S.U.D.S., or if you wish to make a donation, visit www.sudsusa.org.