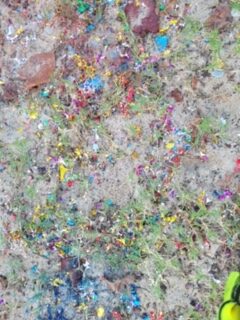 To the gender reveal partygoers on Brewers Bay Beach,
Massive amounts of glitter, shredded balloons, and tiny pieces of debris were left behind by you on Brewers Bay Beach on Sunday.
Is this the trashy beach you want to leave behind for your baby?
Now, with a major rain event happening, all this glitter and plastic will be washed into the sea for the turtles, fish, birds and other creatures to unknowingly eat. Balloons KILL turtles every day.
Why don't you have your gender reveal parties in your own backyard? Leave the beaches to the rest of the community that cherish them every day.
Will your child learn from you how to trash Mother Nature?
Please honor Mr. Henley and the rest of us by cleaning up your MESS.
From Ah We … always picking up.
— Jane Higgins, Fortuna, St Thomas