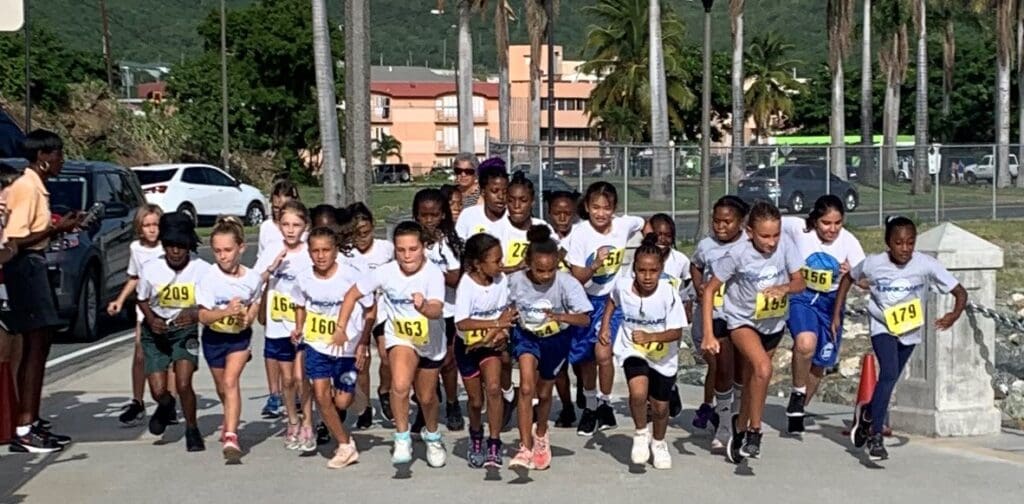 The St. Thomas/St. John Interscholastic Athletic Association held its second meet on Thursday, October 13, 2022, on the newly constructed Charlotte Amalie waterfront apron.  Student-athletes from 10 schools laced up their sneakers and competed in the elementary, middle school, junior varsity, and varsity divisions.
Twenty-four elementary girls were the first group to toe the starting line. Moravian School's Shyla Diallo followed up her week one win with another victory finishing the one-mile course in 7:38. Annabel Boschulte of Antilles School improved on her fourth-place opening day ranking finishing this race in second place in a time of 7:54. Jayla Williams, Gifft Hill School, finished third in a time of 8:11.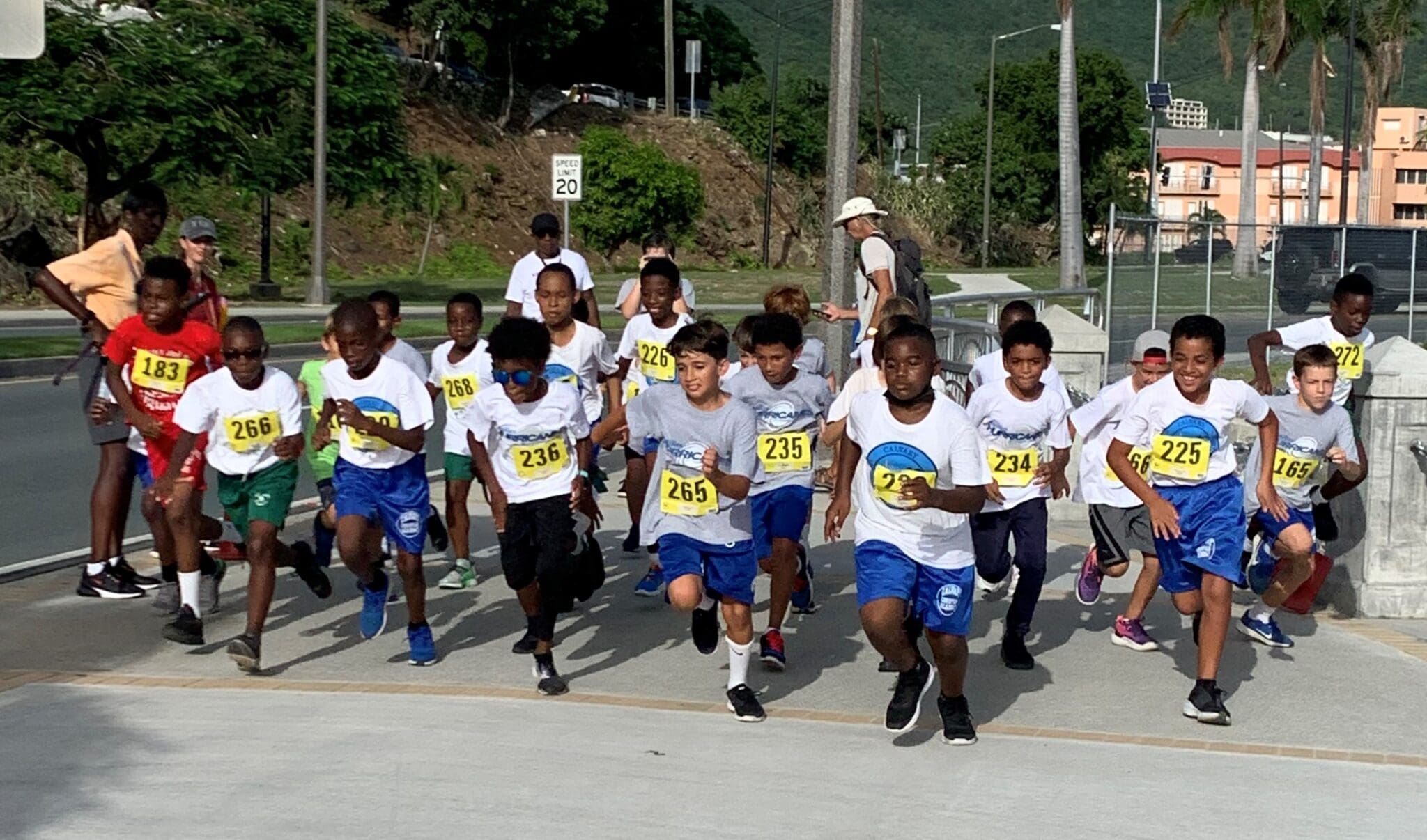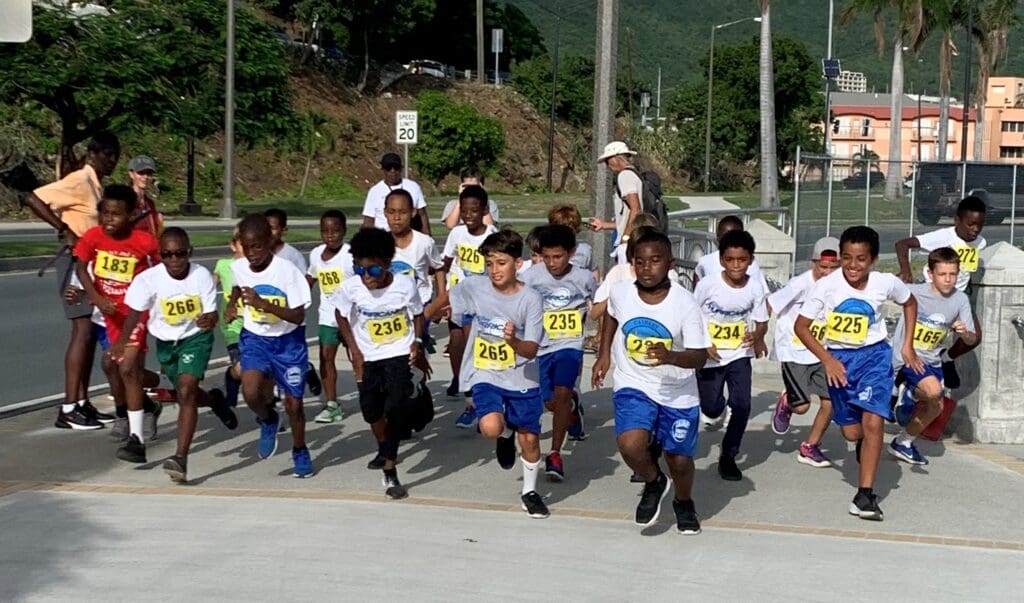 The elementary boys division saw two new runners claim the top spots in this race of 26 runners. Kolin Sammy, Antilles School, set the bar high in the elementary boys race.  Sammy ran the one-mile course in 6:23. Calvary Christian Academy's Jarien Roberts turned in a respectable 7:06 for a second-place finish. Colt Smith, Gifft Hill School, dropped one slop from his week one showing, earning a bronze finish in a time of 7:10.
The middle school divisions did not have as many runners as the elementary divisions with six female and nine male runners. Gifft Hill School was golden in both the female and male divisions. Elizabeth Ferrel finished in 11:54 while her schoolmate took the boys crown in 11:15. Haile Olivace and Alyson Monsanto were second and third in the middle school female race with times of 12:31 and 14:34 respectively. Antilles school's Alejandre Rosario came in second in the middle school male division in a time of 11:18. Gifft Hill's Cooper Olson 12:09 was good enough for third in this race.
Three young ladies squared off in the junior varsity girls division. Antilles' Valorie Gore ran away from her competition finishing the 1.5-mile course in 12:27. Marcia Bastian was the second-place finisher with a time of 13:16. Bastian represented Seventh Day Adventist School. Dayana Esprit, St. Peter & Paul Cathedral School, rounds out the group with a 13:39 time. Zion Baptiste of Seventh Day Adventist won the JV boys race for the second consecutive week with a time of 10:55. Antilles School's Kristopher Bellew finished in second place in a time of 11:06. All Saints Edward Foerstel was third in a time of 12:07.
The varsity runners had to complete a two-mile course. The female division only had one runner, Deloin Samuel of Ivanna Eudora Kean High School. She crossed the finish line in 25:19. Ten boys did battle in this division. Jaden Stapelton of Ivanna Eudora Kean High School won the race. Ethan Farrell of St. Peter & Paul came in second and last week's winner, Jack Oram dropped to third place. Due to an error, the time of this race wasn't tallied.
The third meet is scheduled for Thursday, October 20, 2022, 2022 on the Waterfront Apron. The elementary girls will get things started promptly at 3:45 p.m.