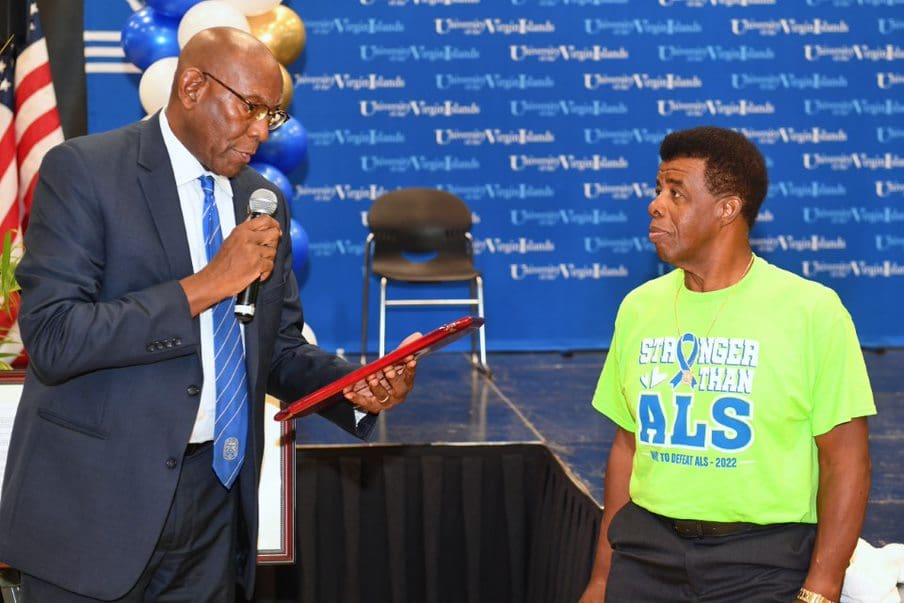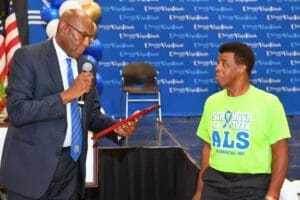 The Sports and Fitness Center at the University of the Virgin Islands (UVI) Orville E. Kean Campus has been named in honor of Elridge Blake, the Virgin Islander whose extraordinary sports and athletics achievements span decades and continents.
The 34th Legislature of the Virgin Islands acted in 2021 to recognize and commend Blake for his "outstanding accomplishments in sports and contributions to the people of the Virgin Islands" by naming the facility in his honor. On Friday, Oct. 7, friends, family members, former students, and public officials gathered to honor Blake at the official ceremony and sign unveiling.
In addition to Blake's impressive career in sports, the legislation also recognized his service as "an exceptional civil servant and role model to the children of our community," and praised him as an ambassador of the territory through his sports achievements worldwide.
Born into humble beginnings on St. Thomas in 1947, Blake's academic and athletic prowess was manifested at Charlotte Amalie High School, where he earned a plethora of awards and recognitions, including the Student Who Contributed Most to the Community Award.
Blake continued to excel academically and experienced tremendous athletic success in basketball, track and baseball during his college career at Fisk University in Nashville, Tenn. Drafted by the Chicago Cubs in 1968, he was the first Virgin Islander to be drafted while still in college but passed on attending a training camp in order to complete his studies. He graduated with honors with a Bachelor of Science in Health and Physical Education.
A man of integrity, Blake overcame the lure of playing major league baseball, choosing instead to return to St. Thomas and fulfill the obligation he felt to those who had supported and believed in him. "My first year at Fisk was paid for from the money I borrowed from the Virgin Islands Government. The stipulation on the loan was you must come back home and give one year," he said.
The outstanding athlete and coach once shared his perspective on sports in an interview: "Sports is for a while, but education is for a lifetime," he said.
From 1974 to 2005, Blake served as a lecturer, instructor and assistant professor of physical education at UVI, where he eventually earned a Master of Arts in Administration and Supervision in Education in 1989.
"UVI understands and values the intricate synergies of physical, emotional, spiritual and intellectual pursuit in developing well-rounded students, athletes and citizens. Coach Blake's legacy of pouring into our student-athletes both on and off the court speaks for itself, and this institution is made richer by his lasting contributions," said UVI President Dr. David Hall.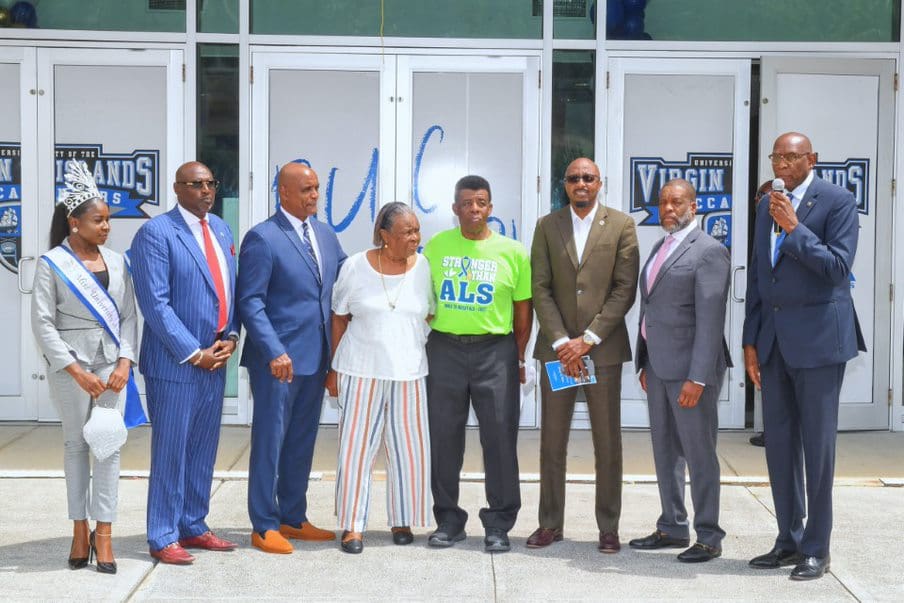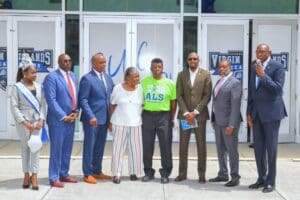 While at the university, Blake was fundamental in developing UVI's athletic program. He is credited with starting the Buccaneers' athletic program in 1976 with the formation of men's and women's volleyball teams, for which he served as head coach and won local and international tournaments over the course of two decades. He was also an assistant women's basketball coach.
His UVI teaching career included teaching myriad subjects, including swimming, softball, football, basketball, volleyball, badminton, racquetball, tennis, bowling, physical fitness, track and field, Calypsocise, stunts, tumbling, table tennis and other table games.
At the naming ceremony, Sen. Dwayne DeGraff, the main sponsor of Act 8510, said, "I wanted the young generation to know that this is a historical event. Mr. Blake is second to none. I thank my colleagues and Governor Albert Bryan, Jr. for their support of the legislation."
Speaking on behalf of the 34th Legislature, Senate Vice President Novelle Francis Jr. said, "It is my hope that all who see his name graced on this building are inspired to learn more of his history and contributions."
Inspector General of the Small Business Administration and UVI Alumnus Hanibal "Mike" Ware said, "To sit here now witnessing the beautiful building we now have while looking back and giving honor to the original, is not only a testament to you, chief, but to our beloved institution. Our leadership has pushed us into the future while honoring a true hero while he's still around to receive honor."
"Even though I was not one of his athletes, he has made an impression on my life," reminisced  Lt. Gov. Tregenza Roach." When you encounter him, you see this person that believes in fitness and wellness as a way of life, encouraging you about a way to be in this community and to continue to contribute to it in every way that you can." Roach continued, "I am so honored to be able to stand here and tell you just how much you mean to us and to the community."
During his tenure at UVI, Blake created a mentorship program for local high schoolers. His community service extended to the British Virgin Islands, where he held basketball, volleyball and health clinics in Tortola. In 2001, Blake was inducted into the University of the Virgin Islands Hall of Fame.
The 64,000-square-foot Elridge Wilburn Blake Sports and Fitness Center seats up to 3,000 persons and houses classrooms and a VIP sky box/public relations area. It is the premier athletic facility of its type in the Caribbean. The center has become home to UVI's Paradise Jam, an annual NCAA Division I Basketball tournament held in November during the Thanksgiving recess.
For more information, contact pr@uvi.edu.