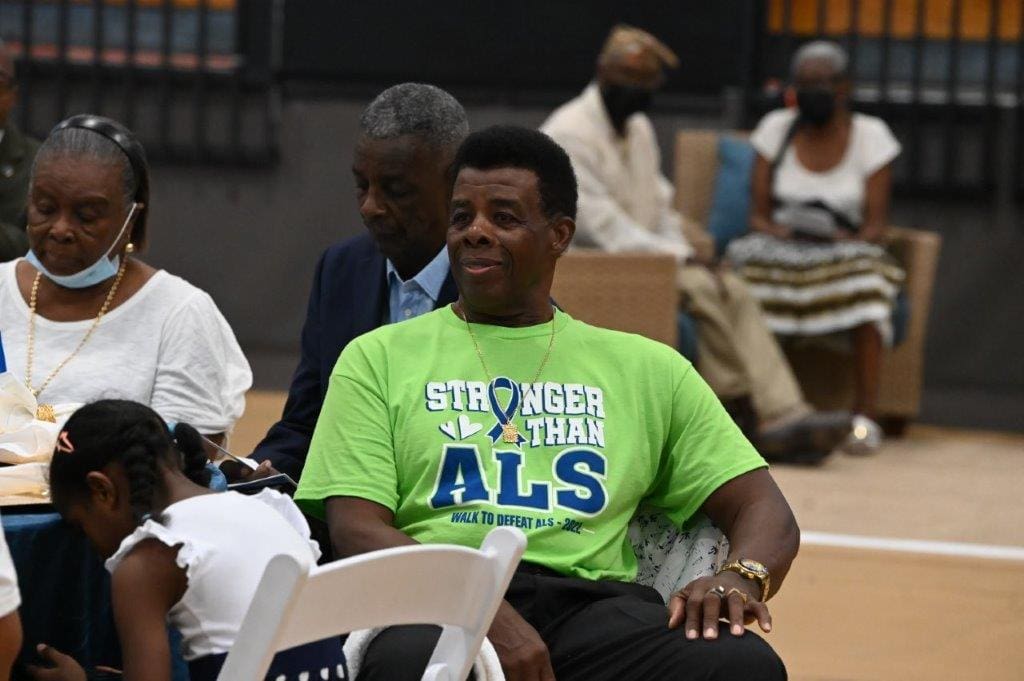 At the University of the Virgin Islands, student-athletes and their teams are called the Buccaneers. On Friday, academics, student-athletes, past and present, and public officials joined President David Hall at a naming ceremony for the Sports and Fitness Center on the St. Thomas campus.
They gathered Friday morning to honor Elridge Blake, a stellar athlete who went on to launch UVI's sports program in 1976. The building where he made it all happen came from humble beginnings, much like Blake himself, and was destroyed by Hurricane Marilyn in 1995. It was rebuilt as part of the storm recovery plan and became home to an expanded college athletics program and is best known as the host of the Paradise Jam NCAA Division I basketball tournament.
Hall, himself a former student-athlete, welcomed the gathering of about 100 people as the speeches began inside the gymnasium. He called the renaming a great day for Bucs Nation and praised Blake for his years of dedication to college team sports, and also spoke about the value athletics bring to the university experience.
"UVI understands and values the intricate synergies of physical, emotional, spiritual and intellectual pursuit in developing well-rounded students, athletes, and citizens. Coach Blake's legacy of pouring into our student-athletes both on and off the court speaks for itself, and this institution is made richer by his lasting contributions," Hall said.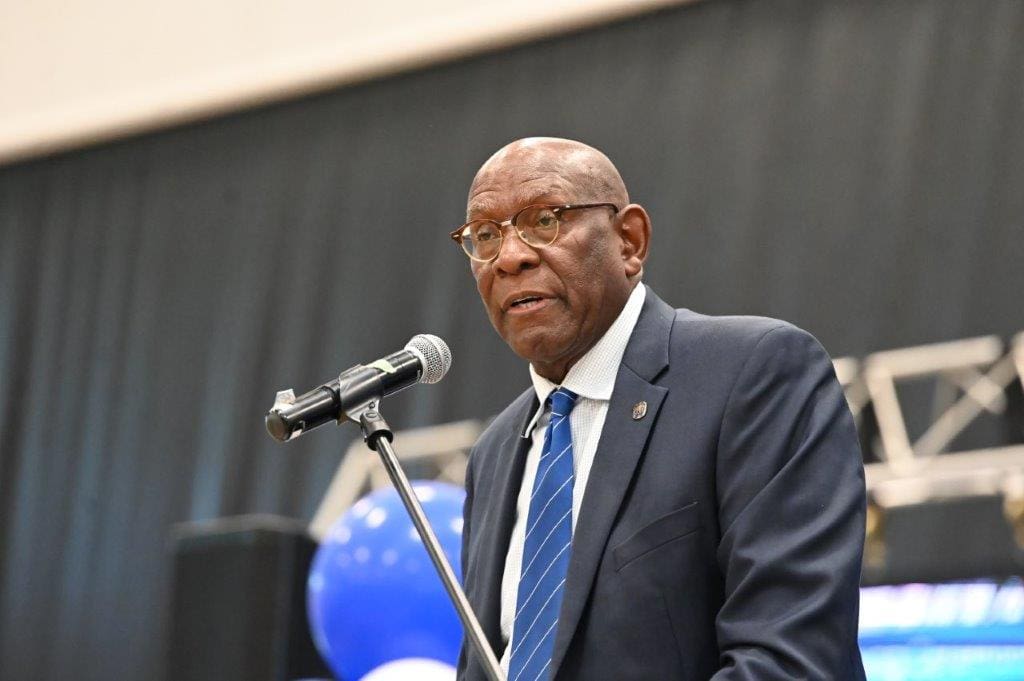 The UVI president also lauded the honoree's academic achievements. "We are extremely proud that he is an alum of this university, having received his master's in Education Administration," he said.
Blake began his forays into sports at the Charlotte Amalie High School and made a name for himself at Fisk University, competing in track and field, and playing baseball and basketball from 1965-1969. Blake's name was recorded in Who's Who in American University Sports in 1968 and 1969. He was drafted out of college by the Chicago Cubs but decided, later on, to return to St. Thomas, where he was born.
Blake's #21 Baseball jersey was retired by Fisk University in honor of his achievements, according to his biography.
As a coach, he shaped young athletes at CAHS and at UVI, he led men's and women's volleyball teams as an assistant professor of Physical Education. The teams competed locally and regionally, bringing home several championships over a 22-year span.
In 2000 Blake was listed in another edition of Who's Who, this time for outstanding American teachers. In 2001, Blake was inducted into the University of the Virgin Islands Hall of Fame.
A number of former students stepped up to the podium or appeared on the big screen at the ceremony to recall their experience under Coach Blake. They included former V.I. Education Commissioner Noreen Michael, U.S. Small Business Administration Inspector General Hannibal Ware, and former Legislative Executive Director Pam Richards.
Michael said she was far from a star on the UVI women's volleyball court, but Blake treated all team members the same way, and as a result, she learned how to be a team player in sports and in life. "Coach Blake taught us every team member has value, and every team member adds value," Michaels said.
Ware, speaking in a recorded message, said renaming the sports and fitness center elevated both the man and the institution.
St. Thomas-St. John District Senator Dwayne DeGraff and Senate Vice President Novelle Francis called it a fitting tribute to a community member who contributed much to the folks back home. DeGraff served as the main sponsor of Act 8510, which dedicated the center in Blake's name.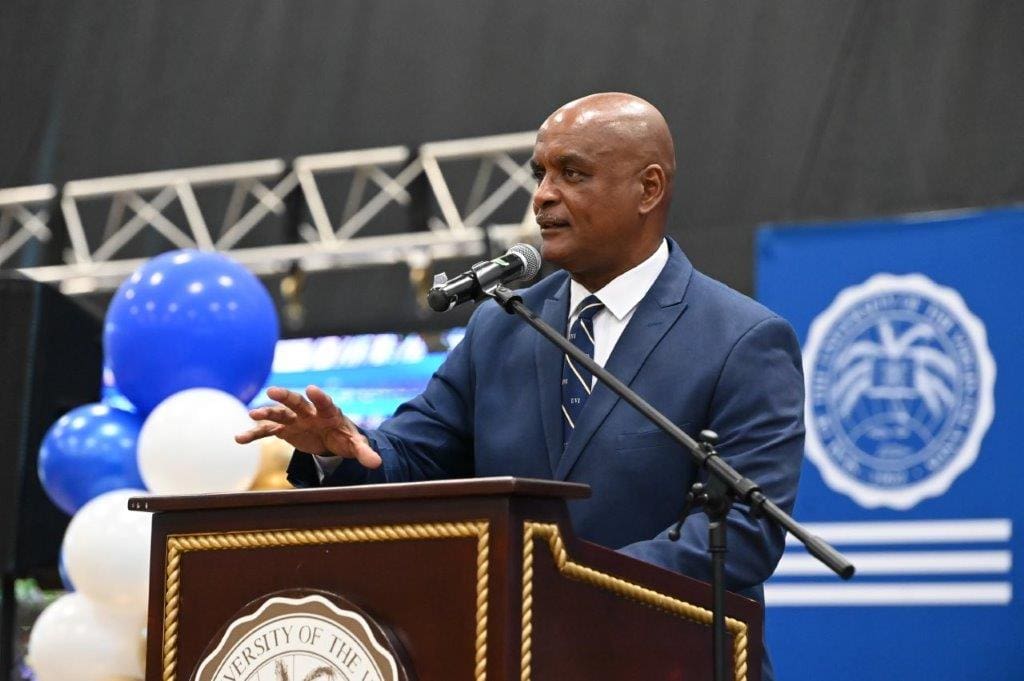 "I wanted the young generation to know that this is a historical event. Mr. Blake is second to none. I thank my colleagues and Governor Albert Bryan, Jr. for their support of the legislation," he said. Francis spoke on behalf of Senate President Donna Frett-Gregory.
"It is my hope that all who see his name graced on this building are inspired to learn more of his history and contributions," Francis said.
Then it was time for the honoree to speak. Program organizers gave him four minutes, but over roughly an hour, the coach sat at a corner of the stage and turned storyteller, inviting family, friends, and colleagues to step up and share the day's glory.
The 64,000-square-foot Elridge Wilburn Blake Sports and Fitness Center seats up to 3,000 persons and also houses classrooms and a VIP sky box/public relations area. It is the premier athletic facility of its type in the Caribbean.