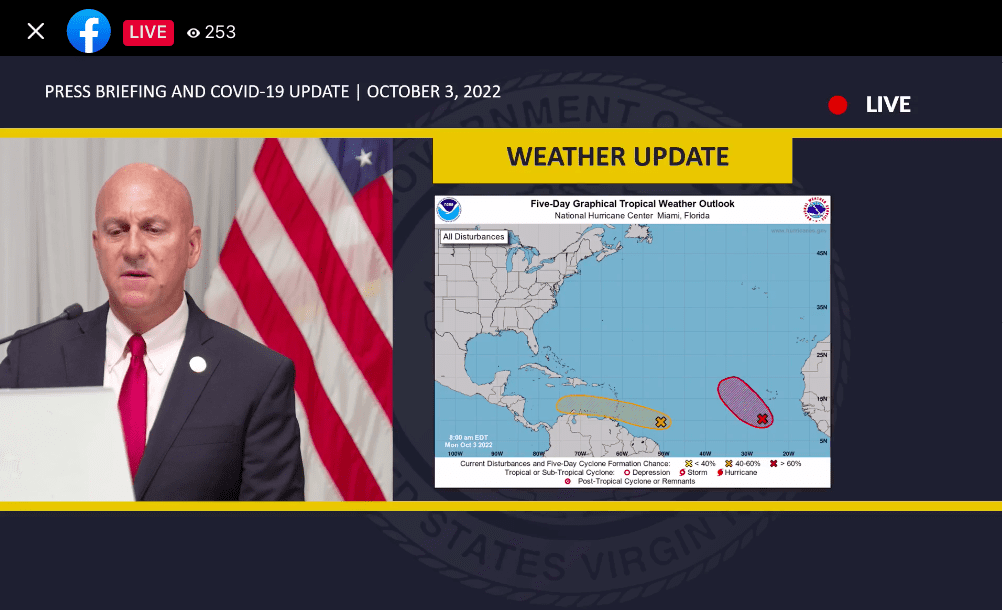 The weekly Government House Press Briefing is transitioning into general government news as well as updates on COVID-19 as the virus morphs from a pandemic to the endemic stage.
Gov. Albert Bryan Jr. spoke Monday about financial matters and events, while Health Commissioner Justa Encarnacion and Daryl Jaschen, director of the V.I. Territorial Emergency Management Agency, spoke about COVID and upcoming weather events.
All three speakers sent sympathies to those affected by Hurricane Ian last week in Puerto Rico and Florida.
Encarnacion announced there are 40 COVID cases in the territory compared with 78 on Sept. 28. St Croix has 25 infections, St. Thomas 15, and St. John is coronavirus-free, according to the report. Five people are hospitalized on St. Thomas and none on St. Croix.
Vaccines are currently available at the Charles Harwood parking lot during the week from 9:30-10:30 a.m. and during the same hours at Schneider Regional Medical Center. On St. John, people can get the shots on Wednesdays from noon to 3 p.m. at the Port Authority Parking Lot.
The bivalent Pfizer vaccine is available for persons 12 years and older, and the Moderna bivalent vaccine is for those 18 years and older, according to Encarnacion.
"Get the vaccine to prevent serious illness. Individuals are still getting very sick, and individuals are still dying," she said.
There are no reported cases of monkeypox in the territory, the commissioner said.
Jaschen said two disturbances in the Atlantic are being monitored by VITEMA. The closest is a depression that should reach the Windward Islands by mid-week but only has a 30 percent probability of developing into a storm in five days after it passes south of the Virgin Islands.
The second area of interest is just east of the Cape Verde Islands and moving at 15-20 miles per hour. Invest 91 could develop into a tropical depression, but further development is unlikely, Jaschen said, due to upper-level winds.
"The first half of the hurricane season has been quiet — the second half has been anything but quiet," he said.
According to Jaschen, Hurricane Ian's impact on Florida will disrupt the cargo supply chain to the territory. Currently, shipping departures are three days behind but should be back on schedule in two weeks, he said.
Bryan announced he signed the 2022-2023 budget for $970 million. He added that the V.I. Government has a $122 million surplus from last year, of which $40 million will be used for retroactive pay. Already, $22 million has been disbursed, he said.
The governor also announced that federal COVID funds have allowed the V.I. government to pay $9.2 million in premium pay to more than 5,000 individuals who worked during the pandemic.
Additionally, $158 million was paid on Oct. 1, he said, as part of the $3.8 billion pledged as the GERS solvency plan to bail out the Government Employees Retirement System. He said another $158 million will be due Oct. 1, 2023.
"We know we have stopped the hemorrhaging of the system and begun the process of rebuilding its solvency in a tangible way," he said.
Bryan mentioned several events over the week in honor of V.I./PR Friendship Day. The activities culminate on the weekend at Canegata Recreational Center and Park.
Encarnacion announced a women's empowerment summit Oct. 7 on St. Thomas and Oct. 14 on St. Croix. The event is free, and women can register at https://shewomenssummit.mystrikingly.com/.
Jaschen encouraged residents to register for the Great ShakeOut Earthquake Drill on Oct. 20 at 10:20 a.m.