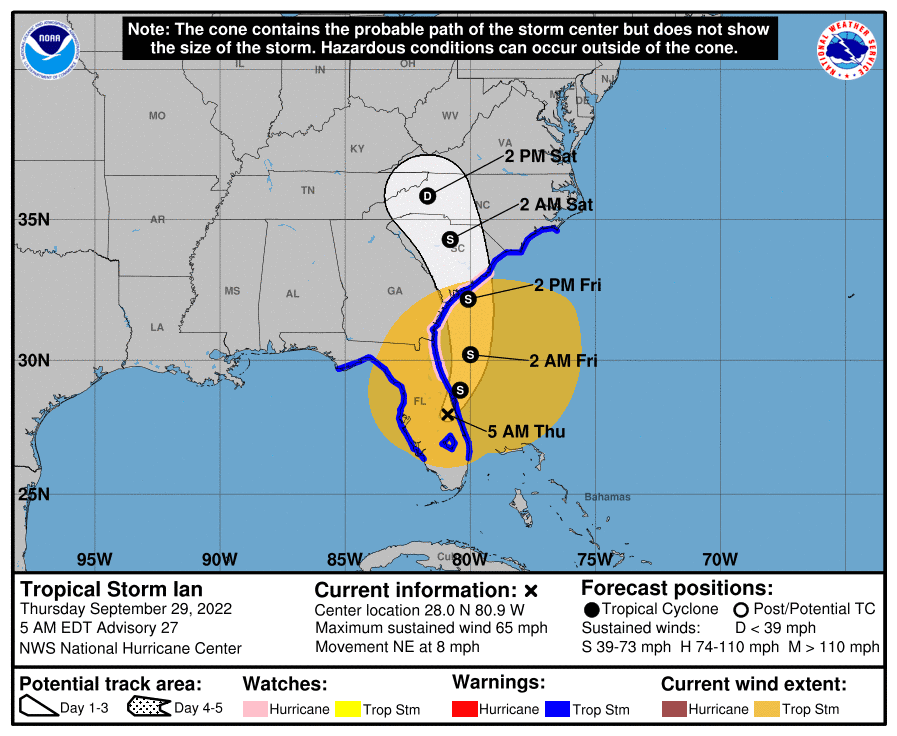 Updated 5:30 a.m. Thursday
As Tropical Storm Ian continues to bring heavy winds and devastating flooding to Florida after making landfall south of Tampa on Wednesday as a strong Category 4 hurricane, a local responder agency and a civic group are keeping their eyes on developments there. Representatives of the American Red Cross of the Virgin Islands and the Rotary say they are getting ready to assist those who live in the territory and have friends or loved ones in the impacted areas.
Ian made landfall a little after noon on Wednesday near Cape Coral and Fort Myers with sustained winds of 155 mph, though by 5 a.m. Thursday had weakened to a tropical storm with winds of 65 mph, according to the National Hurricane Center. With a diameter twice the width of the Florida peninsula, forecasters said it could take up to a day and a half for the storm to travel from the Gulf of Mexico across the state to the Atlantic Ocean before turning back over land.
The southwest Florida coastline was experiencing severe, life-threatening storm surge inundation of 8 to 10 feet overnight, with strong winds and considerable flooding expected Thursday and through the end of the week in northern Florida, southeastern Georgia and eastern South Carolina as Ian tracks north, the NHC reported.
St. Croix Sen. Kenneth Gittens said Wednesday that he knows there are civic associations for expatriate Virgin Islanders in each of those cities.
"I think there's a small organization in Orlando, there's one in Tampa and there's a small organization in Miami," Gittens said. On Wednesday the senator took to social media to ask Virgin Islanders to keep friends and neighbors living in the hurricane zone in their prayers.
Virgin Islands Red Cross Director Tina Beazer said Wednesday that so far, there had been no inquiries made to her office.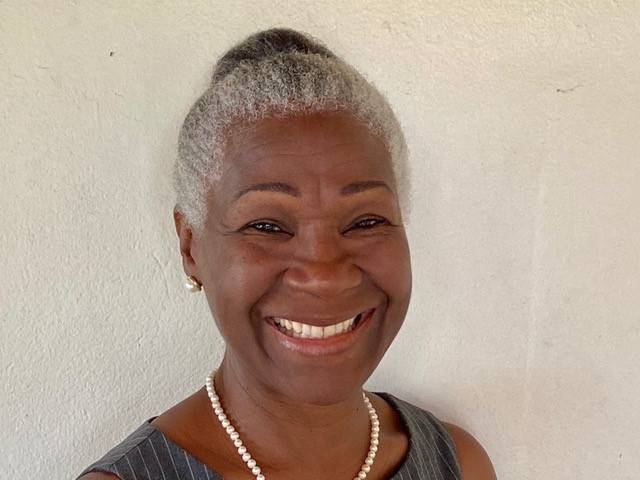 "We haven't had anyone call us," Beazer said. "We know that the surges are expected to be extremely high; we know that the storm ramped up to a Category 4 after leaving Cuba. We expect this to be an extremely dangerous storm."
The Water and Power Authority has also increased its vigilance, in case they are called to support the state's disaster response efforts. "WAPA supports its mutual aid partners through the American Public Power Association, and mutual aid teams are dispatched as restoration efforts dictate," said Interim Corporate Communications Director Nyomi Gumbs.
As of Thursday morning, more than 2 million Floridians were reported to be without power.
Local Red Cross staff and volunteers are tracking the storm as part of the Central Florida Red Cross network. Beazer said that as of Wednesday, she had checked in on a press conference given by Florida Gov. Ron DeSantis and was keeping up with weather forecasts.
There is information found on the Red Cross national website with tips on how persons in U.S. territories can check on the well-being of those they care about, living abroad.
Beazer cautions those who do reach out to have patience. "It takes a while. We have to reach out to our counterparts in Florida and ask them if they know where this person is."
Which, she said, is one of the reasons the Red Cross urges citizens to make a pre-disaster family plan. "Please develop a communications plan. That means letting a loved one know that if a storm hits, 'I'm going to a shelter,' or 'I'm going to Uncle John's,'" the local director said.
Gittens, meanwhile, says he will think about ways to coordinate assistance for families who found that loved ones in Florida have suffered storm-related impacts.
"When the storm passes, we will determine if there is anything we can do locally to assist Virgin Islanders whose families are affected," Gittens said. "We have to prepare ourselves for any temporary lapses in communication as the storm passes."