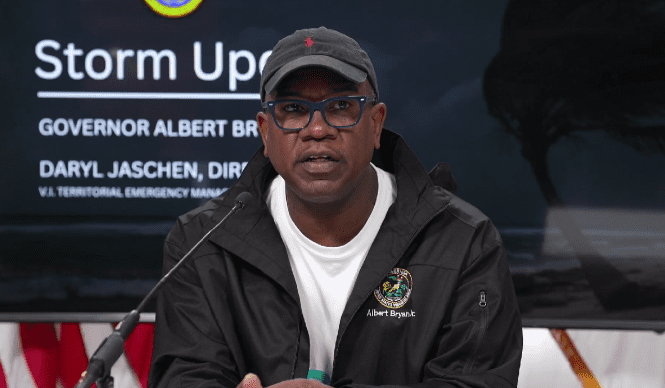 Mid-Sunday morning, Gov. Albert Bryan Jr., along with officials from VITEMA and WAPA, updated residents about the impact Tropical Storm Fiona had on residents in the territory as the storm makes its way toward the western end of Puerto Rico, where it will turn into a Category 1 hurricane.
"The good news is we made it through with minimal casualty and damages to property," said Bryan, who also urged residents to continue to stay indoors as a safety precaution.
VITEMA director Daryl Jaschen provided more detailed updates on the current status of Fiona.
"The US Virgin Islands remains on a hurricane watch…we're also on a tropical storm warning," said Jaschen.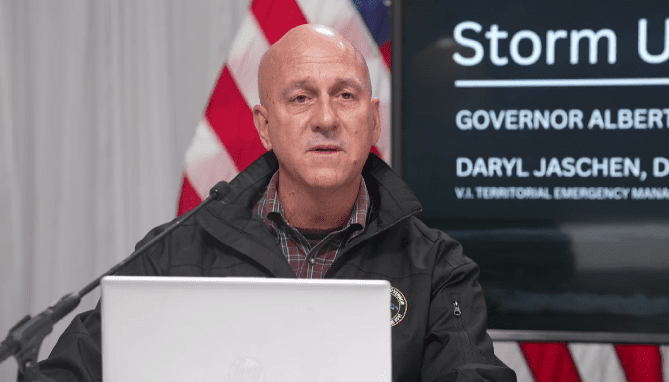 According to the VITEMA director, the center of Fiona is located 17.2 N and 66.1 W. It is continuing to move at 8 miles per hour and will begin a west-northwest stride today and continue until tomorrow. The center of the storm is expected to move over Puerto Rico this morning and leave the island by this evening. It will begin to impact the Dominican Republic on Monday and Turks and Caicos on Tuesday, where it will make a turn towards the north-northwest. The maximum sustained winds are expected to be 75 mph. Tropical storm winds currently extend 147 miles from its center, and the storm is expected to become a hurricane before reaching the coast of Puerto Rico today.
Additionally, Jashen added that Fiona currently has winds moving at 47 mph in the Virgin Islands. So far, St. Croix has had between two to four inches of rain and will continue to get up to ten inches of rain in the next few days. In St. Thomas-St. John, there has been one to two inches of rainfall, and it will continue up to six inches. There are storm surges, and the territory is currently under a flash flood warning until 12:30 pm. All seaports and airports are closed and will remain so until further examination.
More updates from Jaschen indicated that many trees and branches are down and that there are no open shelters. Further, the director said that the "Juan F. Luis hospital went on generator at 12:26 last night and continues to be on generator. They report no impacts to the operations." He added that 911 went on generator at 12:57 am on St. Croix and is fully operational.
"Director Jaschen is being nice about the water on the roads, don't traverse the road, stay home," said Bryan, noting that it is football Sunday.
Andrew Smith, CEO of WAPA, updated the territory on power outages and diminishing propane supply.
"We went into last night with 697 customers out of service on St. Croix in isolated pockets, and in St. Thomas, there were no outages we were aware of," said Smith.
Currently, feeders 4A, 5A, 9B, and 10A are out on St. Croix with partial outages on 8B. As of this morning, there have been brief outages in both districts.
"Restoration efforts are underway," said Smith. "We've been struggling a little bit with fuel supply on both islands….We do not have propane supply on St. Croix now." He added that pressure fluctuations with propane are occurring on St. Thomas and that St. Croix is operating on diesel, with a three-day supply that is to be supplemented towards the end of the week.