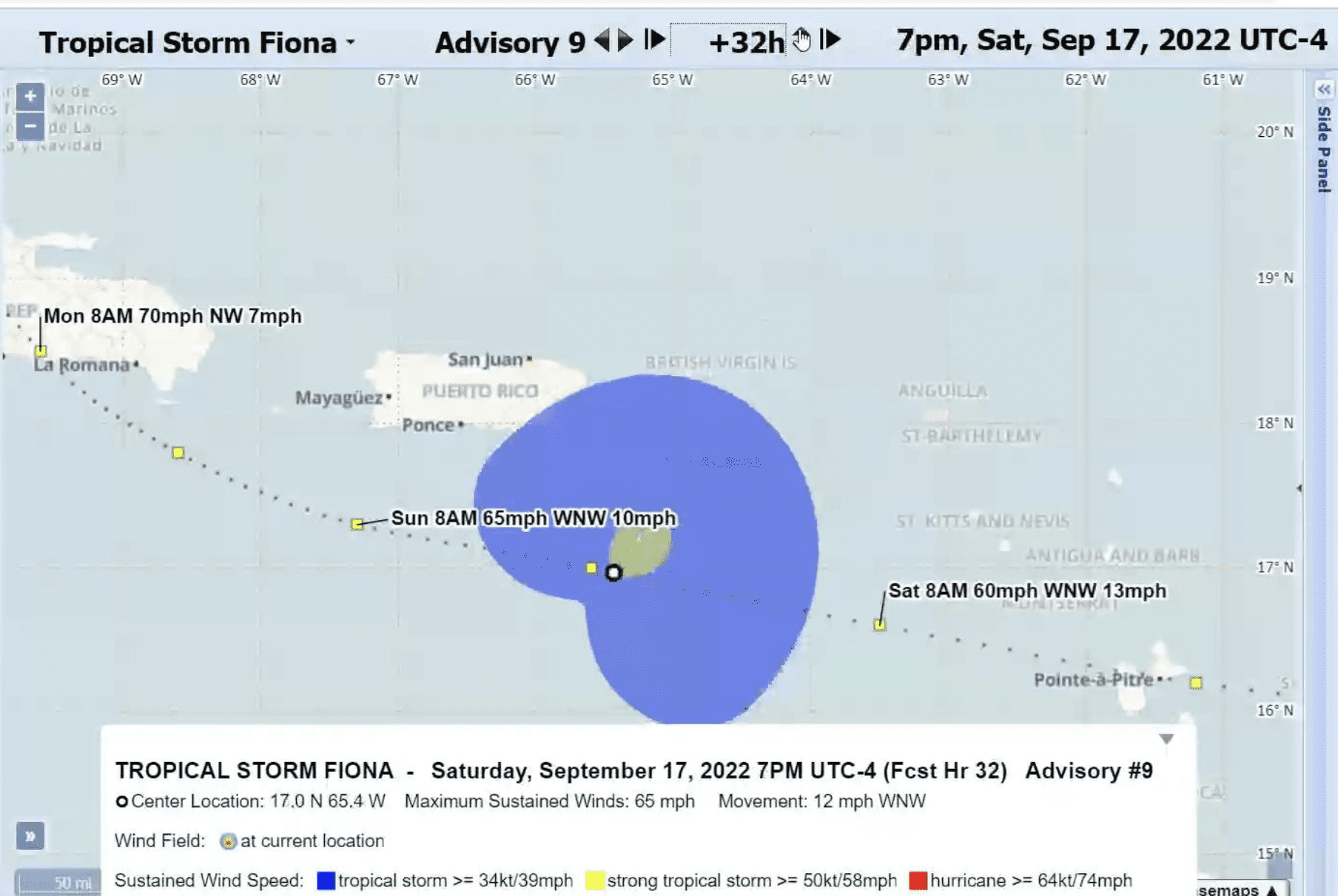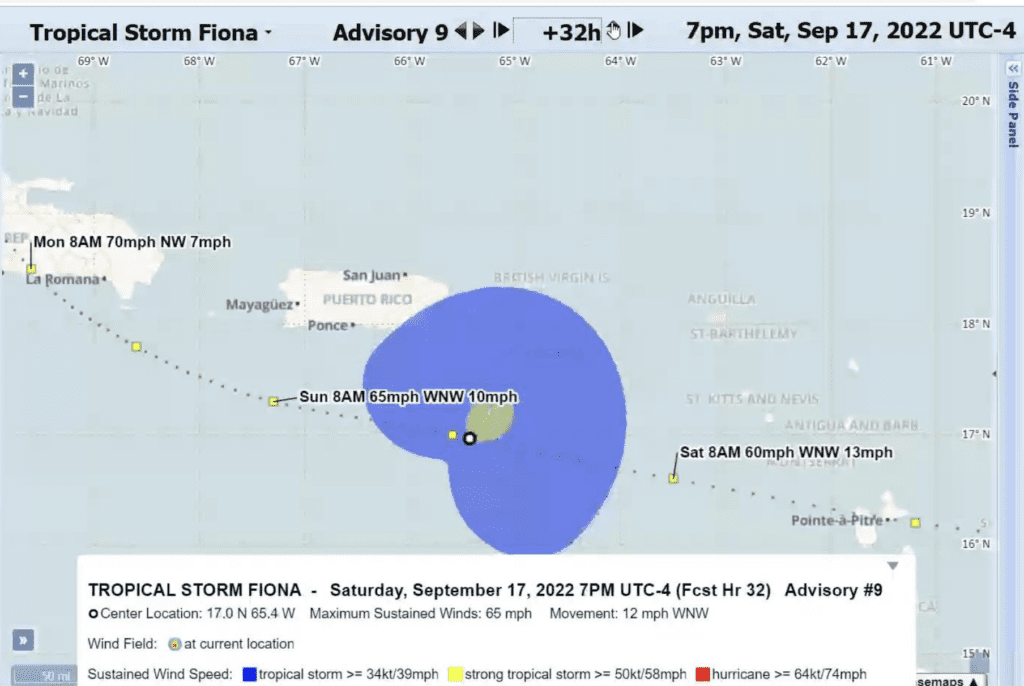 Tropical Storm Fiona is forecast to bring sustained winds of 40 to 60 mph, gusts as high as 70 mph, and 4 to 6 inches of rain to the territory as it intensifies slightly and passes south of St. Croix on Saturday, according to meteorologists with the National Weather Service in San Juan, Puerto Rico.
While Fiona has taken a more southwesterly track since Thursday, it is expected to begin a more west-northwest movement during the next 24 hours, with the strongest quadrant of the system still to the north, said meteorologist Ernesto Rodriguez, speaking Friday afternoon at a briefing for emergency management officials and the media.
"Make sure you know that small changes in the track are still possible," he said.
Fiona has also become better organized, said meteorologist Emanuel Rodriguez.
"The wind shear is not affecting the system anymore and as it approaches the area the storm could intensify a little bit. … By the time it gets to our islands it could be between 60 and 65 mph. We are not expecting this to be a hurricane by the time it gets close to us. But since the system is expected to move closer to our area we should receive sustained tropical storm-force winds within 40 to 60 mph and gusts up to 70 mph," he said.
A tropical storm becomes a Category 1 hurricane when its sustained winds reach 74 mph.
The U.S. Virgin Islands will begin to experience the first rain bands from Fiona on Saturday morning, with the heaviest activity expected in the afternoon, said Emanuel Rodriguez. Based on the storm's strength and track on Friday afternoon, residents should be prepared for damage to the power grid, downed tree limbs, flooding, flash floods, and mudslides, he said.
Additionally, Fiona is creating hazardous marine conditions, the meteorologists said, with seas of 15 feet expected starting Friday, and waves of 6 feet at area beaches.
"It is very, very dangerous for people to be near the beaches across all of our coasts and all of the islands," said Emanuel Rodriguez.
Accordingly, the Coast Guard will close all USVI seaports at 8 p.m. Friday, the V.I. Port Authority announced. "If the seaports are closed by the Coast Guard, they may remain closed for some time until the USCG completes its mandatory inspections," it said, adding that the decision to reopen is made by the Coast Guard.
The ferries between St. Thomas and St. John will operate until 8 p.m. Friday. The last Water Island ferry departed Water Island to the VIPA excursion dock at Crown Bay Center at 12:15 p.m. and the last departure from St. Thomas to Water Island was at 1 p.m.
The territory's airports remained open on Friday, though airlines may opt to delay or cancel flights and travelers are advised to contact their airline directly for flight information, the Port Authority said.