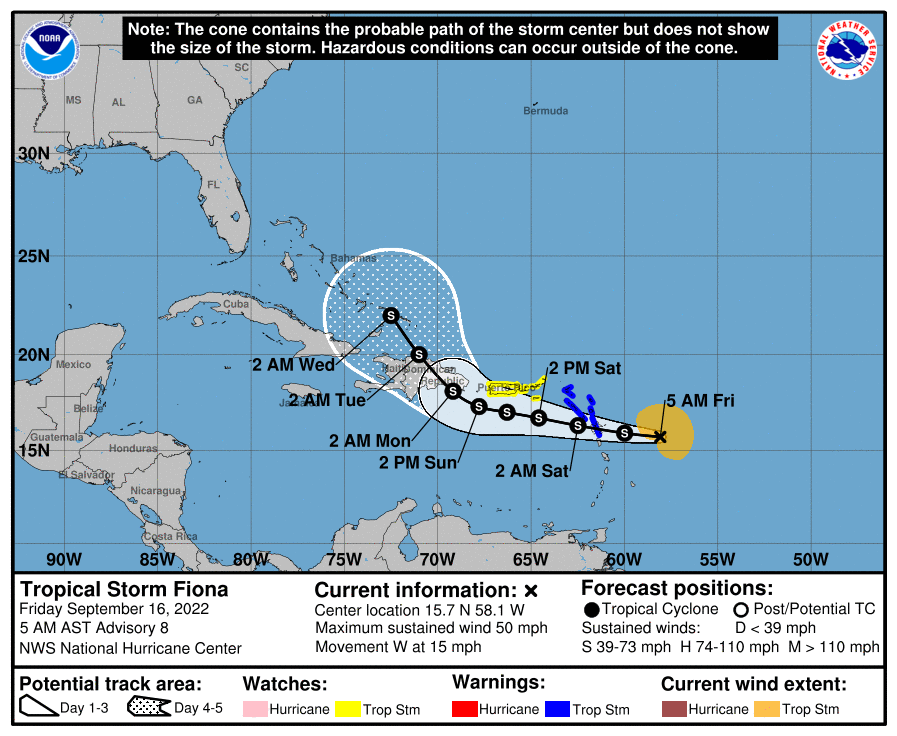 With Tropical Storm Fiona not forecast to affect the U.S Virgin Islands until Saturday morning, the territory's public schools are expected to operate on a normal schedule Friday, with the exception of St. Croix Central High School, which will continue with virtual instruction, the Education Department announced Thursday night.
Other government departments, including Human Services and the Water and Power Authority, announced some of their services will be on abbreviated schedules, with early closings.
As of the 5 a.m. advisory from the National Weather Service in San Juan, Puerto Rico, Tropical Storm Fiona was located 265 miles east-southeast of the Leeward Islands, at 15.7N and 58.1W. A Tropical Storm Watch is in effect for the USVI, Puerto Rico, Vieques, and Culebra. A warning might be required later Friday, the agency said.
The main concern continues to be heavy rainfall over the weekend, with up to 2 to 6 inches expected in the territory, and 6 to 10 inches for eastern and southeastern Puerto Rico, according to the NWS. Sustained winds of 45 to 60 mph are likely, with gusts up to 70 mph, especially over the local waters, it said.
"The Virgin Islands Department of Education remains in close communication with VITEMA regarding weather conditions throughout the territory," the V.I. Education Department stated in a press release.
"Based on the most current information provided, all V.I. public schools are expected to open and operate on normal schedule, Friday, September 16. St. Croix Central High School will remain virtual," it said.
"If weather conditions deteriorate overnight, the Department will provide an update early on Friday morning. Updates will be sent via email, the Department's Facebook page, and through local media outlets," according to the release.
Human Services, meanwhile, announced its Head Start Program will dismiss students early, territory-wide, on Friday at 1 p.m., in anticipation of Tropical Storm Fiona.
"DHS is asking parents to please be at the campuses on time to pick up students for early dismissal," according to a press release issued Thursday night. "In addition, all DHS Senior Recreational Centers will be closed" on Friday, it said, including the Richmond Senior Center on St. Croix, the Strive Senior Center on St. Thomas and the Adrian Senior Center on St. John. Meals on Wheels, however, will continue to serve the public as scheduled.
Meanwhile, V.I. Water and Power Authority offices will close at noon "to allow adequate preparation for inclement weather from Tropical Storm Fiona that is forecast to affect the territory," according to a press release. Regular operations will resume Monday.
Customers can report outages by dialing 340-774-3552 or 340-773-2250 and selecting Option 4. Those wishing to make a payment online can also do so by visiting WAPA's website at www.viwapa.vi and clicking on the "Pay Your Bill On-Line" button.
The Department of Planning and Natural Resources announced that, in anticipation of the approaching storm, the Division of Environmental Protection anticipates negative environmental impacts caused by stormwater runoff.
DPNR advises the public to refrain from using the coastal waters throughout the territory until further notification. It is also advising parents to instruct their children to keep away from stormwater-impacted beaches as well as areas with manholes and stormwater flooding. There may be an elevated health risk to anyone swimming in stormwater-impacted areas as a result of increased concentrations of bacteria, oil and chemicals, the agency warned.
"All persons should also be aware that stormwater runoff may also contain contaminants or pollutants harmful to human health and therefore all persons should avoid areas of stormwater runoff (i.e. guts, puddles, and drainage basins). DPNR will continue to monitor the impacted areas and waters," it said.
DPNR also advises the public to complete the following tasks to protect your drinking water resources in preparation for an impending hurricane disaster and the resulting potential water resources emergency:
Downspouts leading to cisterns should be completely disconnected or blocked securely to protect the water source.
2)  A two-week supply of potable water should be stored in a safe weatherproof place, preferably indoors. This water supply will provide water for drinking, cooking, and bathing. To figure out how much water you will need: multiply the number of residents by 20 gallons per person per day and then multiply that number by 14 days. For example, a family of four should store 1,120 gallons of water. (Ex: 4 people x 20 gallons/person/day x 14 days = 1,120 gallons)
3) An adequate supply of disinfecting agents such as liquid chlorine containing 5.25 percent sodium hypochlorite (i.e. Clorox), powdered chlorine (active ingredient calcium hypochloride), or iodine should be on hand and stored in a safe place.
4) A supply of sterile potable water bottles and other suitable containers should be secured to store water.
A list of emergency water supplies may be obtained from the Division of Environmental Protection of DPNR on St. Thomas or on St. Croix.
As a reminder, these precautions should be taken ONLY if a major storm or hurricane is imminent and poses a severe threat to your water supply.
Moreover, with Tropical Storm Fiona forecast to bring anywhere from 2 to 6 inches of rain to the territory, DPNR advises all contractors, developers, and home builders to immediately maintain and implement additional erosion and sediment control measures at all areas where property is cleared, graded, filled, or otherwise disturbed, the agency said.
Residents also should take this opportunity to locate areas that may need additional erosion and sediment control measures and install them, DPNR said.
It is also advised that all construction materials and equipment be removed from sites or be properly secured. This includes all items likely to become airborne objects that may cause damage to yours or an adjacent property.
To report any areas of concern, contact the Division of Environmental Protection Earth Change Program at 340-774-3320 or 340-773-1082.
Editor's Note: A previous version of this story said sustained winds from Tropical Storm Fiona would be 45-70 mph, with gusts up to 80 mph. The National Weather Service in San Juan, Puerto Rico, has since adjusted those figures, to sustained winds of 45-60 mph and gusts as high as 70 mph.