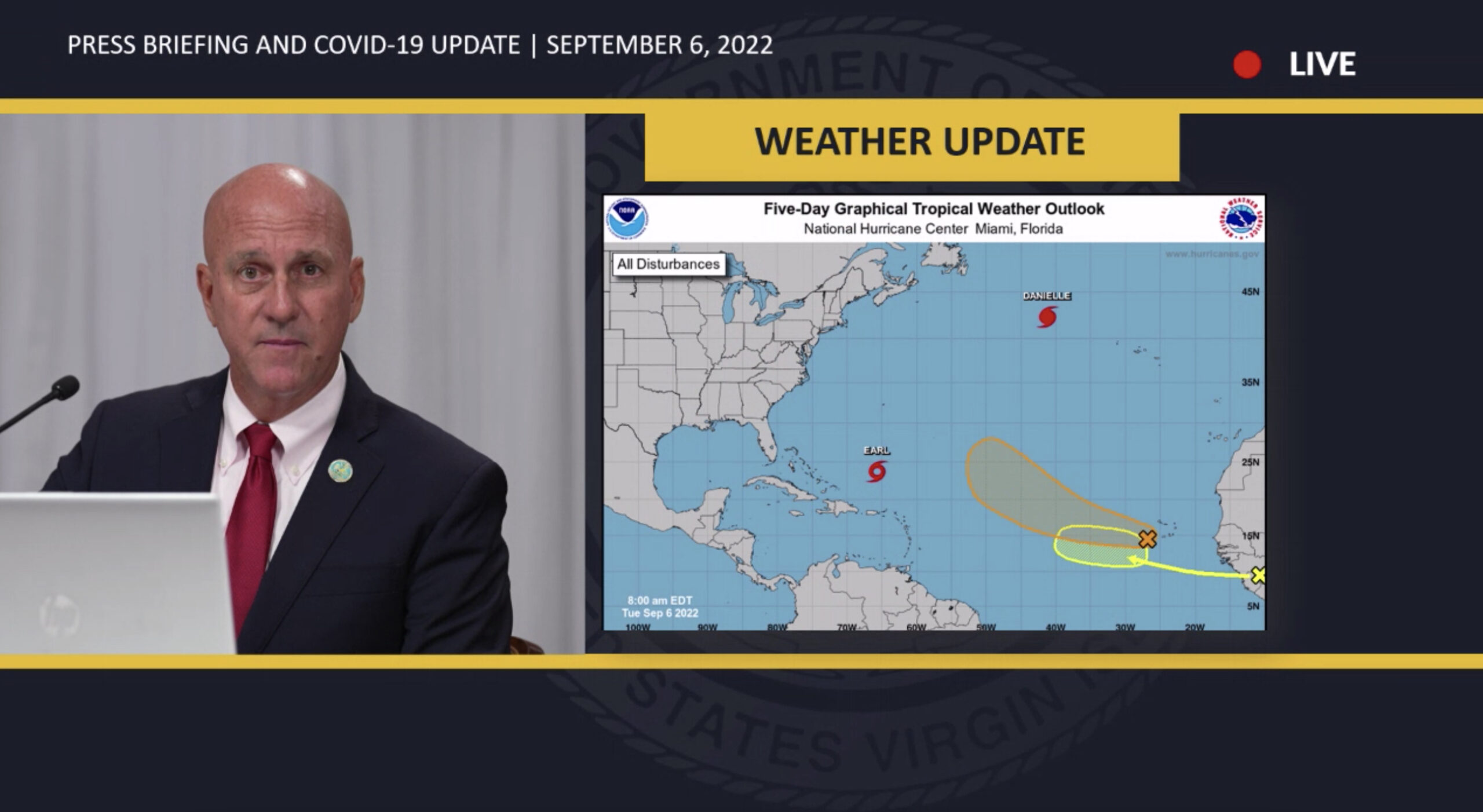 Weather trackers are eyeing two new disturbances off the coast of Africa as Tropical Storm Earl moves north of St. Thomas; an upcoming business forum aims to help St. Croix business owners maximize cruise ship profits; and the U.S. Virgin Islands continues to dodge monkeypox with no confirmed cases as yet, said officials at a Government House briefing Tuesday.
Tropical Storm Earl will continue to churn up rough weather as it veers further north of the territory, said Daryl Jaschen, director of the Virgin Islands Territorial Emergency Management Authority. Weather warnings had been dropped, although Jaschen warned heavy rain, lightning, stiff winds, high waves, and rip currents are all possible for several days, especially in the east. Associated flooding and mudslides were also possible.
"Earl is forecast to maintain its strength today followed by intensification resuming tomorrow. Earl is turning toward the north, moving away from the territory, at 5 miles per hour," he said.
Earl had moved 370 miles north of St. Thomas by midday Tuesday. There were two new disturbances forming off the African Atlantic coastline, however, Jaschen said.
The first, located southeast of the Cape Verde Islands, could form a tropical depression as it moved westward at 15 to 20 miles per hour, he said. There's a 40 percent chance the wind will organize into a depression in the next two days and a 60 percent chance in the next five days, Jaschen said. The second was a tropical wave currently on the African coast. It is forecasted to emerge off the shore in less than two days. There was a 20 percent chance the disturbance could organize.
After hurricane season passes, it will be a busy tourism season in St. Croix, with three times the normal cruise passenger load expected, said Government House Communications Director Richard Motta Jr. Cruise traffic to St. Croix could reach 140,000 passengers — up from under 50,000 during normal pre-pandemic seasons.
To prepare, officials from the Department of Tourism, Royal Caribbean Cruise Lines, and the Department of Sports, Parks, and Recreation have held a series of information-sharing events called the USVI Community Business Forum. The event Thursday, Sept. 8 at 9 AM in the Great Hall at the University of the Virgin Islands campus in St. Croix will also feature speakers from the St. Croix Chamber of Commerce and UVI's School of Business.
Motta asked that anyone with a tourism-related business in St. Croix to attend, saying new ideas are welcome.
"This forum gives our business community an opportunity to engage directly with administration officials and cruise experts so they can plan for the upcoming season," Motta said. "We're encouraging all businesses and entrepreneurs, shop owners, taxi drivers, food establishment owners, and anyone who is a stakeholder in the hospitality industry here on St. Croix to join this conversation."
Interested parties can register at www.vi.gov/cbf.
At least 18,000 cases of monkeypox have been reportedly confirmed across the United States, including 3,000 in New York City, but none yet in the Virgin Islands, said Esther Ellis, the territorial epidemiologist. The virus is spread by close, intimate contact, usually caught by men who have sex with men.
The Virgin Islands Department of Health now has doses of a new COVID-19 vaccine that is more effective against the newest strains of the virus, Ellis said. The V.I. has 800 doses available — 600 Pfizer and 200 Moderna.
Anyone 12 and up are eligible for the Pfizer and 18 or older for Moderna if it has been at least two months since your primary vaccine series.
The DOH's current COVID-19 vaccine schedule is that all vaccinations will take place as a regular part of the Department of Health's clinic schedules. For a COVID-19 vaccination appointment, call 340-244-0016.