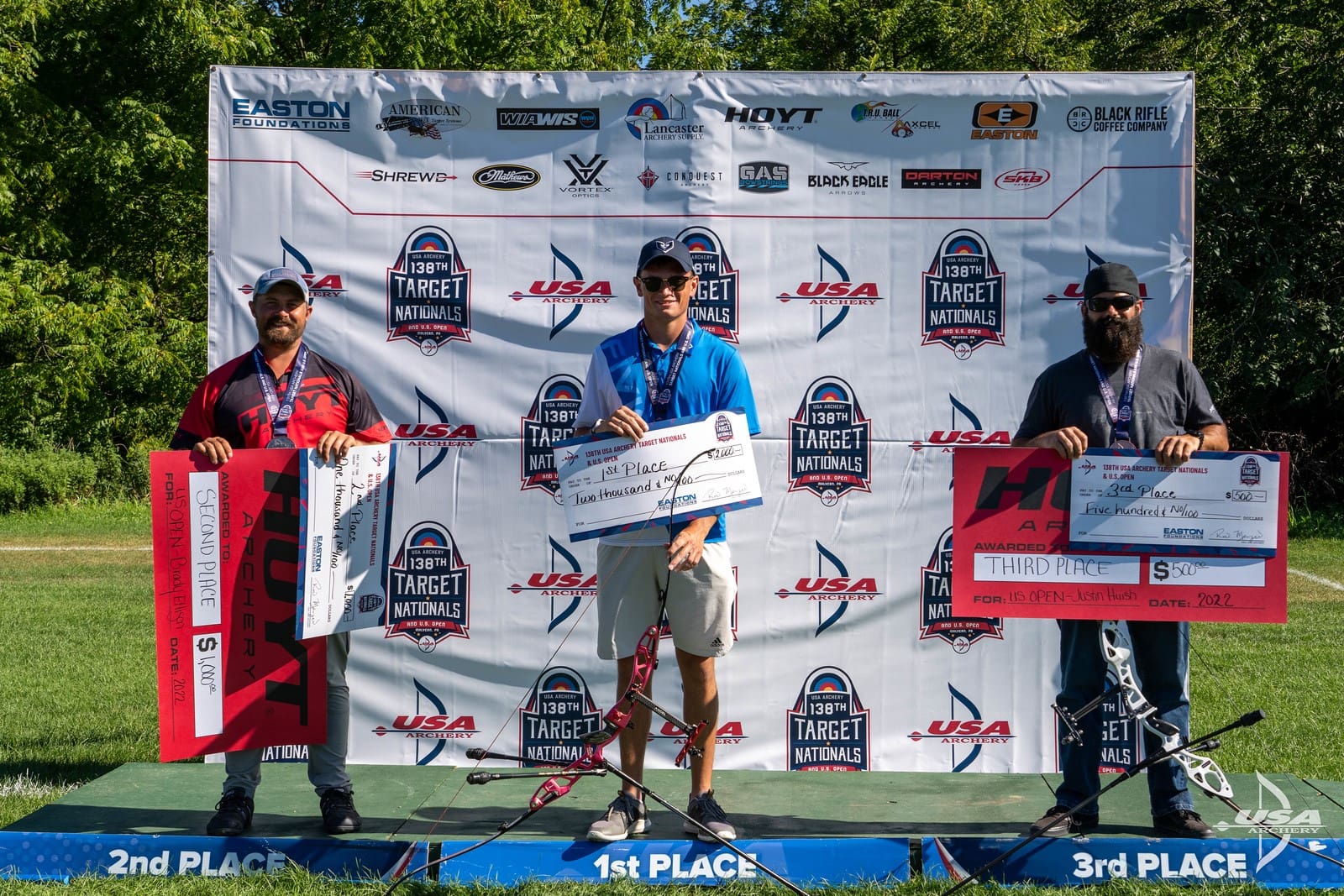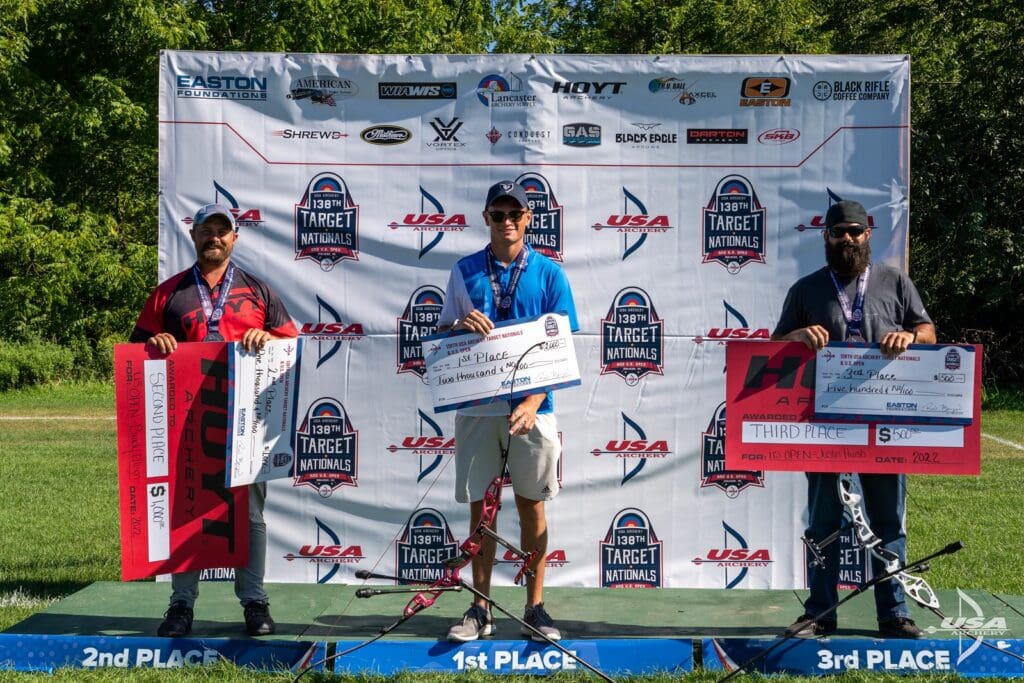 In convincing fashion, Nicholas D'Amour is the new US Open Champion. In a three-day event, starting with a double 72 on August 11 and 12, 2022, D'Amour set a personal best and a Virgin Islands national record of 1348.  At the end of two days, he finished first, with America's best archer, Brady Ellison, finishing second. D'Amour and Ellison were tied at 1348; however, since D'Amour had a higher number of 10s, he was declared the winner and number one seed for the United States Open.
On the third day of competition, the initial 102 competitors in the men's Senior Olympic Recurve Division were cut to the top 64 athletes, based on their scores from the previous two days.  As the number one seed, Nicholas D'Amour faced Jason Vaccarello of California in the 1/32 round. He beat Vaccarello 6-0. In the 1/16 round, D'Amour beat Chris Austin of Arizona in a close five-set match 6-4.  Next, he faced one of Canada's best archers, Conner Sorley of Saskatchewan, beating him 7-3. In the quarterfinals, facing Benjamin Hur of California, D'Amour won 6-2.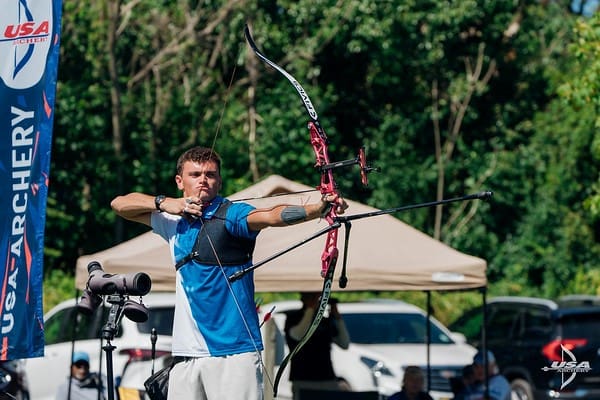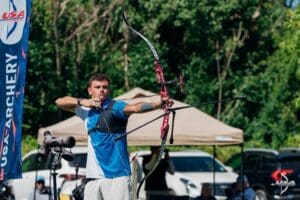 This set up a semi-final match against Justin Huish of California.  Justin is an American double Olympic champion in archery.  Huish was the first male archer to win double gold medals, and his wins led to a popularity boost for the sport. In this semi-final match, Huish went ahead of Nicholas 4-0, winning the first two sets. Nicholas battled back, winning the next three ends and winning the match 6-4.
This incredible come-from-behind win against Huish set up the finals match against Brady Ellison, arguably the best archer in United States history.  Three-time Olympic medalist and multiple World Cup champion, Ellison finished second in the ranking round at the Tokyo Olympics. Ellison is the world record holder scoring a 702 in a 72-arrow ranking round out of a possible 720. He is presently ranked number 1 in the United States and number 6 in the world.
In spite of Ellison's illustrious history, D'Amour dominated his match against him, winning in three ends 6-0, with nearly a perfect score of 29-27, 30-28 and 30-26.  Nicholas hit the 10-ring 8 out of a possible 9 times in the finals.  The gold medal match can be watched by clicking on this link below from (minutes 26 to 34):  https://www.youtube.com/watch?v=QU-687Ly6AQ.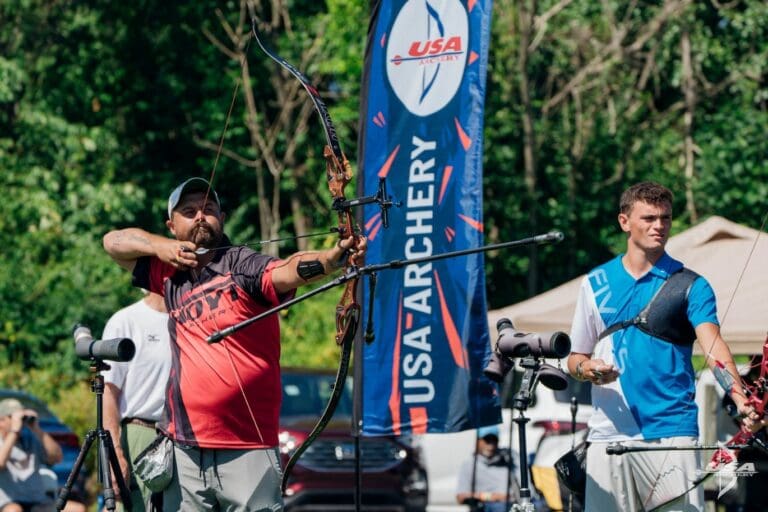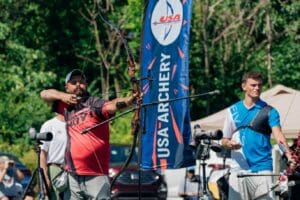 This gold medal for D'Amour is his third USAT podium against the best in the United States.  He won a silver medal last month at the Buckeye Classic. He also won a bronze medal at the Gator Cup in 2020. This is his third USAT podium in as many tries.
D'Amour used the US Open and Buckeye Classic as warm-ups for the Copa Merengue in Santo Domingo next month, which will be the last qualifier for the 2023 Central American Caribbean (CAC) Games.  The Virgin Islands will be attempting to qualify a men's team, and/or a men's individual quota position and an individual woman's quota position in Santo Domingo.  The Virgin Islands will be sending Anne Abernathy, Tatyana Muntyan, Bruce Arnold, Michael Gerard and Nicholas D'Amour to compete for qualifying positions at the CAC Games.