Chirag Vyas and Kevin Chipman have been brewing beer on St. John for almost 20 years. They told members of the Economic Development Commission Tuesday they were ready to take their business to the next level, and tax benefits from the commission could play a part.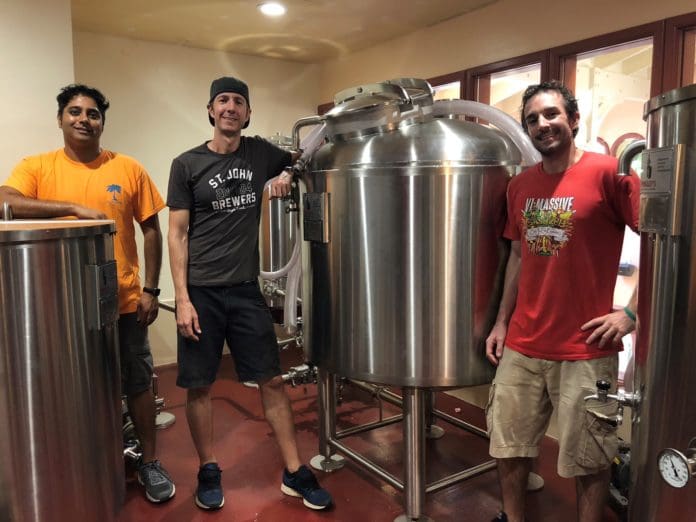 At the public hearing on St. John Brewers' application for tax benefits, Chipman said work had already begun on a new production facility on St. Thomas, and it could be operating before the end of the year.
When St. John Brewers was founded in 2004 by the former college roommates, Chipman and Vyas, it was a two-man operation, and all the brewing was done on St. John. Now the company employs 25 Virgin Islanders, and the owners are proposing to hire 10 more. Some will work at the production facility, while others are being hired for the tasting booth the brewers opened in Charlotte Amalie on St. Thomas earlier this year.
The road has had some bumps for the brewers. In 2015 the first taproom the company had on St. John was destroyed by fire. Its replacement could have opened in 2017 but was delayed after the hurricanes hit until June 2018.
Their original beer was Tropical Mango Pale Ale. But its offering has expanded to include Island Summer Ale, Island Hoppin' IPA beers, root beer, ginger beer, and a Green Flash energy drink. The partners told the commission they planned to add a non-alcohol beer. Its website also offers specialty items such as T-shirts, hats, and water bottles.
At Tuesday's hearing commissioners also heard a request from Neltjeberg Bay Enterprises to extend their benefits another 10 years.
Neltjeberg Bay Enterprise provides consulting services to businesses throughout the United States. The services provided include corporate strategy, business, and operations management, sales, and marketing, purchasing, banking and capital finance, and billing of accounts.
No action was taken on those issues. However, the Economic Development Authority board of directors later in the morning approved an amendment to the agreement it has with Frenchman's Reef Marriott Resort and Spa and the New Noni Beach, a St. Thomas Resort, Autograph Collection. The amendment noted that the Westin part of the project would have 392 rooms instead of the 384 previously noted, and the other part of the resort would have 94 rooms instead of 92.
Wayne Biggs Jr., CEO of the authority, said he did not have an update on when the resort was going to reopen but believed it was still on schedule to open before the end of the year.