Gov. Albert Bryan Jr. announced the formation of a Territorial Park System that includes 30 properties so far, with a partially formed board of directors at a press briefing Monday morning.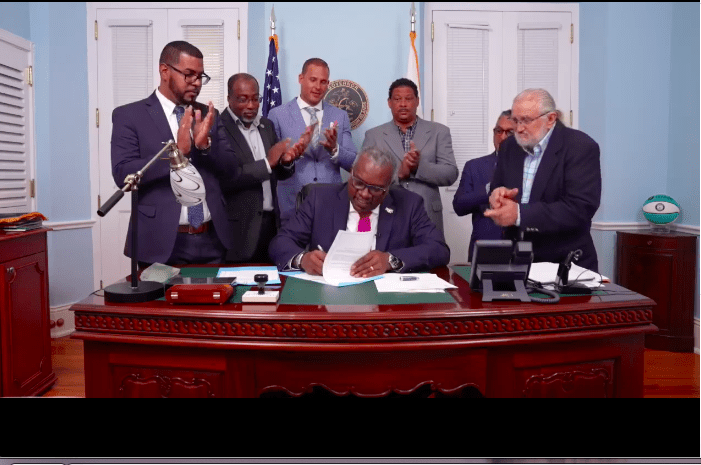 "There are so many pieces of land in the Virgin Islands — Whether St. Thomas, St. Croix, and yes, Water Island that we want to see preserved into perpetuity. And what we needed to do was create the Territorial Park System of the Virgin Islands," he said.
The park system is being set up according to Bills 34267 and 34268, sponsored by St. Croix Senator Samuel Carrion which allows the V.I. Government to take over 30 properties in the territory to be put into the park system "to never be developed."
Bryan said other properties will be purchased and also designated for hiking trails, bike trails, shorelines, and nature preserves. Bryan mentioned land in Frederiksted being acquired to preserve the shoreline.
The governor also named the area known as Maroon Ridge, which has had a set-aside since the 1980s, as potential land to be purchased by the Virgin Islands government. The developer was notified earlier this year that 1,000 acres will be transferred to the local government.
Bryan named four board members on Monday, with another three to be selected in the future. Anyone interested in serving on the board should submit their names for consideration to Government House. The board ultimately will be confirmed by the Legislature.
The new board consists of Jean Pierre Oriol and Calvert White, commissioners of the Department of Planning and Natural Resources and the Department of Sports, Parks, and Recreation, respectively. The other trustees are Conn Davis, a St. Thomas businessman whose family has donated land to the V.I. Government, and Carlos Tesitor Jr., a project manager with GEC, LLC. The governor said Tesitor has been instrumental in acquiring the Maroon Ridge property.
The Maroon Park is in St. Croix's Northwest Quadrant, and almost 20 years ago people started to become more aware of the importance of preserving the land that was a refuge for Maroons. Maroons were runaway enslaved Africans who created their own culture, government, and military defense, according to Olasee Davis, a professor at the University of the Virgin Islands, local columnist, and well-known environmentalist. He wrote several articles about the Maroon community and, on Aug. 2, said the land must be preserved.
"Some Maroons even jumped over cliffs to freedom, according to oral history, which makes Maroon Country sacred ground in Virgin Islands history. It is for this reason, without a doubt, that a Maroon Territorial Park is not an option but a must," he wrote.