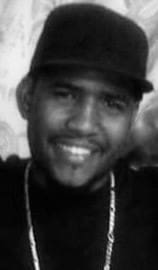 Vanborn Reginal Neptune Jr., affectionately known as "Reggie," of Estate Boetzberg died on Dec. 31, 2021.  He was 37 years old.
He was preceded in death by his brother, Kaunda "Fufie" Bryan; grandfathers: Pedro Mario Encarnacion and Lionel Neptune; grandmothers: Joyce Neptune; and great aunts: Beulah Lang, Cynthia Fabio and Ana "Nina" Encarnacion.
He is survived by his mother, Anya E. Encarnacion; father, Vanborn R. Neptune Sr.; daughter, Kiara Neptune; son, Reginald "King" Neptune; sister, Vanya L. Neptune; companion, Nicole James; stepsons: Aaron and Amarie; grandmother, Beatrice Cintron; brothers: Anthony Neptune, Reynaldo Neptune and Michael Neptune; special friends: Griselle Boulgne and Januel Nales; aunts: Christine Thomas, Rhona Martinez, Dr. Carmen Cintron, Petra Piniero, Linda Larsen Peters, Iris Cintron, Angelica N. Schuster, Bernice N. Clendenen, Beatrice N. Wallace, Ellenor N. Chapman, Leonile N. Sealey, Irene N. Prentice, Anna Maria Heyliger Hector and Mavis Neptune; uncles: Luis Cintron, Justin Cintron and Lionel A. Neptune; and great aunts: Winona Phaire, Mavis Lang and Aurora Encarnacion.
He is also survived by great uncles: Luis "Negro" Encarnacion, Juan Encarnacion, Jose Encarnacion, Celin Encarnacion and Carlos Encarnacion; nieces: Asheba O. Huggins and Keniya Bryan; nephews: Kenal Kaunda Bryan, Melchisedec Huggins, Malachi Huggins, Shadrack Huggins, Rasaur Huggins, Anthony Neptune Jr., Christopher Neptune, Reynaldo Neptune Jr., Joshua Neptune, Rishaun Neptune and Ronye Neptune; other survivors: Andrea Bryan McIntosh, Lyreah Bryan Heyliger and Mia Bryan Baker; stepmother, Miguelina Neptune; and many other cousins, relatives and friends too numerous to mention.
Surviving cousins include: Kalani John, Andre Thomas, David Martinez Jr., Davina Martinez, Josephie Martinez, Kiki Piniero, Esmeralda Piniero, Joshua Piniero, Luis Cintron Jr., Michael Cintron, Laila Cintron, Amir Cintron, Ikusha Bassue, Ambokile Bassue, Inderia Peters, Ivin "Rubio" Peters Jr., Mahlon Peters, Radiance Peters-Todmann, Ricky Schuster and Andrew Schuster.
Other survivors include the Encarnacion, Phaire, Neptune, Fabio, Schuster, VanBeverhoudt, Millin, and Simmonds families; and his extended family at the Department of Labor, D&J Shooting Gallery, Crucian Pools, St. Croix Racing Association and the Bikers Association.
A Celebration of Life for Vanborn "Reggie" Neptune will be announced at a later date.
Tributes can be emailed to reggietributes@gmail.com