The Caribbean Museum for the Arts in downtown Frederiksted will host an artist talk by artist-in-residence Clayton Singleton on Saturday, July 23, 2 p.m. to 3 p.m. The museum will unveil its newest additions to the permanent collection and will be on display following the artist talk. Live entertainment by Philippa Smith-Tyler on piano and vocalist "Adjoa" from 5:30 p.m. to 7 p.m. Complimentary refreshments and a cash bar will be available.
Award-winning artist, educator, muralist Singleton brings his "Voices in My Eyes" painting workshop series to teens and adults and mural painting to teens during the month of July.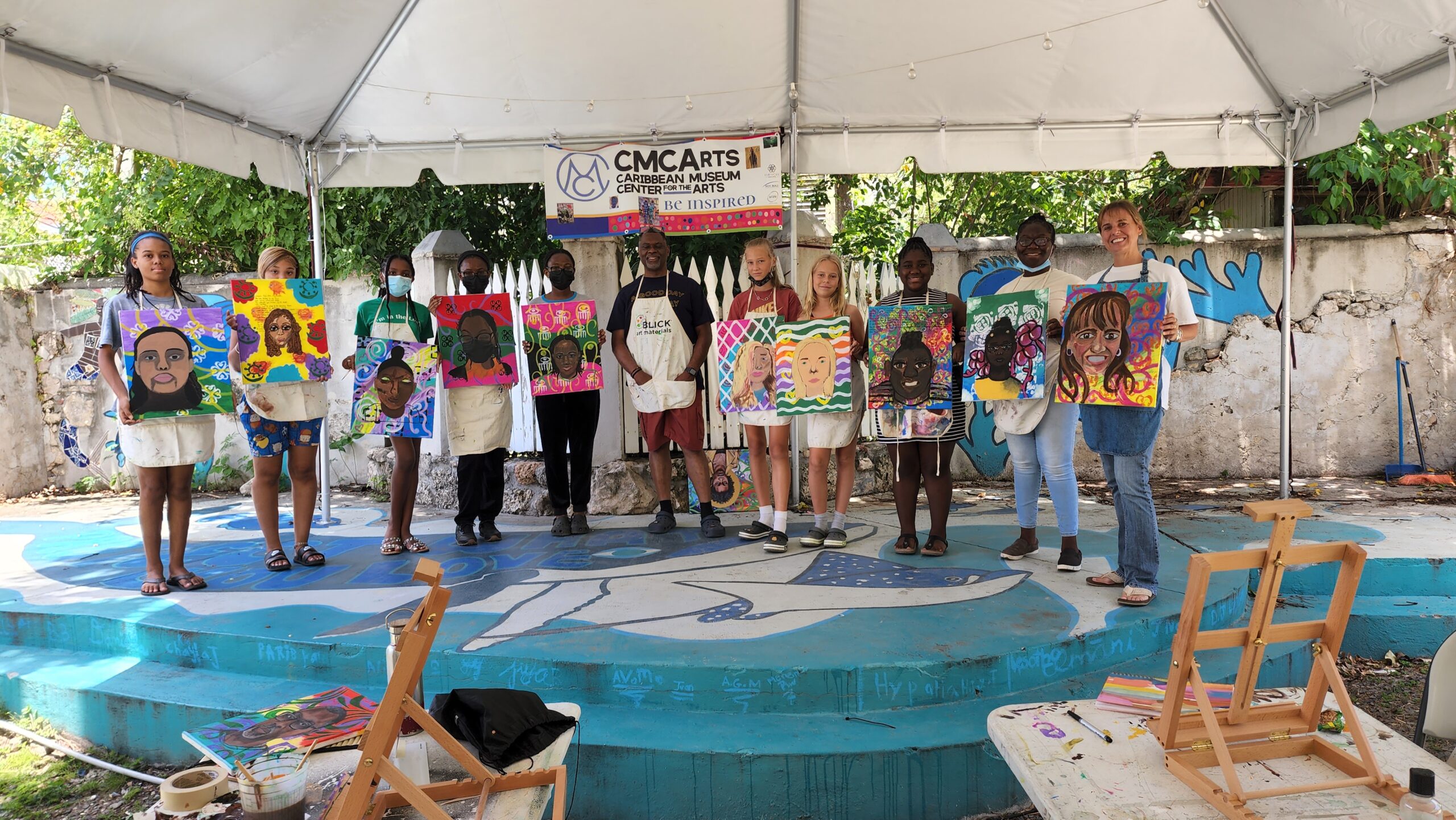 Singleton's teaching method is to "simplify the process and change the way we think about things." We don't always see things the way they are. I get the students to see visual language the way we see literal language. It's a blend that examines education, courage, perseverance, and beauty, he said.
Art Teacher Workshop on Saturday July 9 and Adult Workshop on Saturday July 16 focused on portrait painting.
In the Voices in My Eyes Series for Female and Male Teens, ages 12-16, students met with Singleton July 5-7, 9 a.m. to noon. The females were vocal and expressive and utilized all of the paints, brushes and canvases. There are certain needs females have that are different from their male counterparts, Singleton said.
The female and male teens worked with Singleton to create their own individual self-portraits with a focus on finding their voice through the addition of poetry and video recordings in the three-day workshop. Their expression was created through the use of acrylic paint and canvas for their self-portrait.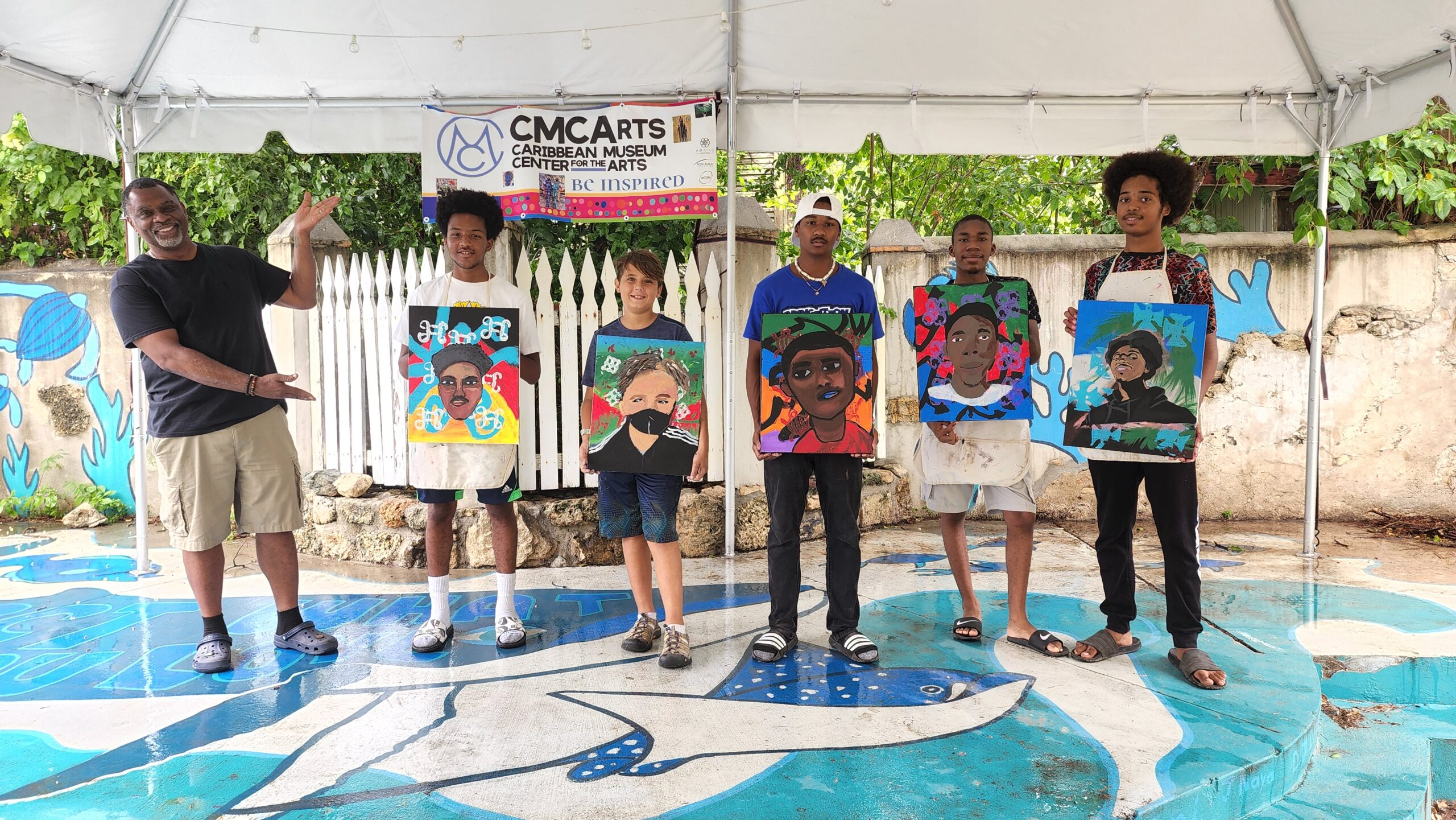 Voices in My Eyes Series for Males focused on male identity in 21st century/traditionally, historically, and culturally what it is to be male. This all male session for ages 12-16. students met with Singleton July 12-14, 9 a.m. to noon.
The 12 to 16 year-olds-transitioning-into-adulthood-males came in very quiet and reserved the first day — very serious and strong. "They showed no teeth," Singleton said, showing his with a full smile.
"I let them know that it's ok to actually be vulnerable as men — to tap into your total emotional reservoir — that you don't have to pick and choose — that you get to be exactly who you are — you don't have to be the stereotype. You can be your type."
By the third day of the male workshop, the teens had bonded and came in smiling and talking, Singleton said.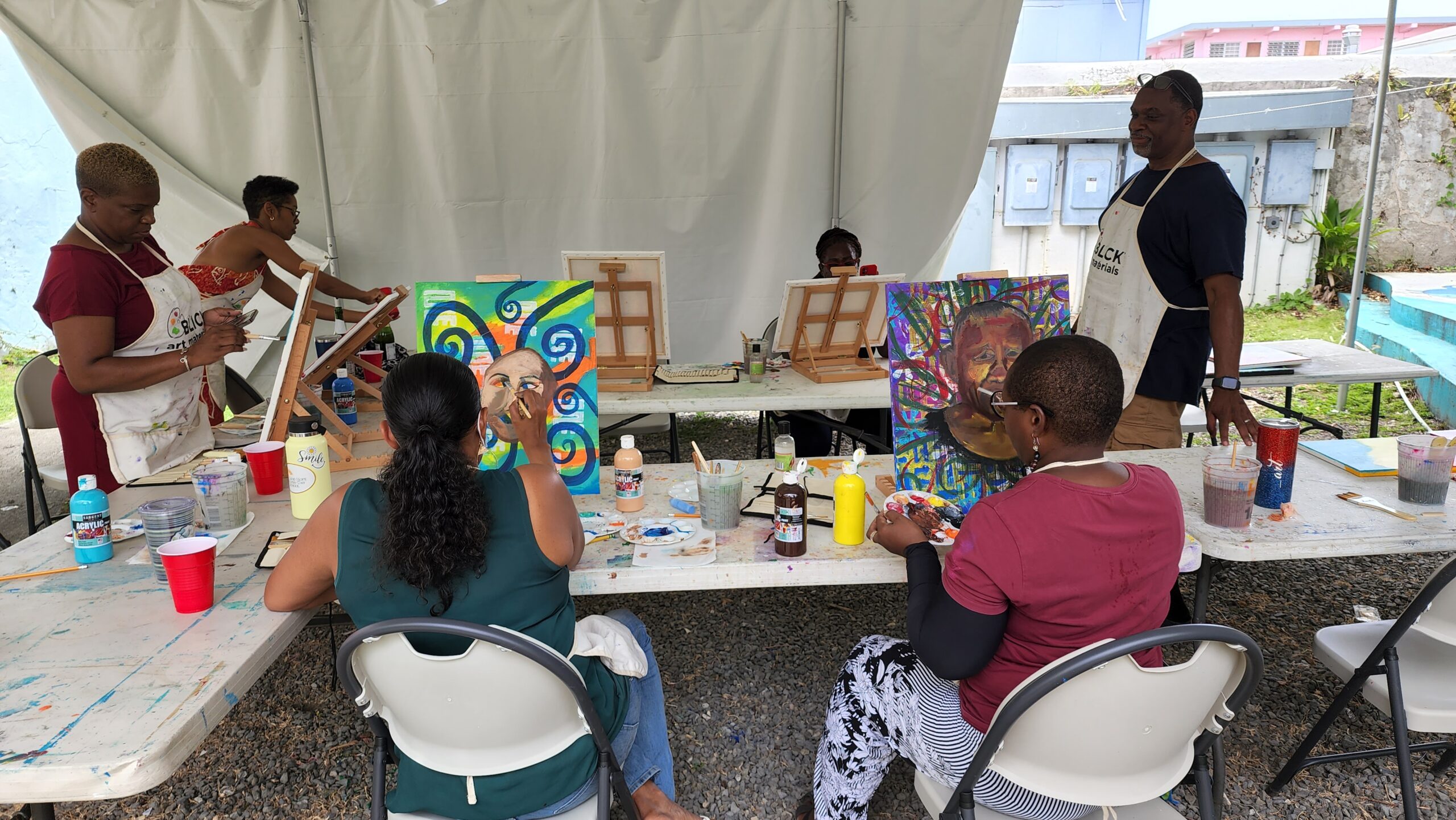 Parker White discovered Singleton's artistic style at exhibitions in Virginia Beach. "He was my 'art crush' and I could see his greatness coming to the students here. Our students haven't had art for two years due to Covid and the lack of art teachers," Parker White said.
The Sprint to Excellence Grant from the St. Croix Foundation brought Parker White's idea to bring Singleton to the island as CMCArts artist-in-residence to fruition.
A resident of Virginia, Singleton was once a member of the Hampton Roads National Poetry Slam Team and has been noted in many publications ranging from The Virginian Pilot and Ledger Star to Time Magazine.
Singleton has created public art, won numerous awards, and produced several solo and group shows including Walking on Paper at Art Works gallery. The Virginia Opera commissioned Singleton to design sets for Porgy and Bess and Freedom's Journey.
He helped rewrite Norfolk's art curriculum, and the list goes on and can be read on his website.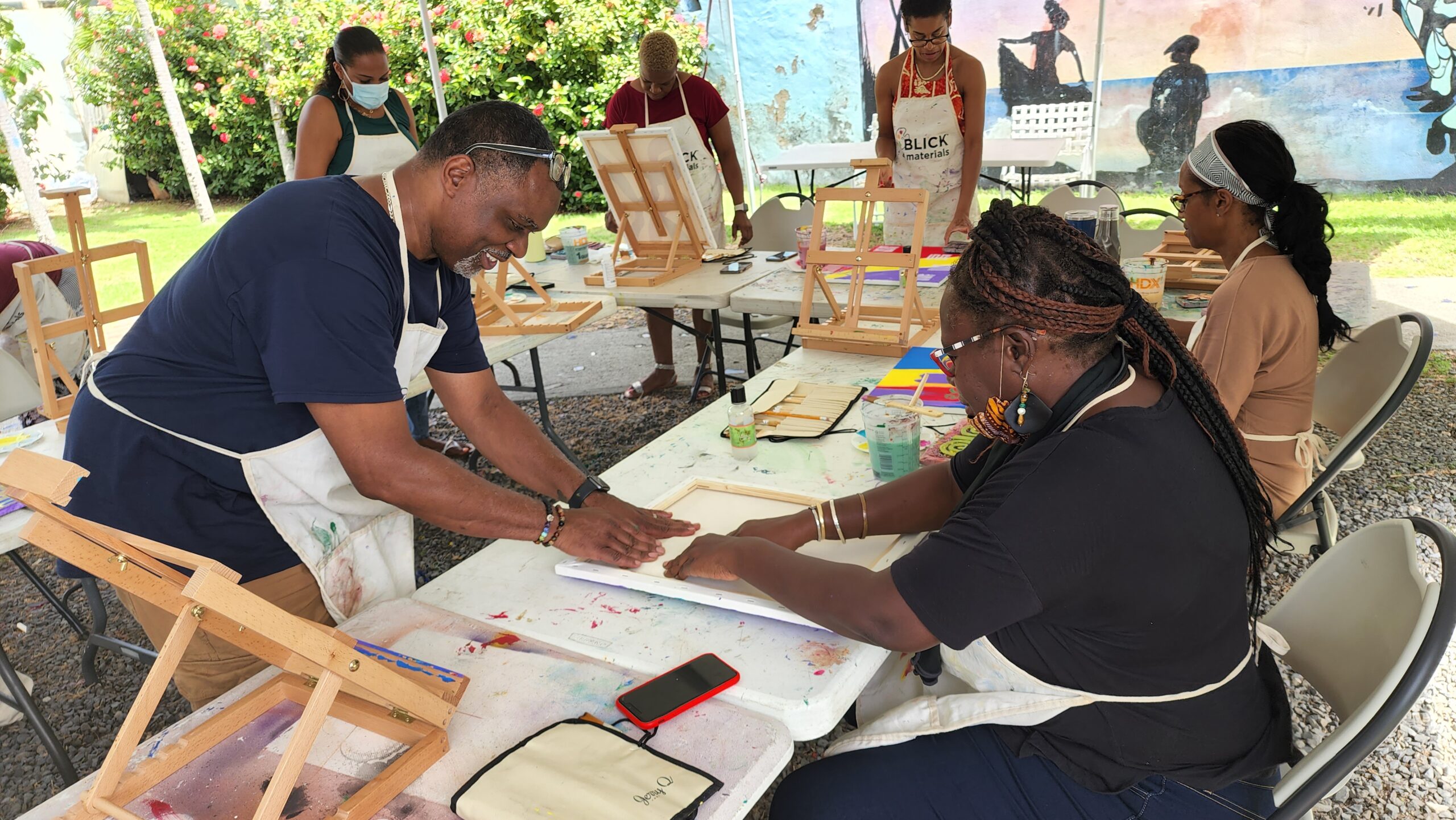 About his work, Singleton said, "Everything is like a layering process. The belonging layer — the thought being that we all want to belong to some type of community. I choose colors in an organic sense. Then there's the quilting layer. I carve and create block prints of the Adinkra symbols, which become a language in and of itself. The color green represents gardening – we develop as we grow. There's also writing … the authentic layer … the journal layer. We tend to be who we are when we journal. I finish with a portrait on the front. That is the simple process." The more emotional process is how do I choose what I need to have, he said.
Singleton shared an art piece he has been building since he arrived on St. Croix. In his yellow, green and blue belonging layer, green is the shape of the island that he sees everywhere present on St. Croix. He chose white as the design of the museum courtyard chair as the seat — the kindness of the people of St. Croix is welcoming — like please have a seat, join us. He chose the Sankofa symbol, which means we must look back to the past so that we may understand how we became what we are and move forward to a better future.
"People talk about the history of St. Croix all the time, always looking back to move forward. People in Virginia don't talk about the history of Virginia," he said with a chuckle.
Singleton wanted the writing on his art piece to be more authentic – about what was happening in the present. "I think what moved me most about Crucians is their kindness. It's like whether I'm walking down the street or driving, I see a regal people – a people whose strength echoes, 'Jah will provide. You understand? Jah will provide.'" This is what I'm learning while I'm here, he said. That is what he wrote.
The male and female teens are painting a mural with Singleton July 18-22, 9 a.m. to 12 p.m. on a 20- foot long shipping container near the Fred Hotel on Strand St. across from the Athalie Petersen Public Library. The mural will be unveiled July 23 during Singleton's Artist Talk.
"I'm so happy we got to work with him," Parker White said.
For more information:
www.cmcarts.org
claytonsingleton.com