A leading advocate for recycling programs in St. Croix is one step closer to joining the Virgin Islands Conservation District Thursday.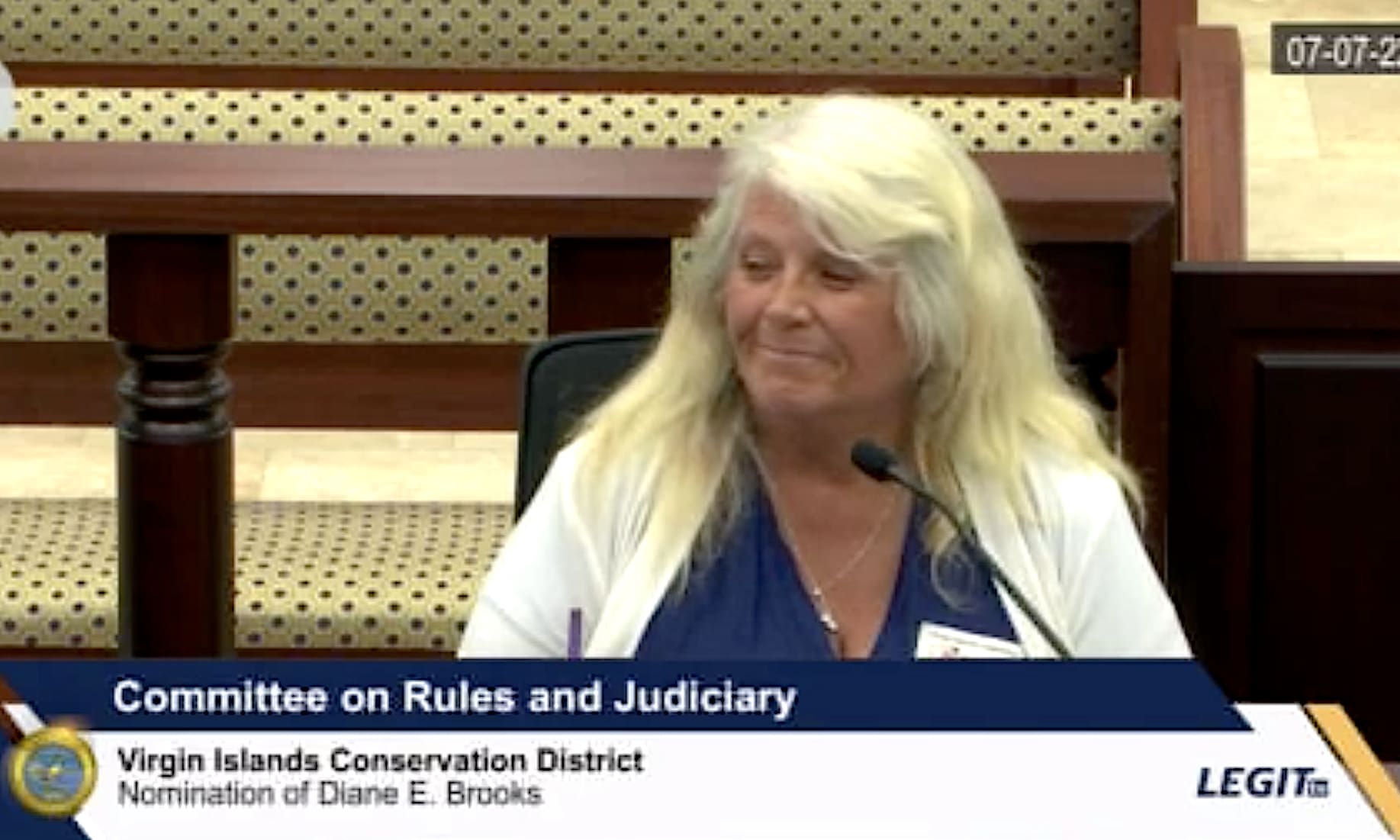 The Senate Committee on Rules and Judiciary approved Diane E. Brooks and advanced her nomination deliberation and vote by the full body. The vote was unanimous, save Sen. Novelle Francis Jr. who was briefly absent.
Brooks had led a team of volunteers and civic-minded business owners since at least 2018 and had been educating herself on recycling best practices far longer, she said at the hearing. She said she has worked with recycled material brokers in Miami and elsewhere, learning the intricacies of plastic recycling — how the little numbers on the containers are too broad and no longer work in the specific sorting resellers need.
She plans to meet with recycling center owners and attend conferences soon while on holiday on the mainland.
"If you approve my nomination to this board, I'm just getting started," Brooks said. "The community wants to do their part. We just have to give them a way to."
The Conservation District was founded in 1965. It was active in assisting farmers with using water and land efficiently until falling into disuse in the early 2000s, according to the United States Department of Agriculture. It was revived in 2014. The storms of 2017 slowed that progress, and the Conservation District found itself rebuilding once again.
The 11-member Conservation District board is supposed to be comprised of five Crucians, four St. Thomians, and two St. Johnians, the Senate's Legal Council, said. If approved by the full Senate, Brooks would be the first and only member of the modern board, she said.
"My goal is to bring a recycling center that is a private entity that is owned by the community," she said. "What I've learned through this is that the community is what will make this work."
Not a farmer, Brooks said her work is just as vital to the District's mission of protecting the territory's soil, water, and air.
"When there is nothing to do with waste, it will become an environmental problem," she said. "I just want to do this for the Virgin Islands."
Sen. Kenneth Gittens asked her what her dream scenario would be.
"To get plastic gone would be my dream — but recycling on the island, and the lack of using plastic and finding resources that can be beneficial to nature, going back into nature rather than going back into our landfills," Brooks said.
Brooks said she's had to abandon her own home as soil erosion is causing it to slip into the sea.
Her frustration with government inaction on recycling was a point of emphasis in many of her answers.
Brooks said at one point, she received a $500,000 grant to start a recycling program in St. Croix from mainland investors. All she needed was a plot of land to put it on. Someone else wanted the land. Stymied, Brooks, eventually lost the grant.
"It would be good-paying jobs," she said, speaking of facilities that could sort and bail plastic and pulverize glass into money-making industrial sand. "It isn't only glass. It can do toilets. It can do pots, any product that could be turned back into sand."
Some of her most meaningful work, she said, involves young people.
"My goal is to work with the children. That's where our future starts," Brooks said. "When you see 10,000 bottle caps, and you understand there were 10,000 things attached to that cap, it gets you thinking."