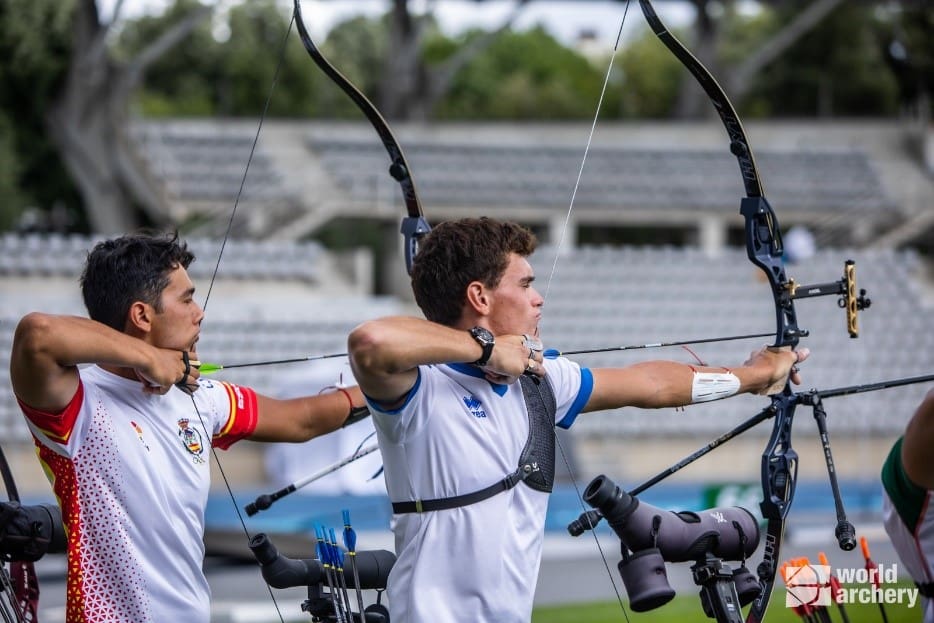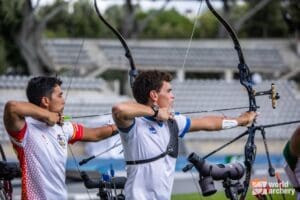 To prepare for Stage 3 of the World Cup in Paris, Nicholas D'Amour and his coach, Angelo Acevedo, were invited by the Spanish Olympic team to train for one week in Madrid.  After training hard, they headed to Paris, and then disaster struck.
Air France lost his bow case.  Plan B went into effect.  Between D'Amour Acevedo, they reached out to their friends and supporters and were able to cobble together a bow and arrows, and prepared to compete with borrowed equipment. After practicing with the borrowed equipment for three days, they spent six hours at Charles De Gaulle Airport the night before the qualification round.  Finally, the bow case was found.
They returned to the hotel late at night to find that D'Amour's room had a sewage back-up, but they had no other rooms at that hotel and would have to be moved to another hotel.  With all of this happening, he had to check his equipment and get ready for the competition that was scheduled to begin in six hours.  On limited sleep, the next morning he was able to practice with his equipment for three hours, instead of three days. D'Amour went out and shot a season high score of 675 and finished the qualification round 16th out of 123 male recurve of the best archers in the world. He then went on to win the first round (1/64) against Tiago Matos of Portugal 6-0.
Two days later in the second round (1/32), facing Dauletkeldi Zhangbyrbay of Kazakhstan, he won 7-3.  In the third round (1/16) he went on to beat Ken Sanchez Antoku of Spain 7-3.  After three straight wins it set up a rematch with Woojin Kim of Korea in the fourth round (1/8).
Kim is presently ranked number 1 in the world and was the number 1 seed this event.  Kim was also the gold medalist at the 2021 World Championships in Yankton, S.D., and the 5th place finisher at the 2021 Tokyo Olympics. Less than a month ago, in Gwangju, on Kim's home soil, D'Amour was down 2-0, but in the second end he shot a perfect 30 to tie the match up 2-2.  Kim won the third end and the two archers tied the fourth end.  Now down 5-3, D'Amour was faced with a must win 5th and final set.  Taking Kim to a five-set match, he lost 7-3.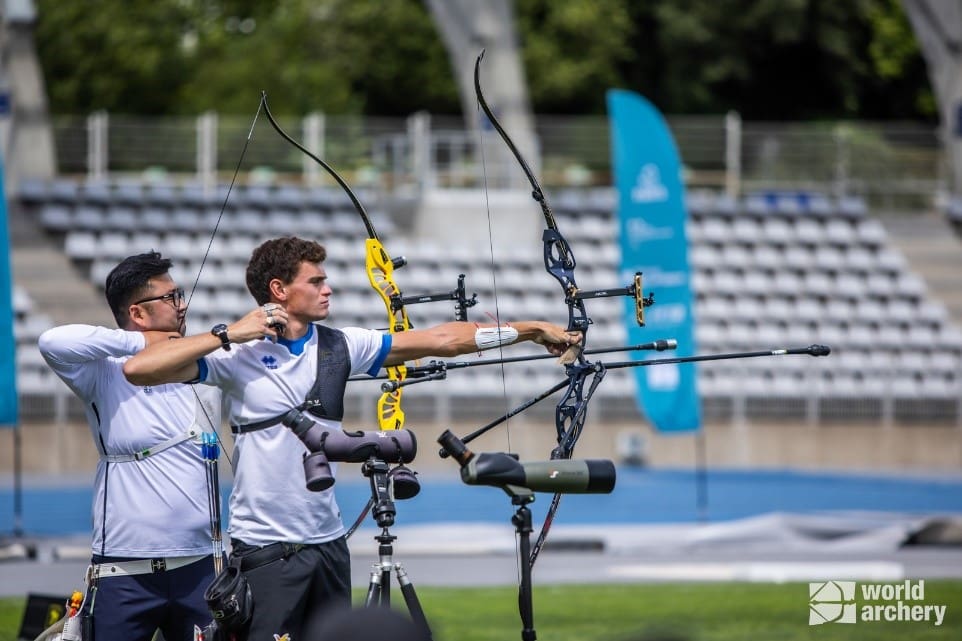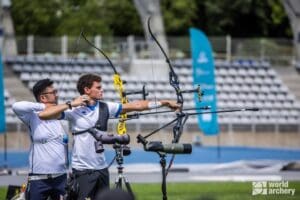 In Paris, D'Amour now faced Kim in a re-match.  He was down early 4-0, but in a pitch battle he came back, tying the 3rd end 28 to 28.  He won the 4th end with a perfect 30 to Kim's 29.  Needing a win to face Kim in a shoot off, he beat Kim 28 to 26.  Now tied 5 to 5, one arrow would decide the match.  Both archers shot a 9, but Kim's 9 was a millimeter closer to the center. The judge's call on the last arrow required multiple looks before it was decided that Kim was the winner. D'Amour had the highest score (144) in the 1/8 round.
Kim then went on the quarter-finals against his teammate Jin Hyek Oh, losing in a shoot-off.  Oh shot an X to Kim's 10.  London 2012 Olympic Champion  Jin Hyek Oh (Korea),  Je Deo Kim (Korea), Marcus D'Almeida (Brazil) and Dan Olaru (Moldova) comprise the recurve men's semifinal line-up. Across the eight remaining recurve archers in the competition, only three qualified within the top 10. Top seeds fell early and often during this afternoon's windy eliminations session.  D'Almeida went on to win his first International Gold Medal.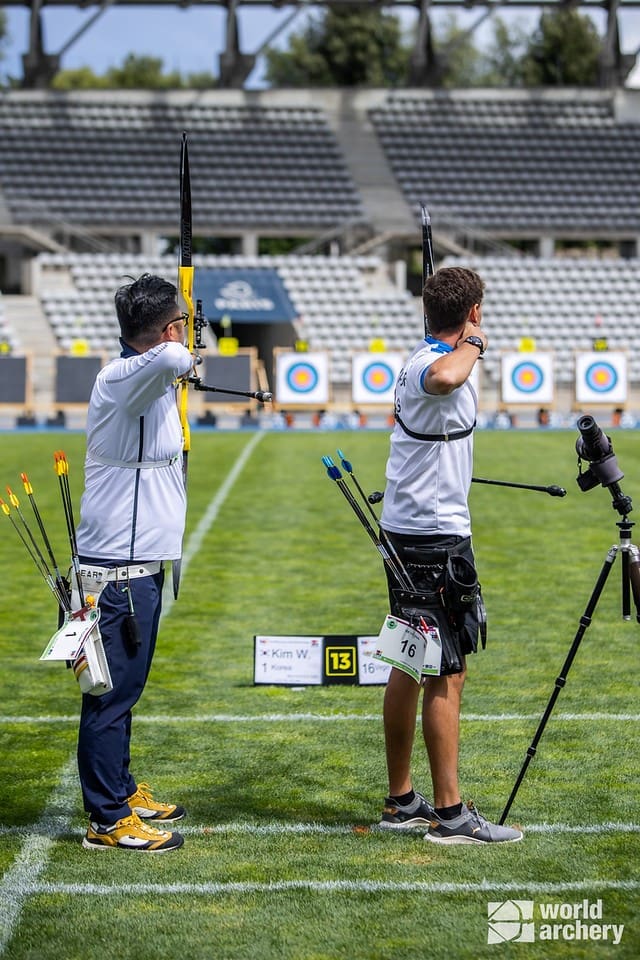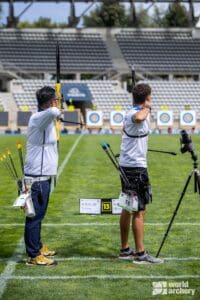 Nicholas and D'Ameida were the only two archers to make beyond round 4 from the Americas.   With a World Cup top ten finish in his pocket, D'Amour will next be traveling to Medellin, Colombia, for Stage 4 of the World Cup (July 18-24). He and coach Angelo will be training in Medellin a week before Stage 4. After Stage 4, D'Amour will compete in the Buckeye Classic in Dublin, Ohio, July 29-31, and the USA Nationals in Malvern, Penn., Aug. 10-13. The Buckeye Classic and the USA Nationals will be in preparation for the Copa Merengue — the second qualifier for the CAS Games in Santo Domingo, D.R.. Sept. 5-12.