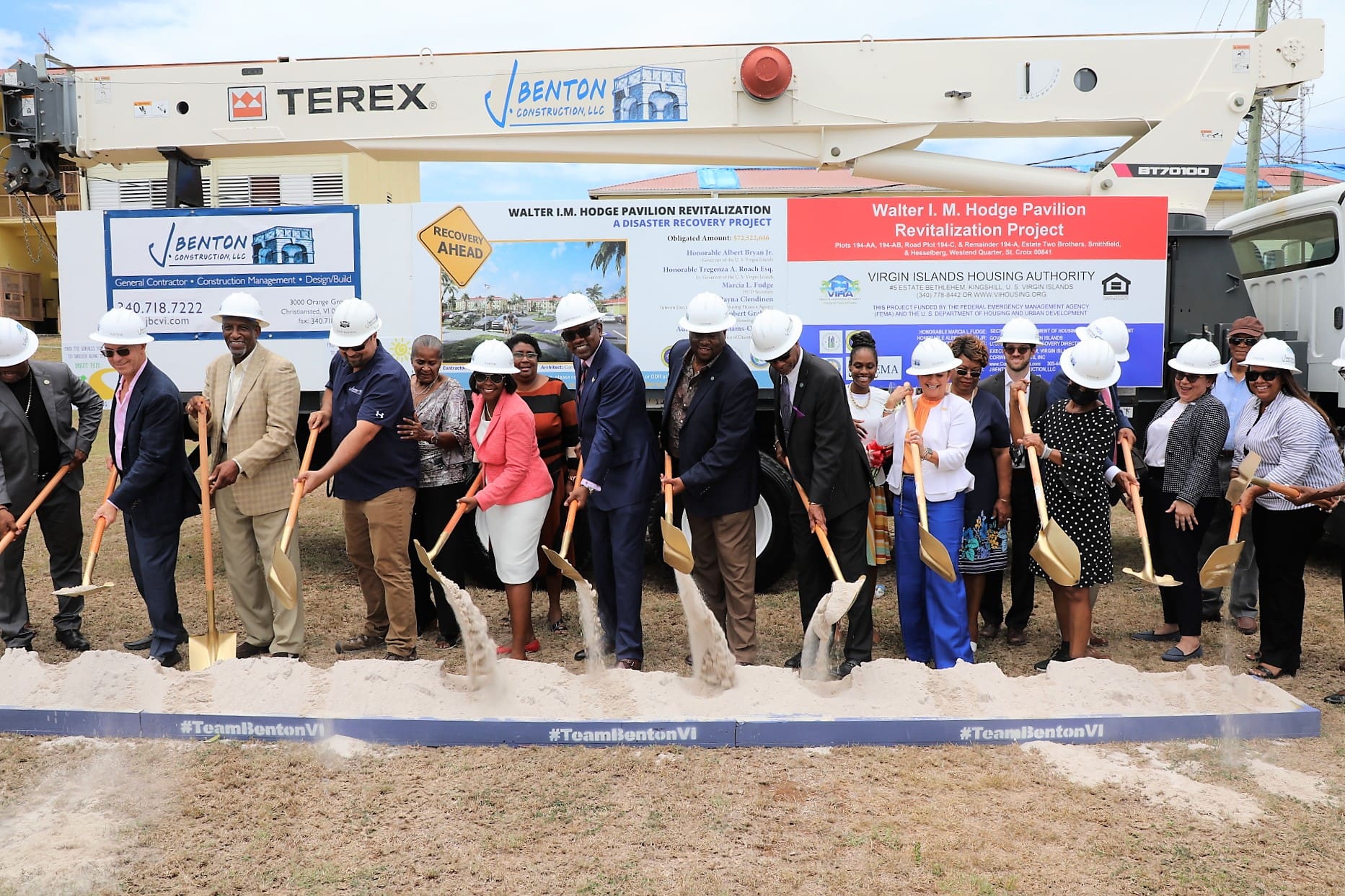 Federal and local officials held a ground breaking ceremony for federally funded revitalization of the Walter I.M. Hodge Pavilion apartments on Friday.
"We congratulate the V.I. Housing Authority and all those involved in bringing this complex project to fruition, including VIHFA's program staff Lisa Richards and Rosalind Estrill, who worked seamlessly alongside the VIHA team," V.I. Housing Finance Authority acting Executive Director Dayna Clendinen said in a release Friday. "Creative and collaborative inter-agency partnerships like these truly enable progress – and we look forward to investing in future opportunities for our territory and its people."
Upgrades to the 248-unit project includes new kitchen and bath fixtures and cabinets, new plumbing and electrical systems, appliances, and flooring and painting. In addition, there will be substantial storm hardening measures including the installation of a new façade system incorporating new hurricane-wind resistant windows and louver systems, and entry doors and storefronts.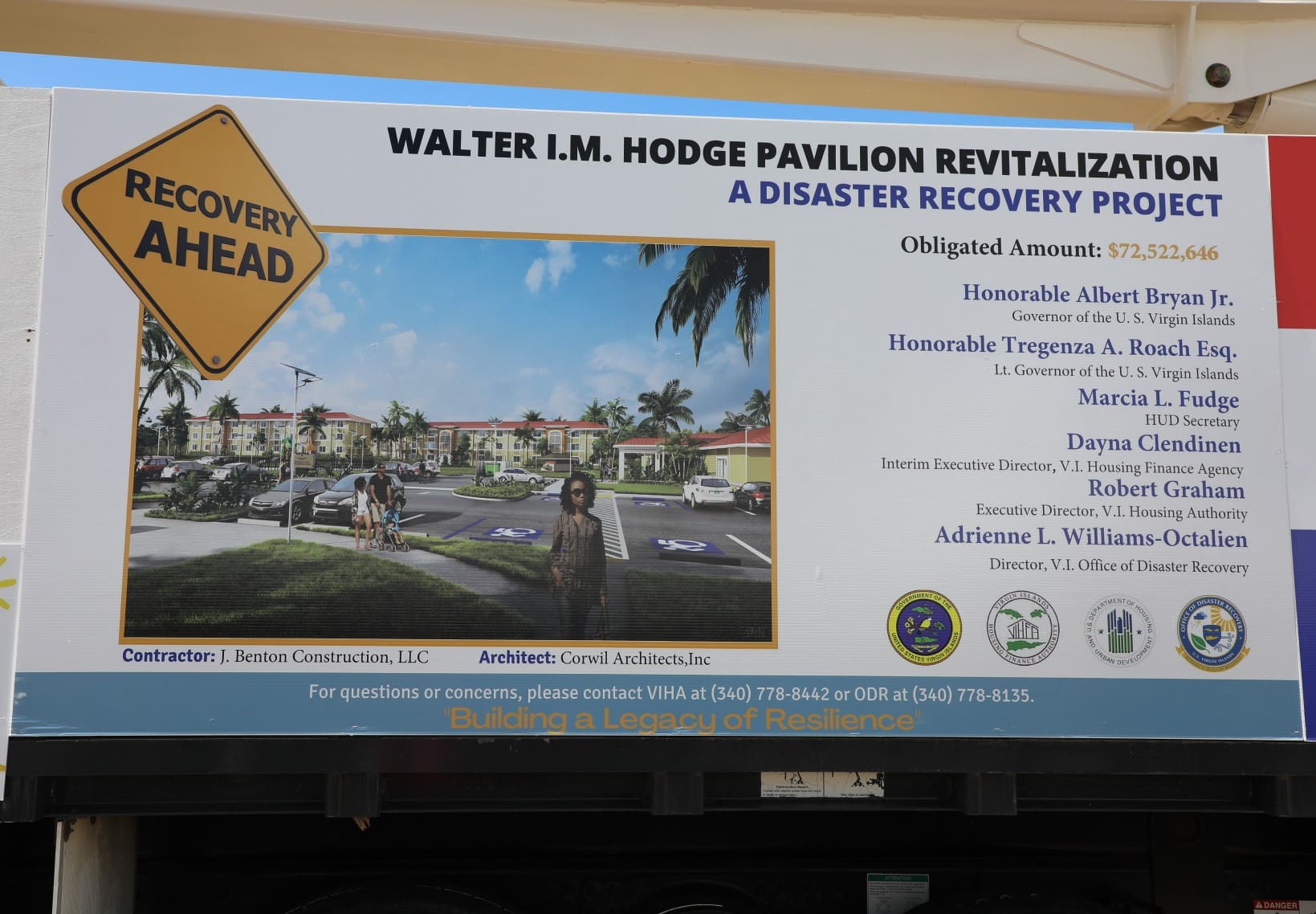 According to the Housing Finance Authority release, beautification on-site includes new electrical lines underground, new site signage, landscaping, redesigned pedestrian walkways/seating areas and recreational facilities including a playground, upgraded basketball courts, and community gardening/planting boxes, as well as improved and increased parking throughout.
The Walter I.M. Hodge Pavilion, constructed in 1971, includes 20 residential buildings and one community building. As part of the conversion, the property will transition from public housing to Section 8 project-based rental assistance, according to the U.S. Department of Housing and Urban Development.
When complete, the community will be owned by Walter I.M. Hodge RAD LLC and MDG Development Owners LLC, with the ground leased from Virgin Islands Housing Authority, according to HUD officials.
Flying debris and flooding during hurricanes Irma and Maria caused 58 percent of the units to become vacant, federal officials said.
"The revitalization of Walter I.M. Hodge Pavilion will allow residents to remain safely and affordably in their homes, with the added piece-of-mind that their home will be safe and protected from future storms," said Michael T. Rooney, founding principal of MDG Design and Construction, the project's contractor. "As our first project outside of the continental US, we are grateful to all our incredible partners who share our passion and excitement for this important work and allowed us to bring our expertise and resources to St. Croix."
Resilience improvements include roof and shear wall reinforcement to withstand hurricane winds, hurricane-resistant doors and windows, and aluminum louver systems.
The project is the first of the Housing Authority's long-term plan to renovate and rebuild its affordable housing portfolio throughout the USVI, according to Government House.
Through the RAD program, projects funded under the public housing program convert their public housing assistance to project-based Section 8 rental assistance, according to HUD. Under Section 8, residents continue to pay 30 percent of their income towards rent, and the housing must continue to serve those with very low and extremely low incomes.
Financing for the project includes $49.9 million in funding from FEMA Public Assistance and Hazard Mitigation Grant Programs, the V.I. Housing Finance Authority's allocation of $22.65 million from HUD's Community Development Block Grant-Disaster Recovery Program and $27.56 million in 9 percent Low Income Housing Tax Credits.