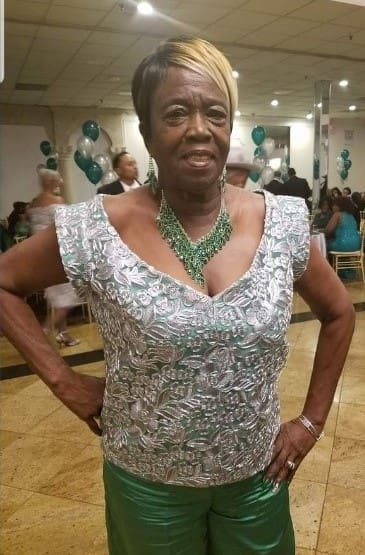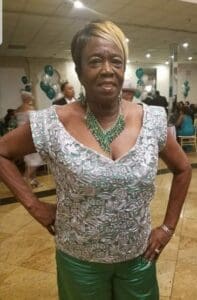 The loving family of Marjorie L. Freeman McFarlane regrets to announce the end of her beautiful and fruitful journey on Friday, May 20, in St. Thomas, U.S. Virgin Islands, at the age of 84.
One of our family matriarchs has taken her last bow. As she says, "Grieve not for me, always remember the best times, the dancing, the singing and the laughter that we once shared and the beautiful life I lived while here on earth with you."
Our beloved mother, sister, aunt, grandmother, cousin and friend Marjorie was born June 24, 1937, to the late Amanda Turnbull-Freeman and James Freeman in the British Virgin Islands.
She was proceeded in death by her parents; sisters: Grethel E.F. Henley, Margaret Rita Turnbull and Elaine Turnbull-Potter-Freeman; brother, Eunell Freeman; son, John Hodge; daughter, Janice "Betty" Hodge; niece, Shirley Todman; nephew, Eric Rieara Jr.; and great-nephew, Jahmoi A. Francis.
Marjorie's journey took her from her beloved British Virgin Islands, St. Thomas Virgin Islands, New York and back to the Virgin Islands. Her 84 years were well spent among her family and friends. She was the proud owner of the famous "Unique Designs" Beauty Salon in the Bronx for over 40-plus years.
Upon her return to the Virgin Islands, she worked with the Virgin Islands Housing Authority and the Virgin Islands Police Department's Weed and Seed Program where she had an insightful impact on many children and families while improving their quality of life.
As God was the center of her universe, she trusted Him for all things.  She was known for dancing the night away among the St. Thomas Heritage Dancers, baking delicious cakes of all kinds, and being an exceptional cook.  Marge also found great pleasure along the campaign trail as a dedicated and loyal supporter of the Bryan/Roach campaign.
She is survived by her son, Jerry Donovan; her solid rock (brother) Rudolph Freeman; brother-in-law, Winston Turnbull; stepsister, Lillian Freeman-Dawson; adopted daughters: Jacqueline Freeman and Ruth Samuel; sister-in-law, Jean Joseph; granddaughters: Lynaire Thomas and Kenya Donovan;
Grandsons: Jordan Donovan and Desahun Hodge;
Nieces: Denise A. Freeman, Natasha Freeman-Lanclos, Donna and Prudencia Freeman, Persha Riley; s
Special Nieces: Barbara Heyliger-Freeman, Lucinda and Lucille Parsons, Linda Penn and Nedra R. Burke;
Great Nieces: Trecia Samuel, Tracy Samuel-Glover, Ne'Kayla Lanclos, Jaeldra Freeman-Sterling, Aziza Rieara, Shamika, Monet, Bushauna and Ena Freeman;
Nephews: Kareem Turnbull, Bushan Freeman, Charles Todman Sr. and Rudelle Parsons Jr.;
Special nephew, Akeem Turnbull;
Great nephews: Vincent Lanclos Jr., Jaquan A. Freeman, Kareem Turnbull Jr., Malik Freeman, Kshaun Daley, Eric Rieara III and Charles Todman Jr.;
Great-great nieces: Dejan Todman, Delysia and Kiana Turnbull, Kenique, Kamora and Kmanie Daley, Chasity Amani Hansberry and Charly Glover; great-great nephews: DeJ'a Todman, Chayce Glover, Travoris Emmanuel Bunion and KJ-Kshaun Daley Jr.
Godchildren: Alani Barnabas, Devon Richardson, Rosie Randolph, Alexandra and Aribella Parsons
Special Cousins: Cynthia Parsons, Calvin Turnbull, David Turnbull, Mariel Freeman, Sidney Freeman, Bishop Kenneth Benjamin, Sheila Benjamin, Elaine Lynch, Edna Hodge, Lorna Freeman-Woodley, Alicea Leerdam, Senator Kenneth Gittens, Senator Donna Frett Gregory, Bernice Osbourne, Delva Turnbull, Rita Vanterpool, Ona Drumwright, Priscilla Callwood, Imean Fahie, Imogene Ottley, the Freeman, Turnbull, Leerdam, Frett, Dawson, Scatliffe, Blyden, Callwood, Smith and Hodge, families.
Special and Lifelong Friends: Honorable Eileen Parson, Elroy "Fever" Fleming, Zandra Ritter, Elaine Shelton, Iva and Nora Donovan, Cecil Penn, Joan Dawson, Dr. Christine Hodge, Franklyn and Aloma "Lomie" Barnabas, Earl DeWindt, June Heyliger and Lydia Hendricks.
Organizations: The St. Thomas Heritage Dancers, Bryan Roach Campaign Committee, The Virgin Islands United Inc., The Freshwater Yankees Organization, The Bovoni Weed and Seed Program, the Beach Girls and the Freeman/Frett United.
Join us as we celebrate the beautiful life of Marjorie L. Freeman-McFarlane. Funeral arrangements are entrusted to Turnbull's Funeral Home.
There will be a celebration of life from 8:30 a.m. to 9:45 a.m., Saturday, June 18, at the Oasis Church of God of Prophecy located C-5 Hoffman. The service will immediately follow the celebration of life under the officiating pastor Dr.  Charles Peters.  Internment will be at the Western Cemetery No. 1 (first gate).
All protocols relative to COVID-19 will be followed, and attendees are asked to wear a mark.