After Dr. Esther Ellis, V.I. epidemiologist reported the latest COVID-19 statistics, Gov. Albert Bryan Jr. spoke about several topics, including a mental health modernization bill, tax refunds, and infrastructural renewals on St. Croix Monday.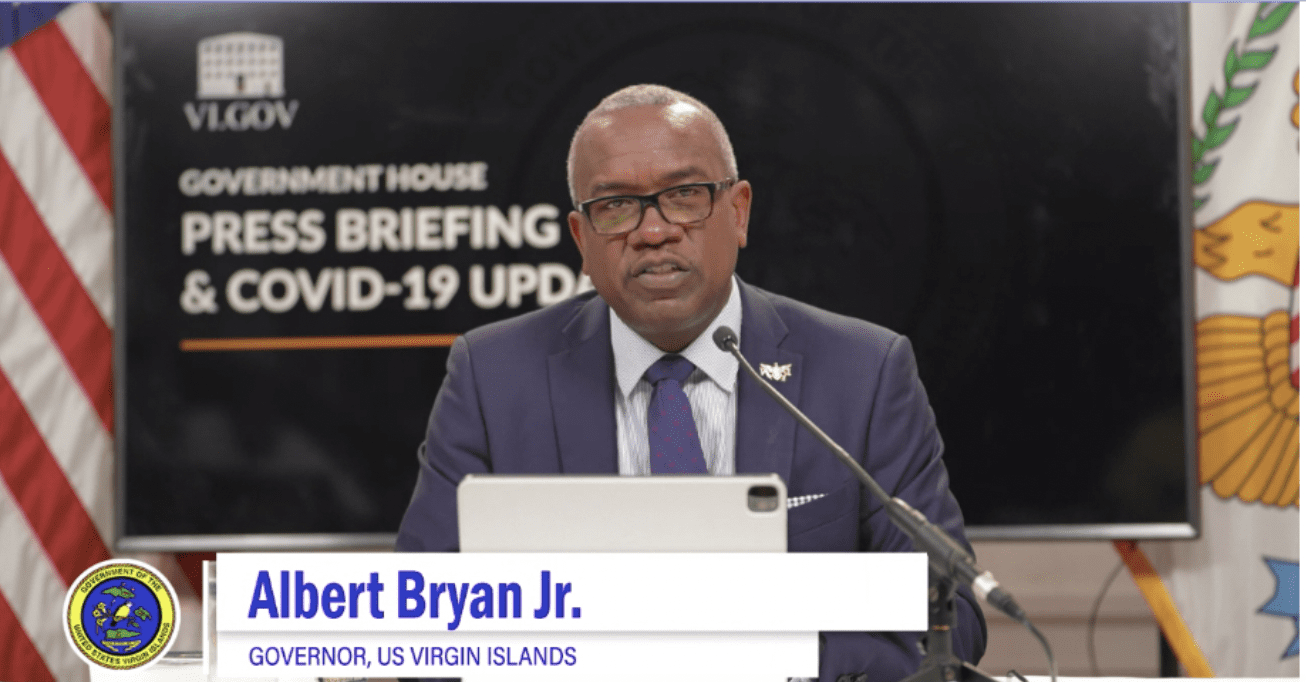 Ellis said active COVID-19 cases on each island have been changing in the last three weeks. St. Thomas numbers post-Carnival have leveled off and are trending downward. The cases on St. Croix that were increasing prior to the Agriculture Fair "appear to be leveling off."
However, after no fatalities since the middle of March, another death, the 114th, due to the virus was reported on St Thomas. An 87-year-old, unvaccinated man perished from the virus, and seven people are in Virgin Islands hospitals. The positivity rate is 11.72 percent with 627 active cases: 452 on St. Croix, 131 on St. Thomas, and St. John has 44 infections.
"We are now moving into an endemic phase where each one of us must take personal responsibility for our own health and safety by self-regulating our response when in places of high risk," Ellis said.
Dr. Ellis announced that vaccines are now available for five to 11-year-old children. Parents must bring an ID for themselves and an ID and birth certificate for the child. Walk-ins are accepted, and appointments can be scheduled through the Health Department on all three islands. Vaccines for children will be administered at the Charles Harwood Complex on Fridays from 8 a.m. to 4 p.m. Parents can take children to the Mother's and Children's Clinic on St. Thomas on Tuesdays and Fridays from 8 a.m. to 4 p.m. On St. John, shots are available on Wednesdays from 1- 4 p.m. at the Port Authority gravel lot.
Ellis said those who test positive with a home test should get a lab test as well to be eligible for treatment.
According to Byran, the public and private sectors have been working for several years to come up with a comprehensive bill to modernize the approach to care for people with behavioral health issues. Dealing with homeless and involuntary commitment has been one of the difficult problems in the past.
"We can't just scoop people off the street and force them into care, but this bill helps make it a little easier, and it also deals with involuntary commitment of persons diagnosed with behavioral health challenges because a lot of times they do not want to be treated. Determination of mental competency to stand trial. Commitment and rehabilitation of individuals suffering from substance abuse disorder," Bryan explained.
The legislation also calls for a crisis intervention program and a crisis intervention team to deal with situations involving police dealing with people with mental disorders. A behavioral health council and an interdepartmental committee are also planned to help families and the community.
Continuing the trend of the last three years, the Bryan administration has set aside, in its budget, $25 million a quarter to pay back taxes. When they took office, tax refunds were owed from 2016 forward, Bryan said. Another $25 million is being released this month that will cover the tax year 2020.
"We did it because we have to get government into fiscal stability," the governor said.
Should the Limetree Bay refinery not reopen, the governor said construction jobs will be a big economic stimulus over the next six or seven years. He also listed renewal projects requiring construction workers that will produce income when completed, such as expanding the King Christian Hotel, the Hotel on the Cay, Green Cay, and possibly build a hotel at the airport and rebuild Clover Crest Hotel on the West end.
Bryan also mentioned two possible marine projects, including a $65 million ship registry and transshipment project and the plan to start ship inspection and repair — both on the south shore.
Byran commended two V.I. athletes for their national recognition. Basketball star Aliyah Boston, who was honored with a parade Saturday on St. Thomas, and runner Michelle Smith from St. Croix, who will compete in the World Athletics U20 Championships in Cali, Colombia, in August.
Bryan said the newest federal holiday, June 19 or Juneteenth, created by President Joe Biden, will be celebrated on Monday, June 20, with a day off for government employees.