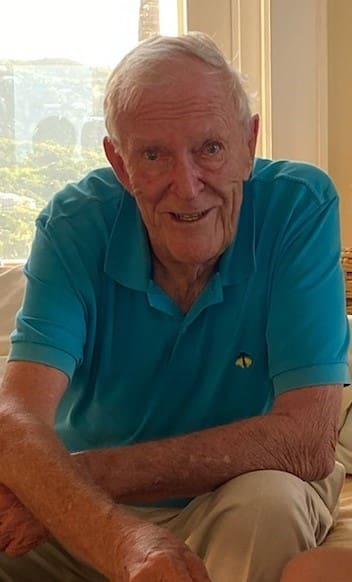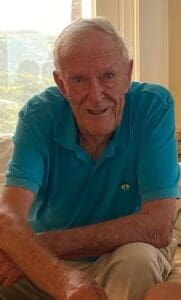 Richard Gerke Schierloh passed away on May 13th at the age of 93.  Known throughout his life as Dick, he was a 60-year resident of St. Croix, first arriving in 1962.  He lived on the island he adored from then until the day he died.
Born on Aug. 26, 1928, in Pittsfield, Mass., Dick grew up as a sports- and prank-loving boy with two brothers-in-crime with whom stunts were played. Dick spent countless hours outside exploring, investigating and enjoying nature and concocting ways to pull something over on his siblings.  In high school, Dick was a member of the baseball and basketball teams, lettering in both.
In 1950, Dick graduated from the United States Merchant Marine Academy in Kings Point, New York, with a BS in mechanical engineering and a commission in the U.S. Navy.  As part of his time in the academy, he spent time on ships visiting the Caribbean and South America.  Dick served in the Navy and was a veteran of the Korean Conflict, deployed on the destroyer USS Stribling, serving as an engineering officer from 1953-1955.  Dick had wonderful stories about his time on the Stribling, which circumnavigated the globe during his deployment.  After Korea and an honorable discharge from the Navy, Dick returned to school where he received a further degree in civil engineering from the University of Texas at El Paso in 1959.  Along the way, Dick became a pilot licensed to fly single engine planes.
Dick's business career began in Sarasota, Fla., when he joined a small engineering and construction firm.  His first assignment was on a jobsite on St. Croix, and while on island, the firm went bankrupt.  Dick determined not to return to Florida, and with his older brother Robert (Bob), he launched Meridian Engineering – an engineering and construction company.  Based in St. Croix, Meridian focused on commercial construction throughout the Caribbean and Central America with a special emphasis on roadway and airport construction projects.
While on a job on St. John in May 1961, Dick met the woman with whom he would share the next 40 years and with whom he would have a daughter – his only child.  Cornelia (Corny) Kuhnsman was having a cocktail with family when Dick introduced himself and asked to take Corny to dinner. The dinner was an eventful one; Dick proposed marriage…and Corny accepted.
In 1987, Dick and his brother sold Meridian Engineering and started Virgin Islands Paving – focused on asphalt and construction works in the U.S. and British Virgin Islands.  Throughout his life, Dick was an early riser and tireless worker – and always loved being on the job site.
Over the many years, he provided his expertise and guidance to countless employees and was respected as a tough but fair boss.  In addition to building VI Paving, Dick was part owner of the Wendy's franchises on St. Croix and St. Thomas and a real estate investor and developer and built multiple homes on the island over the course of his life.  While Dick never really retired from VI Paving, he eventually stepped back from day-to-day operations though remained a valued resource to the current generation of family owners.
After Corny's death in 2004, Dick met Kelly Joyce – another long-time resident of St. Croix.  Dick and Kelly married on St. Croix in 2007.  Both lovers of country music, they often traveled to see their favorite artist – George Strait, including trips to several of his final concerts before he stopped touring in 2014.  Dick and Kelly were frequent visitors to local venues across St. Croix whenever and wherever music was offered.
They celebrated their 15th wedding anniversary in March of 2022, and there is little doubt that Dick's seemingly perpetual youthfulness is attributable to the time they spent together.
In his time on St Croix, Dick knew and became known to legions of Crucians.  His grandchildren were impressed by how well known and liked Dick was by so many – and especially how quickly a Heineken appeared in front of him at his favorite evening spots.  No matter the setting and no matter the event, Dick knew someone – or everyone.
Dick is predeceased by his first wife, Corny; and brothers: Robert and Calvin.
Dick is survived by his wife, Kelly Schierloh; daughter, Heidi Gaillard and her husband Peter; grandchildren: Peter Rutger, Cornelia Stewart and John Richard; nephews: Robert Schierloh and David Kuhnsman; grand-nephews: James and Daniel Schierloh; and grand-niece, Elizabeth (Schierloh) Wright.
A private service is planned to celebrate the life of Dick.  The family asks that in lieu of flowers, a donation in Dick's name may be made to the St. Croix Botanical Gardens.  Finally, the family thanks the nurses and staff at The Turning Point who cared for Dick so well during the last months of his life.