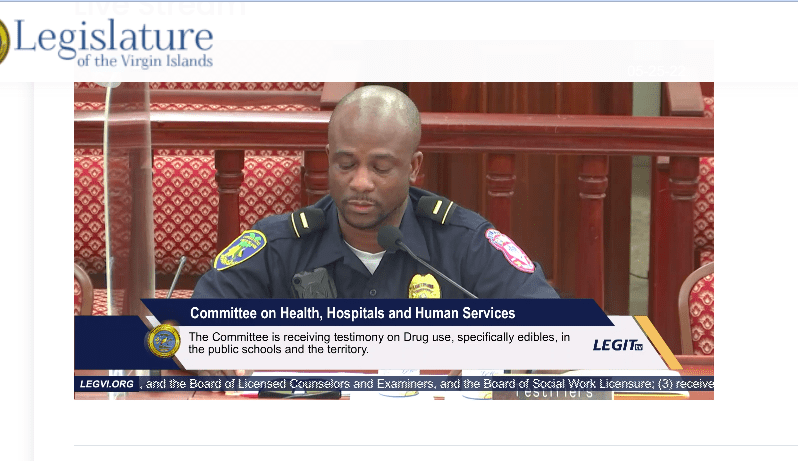 An Edibles Task Force has been formed to deal with the growing use of edible cannabis by the territory's students, a V.I. Police Department representative said during Wednesday's Senate Health Hospitals and Human Services Committee hearing. Edibles are food products that have been infused with marijuana.
"Currently, we have six known cases of students who have overdosed due to edibles consumption and possession in the territory. The severity of this issue is unknown as it is believed some student illnesses went unreported by parents," said VIPD Lt. Claudius Hippolyte, commander of the Police Department's School Security Bureau for the St. Thomas/St. John district.
The task force is made up of police, personnel from the V.I. Health and Education departments and the U.S. Drug Enforcement Administration's Puerto Rico/Virgin Islands High Intensity Drug Trafficking Agency's drug intelligence officer. Human Services and License and Consumer Affairs are supporting partners.
So far, the task force has created public service announcements and begun interacting with the schools about the effects of edibles. Hippolyte also asked the Legislature to provide financial support for test kits, THC Breathalyzers, and officer training.
Assistant Education Commissioner Victor Somme III, speaking on behalf of Commissioner Racquel Berry-Benjamin, said the use of edibles "appears to have risen in popularity over the last two years as students have been home during the pandemic."
During the 2021-2022 school year, six confirmed reports of edibles consumption were reported in the territory's four high schools – two on St. Thomas and four on St. Croix, according to Somme.
The St. Thomas students were sent to the hospital and the offenders were suspended, following school protocol. The St. Croix students were evaluated by the school nurses, then transported to the hospital and eventually suspended, according to school protocol.
The Education Department "clearly recognizes that the crisis of illegal substance abuse, specifically edibles, are indicative of larger issues in our community that are now manifesting on our school campuses," Somme testified for Berry-Benjamin.
Assistant Health Commissioner Nicole Craigwell-Syms said Schneider Regional Medical Center has seen 18 emergency abuse visits and Juan F. Luis Hospital has recorded 14, both involving cannabis between April 2021 and May 2022.
"The Centers for Disease Control and Prevention has warned that when young children eat cannabis-infused products they can become very sick and can struggle to walk, sit up or breathe normally," she said.
The Task Force has met virtually on Monday since being formed in March, according to Somme. So far, the task force has partnered with HIDTA to present speakers to students at Charlotte Amalie High School and will include all public high schools next school year. The task force also has started a media campaign with a series of radio shows and interviews on Facebook Live.
Plans include movie theater commercials, school presentations, banners and billboard signs, town hall meetings with the community and parents, student-centered activities and training for school staff.
Hippolyte said edible cannabis may be preferred by beginning users because there is no odor or smoke, but overdosing is more likely because the effects are not felt for an hour or more after consumption and the user doesn't know how much tetrahydrocannabinol (THC) he/she has taken. A beginner might take a second dose and then realize they have taken too much, he added.
Human Services Commissioner Kimberly Causey-Gomez sent written testimony in support of the task force and committed her department to do its part to make it a success.
"The Department of Human Services is a committed partner with these agencies as well as our non-profit community to assist with the success of our Virgin Islands children, youth and families. DHS will actively participate with the multi-agency Edibles Task Force to ensure best practices and prevention efforts, as well as intervention as needed with the clients we serve in our divisions," she wrote.
After the testimonies, senators asked questions and most said they agreed there is an edibles problem in the territory's schools.
Sens. Kurt Vialet and Janelle Sarauw, both former educators, said they personally witnessed the effects of cannabis usage in their schools. Vialet said, "a lot were high after lunch."
Uston Cornelius, acting Deputy Police Chief for St. Croix, said he first became aware of the problem through conversations with school resource officers, working in the schools, who confirmed seeing students who were so high they couldn't walk.
Vialet said the sale of edible cannabis is an "industry" on school grounds and the sellers are visible to students and others walking into the school.
Sarauw wondered if some of the homemade brownies and rice cereal treats sold in gas stations, could contain edibles making it very easy for students to buy and consume on the way to and from school.
Sen. Marvin Blyden said that alcohol is a bigger problem, but he has never seen statistics or heard about a study regarding student use. A task force is needed for alcohol abuse, he concluded.