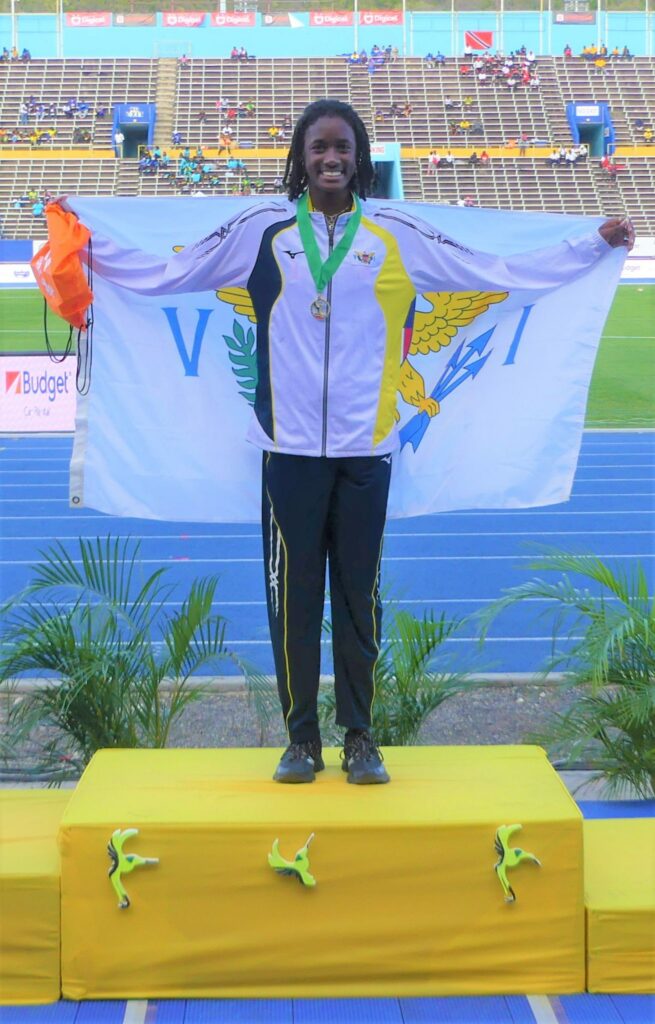 During the 49th annual Caribbean Free Trade Association games, Virgin Islander Michelle Smith won gold and set a CARIFTA games record for the 400m hurdles.
Held this year from April 16-18 in Kingston, Jamaica, the CARIFTA games are where the best of the Caribbean's athletes get their start, among them Usain Bolt and Shaunae Miller-Uibo.
With a time of 58.61 seconds, Smith not only set CARIFTA games and V.I. National Junior records, but also the world record for the fastest time in 2022 amongst runners under the age of 18. Smith competed in the U17 age group, however the time she posted was faster than the U20 age group. This has qualified her for the World Athletics U20 Championships that will be held Aug. 1-6 in Cali, Colombia.
At just 15 years old, Smith is the first Virgin Islander ever to set a record at the CARIFTA games, and just the fourth to receive gold. The other three to win gold were Jimmy Fleming in the 200m in Barbados (1985), Sanny Eugene in the 800m in Tobago (2005), and Allison Peter twice in the 200m — in St. Kitts & Nevis in 2008 and the Cayman Islands in 2010.
Smith has been running track for 11 years now and said she is looking to pursue it as a career. She said she got involved in the sport because it runs in the family, quite literally. Her father, Keith Smith, is the president of the Virgin Islands Track and Field Federation and her mother, Mireille Sankatsing Smith, was a six-time medalist at the CARIFTA games.
After attending the Complex Educational High School for a year on St. Croix, Smith moved to Florida at the beginning of this school year to gain more opportunities and better herself as a runner. Living in the Virgin Islands limited the amount of competition, which was a big reason for moving to Florida, she said.
Asked what was going through her mind as she crossed the finish line, Smith said, "I'm tired." At the time she didn't know how well she had done and was struggling to pay attention to what the announcer was saying. At that moment, more than anything, she was glad to be finished with the race, she said.
On Monday in Florida, Smith ran in the state districts to qualify for the regionals, to then qualify to run in the state's championships. Smith will also be running in Atlanta with the St. Croix Track Club.