Given the opportunity, Black innovators will change the world, said Congressional Delegate Stacey Plaskett in Washington, D.C., on Tuesday.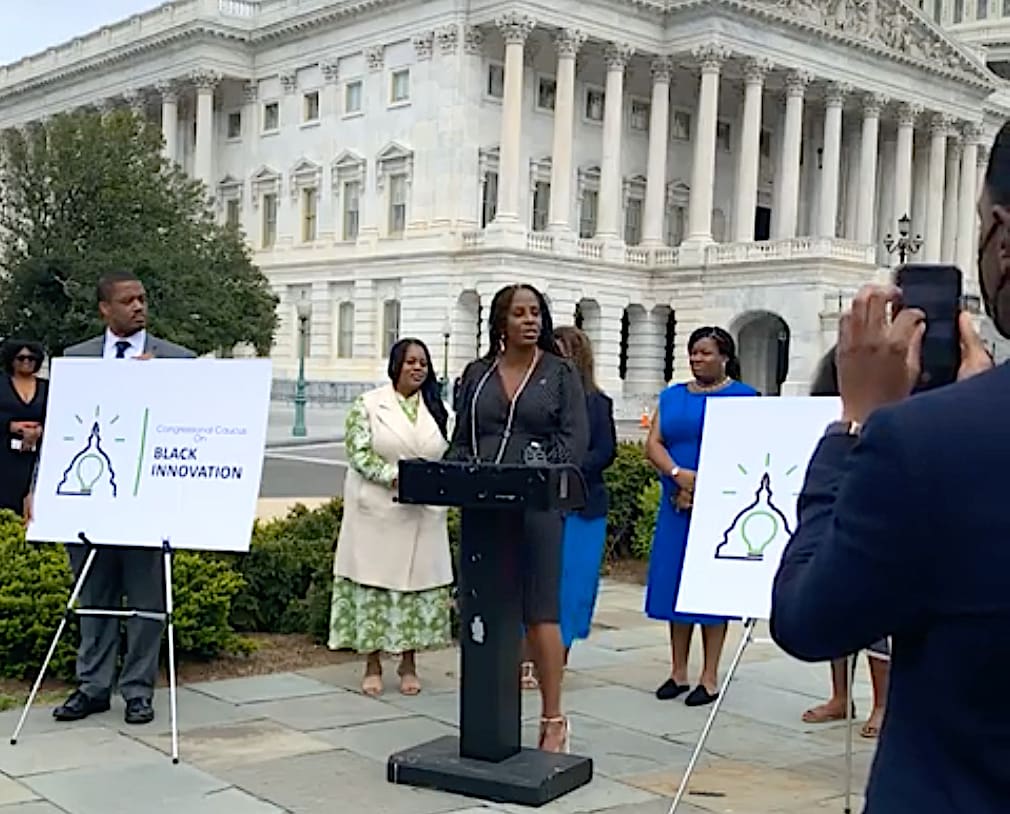 Plaskett was speaking at the inaugural event of the newly-formed Congressional Caucus on Black Innovation, which she co-chairs with Washington State representative Marilyn Strickland and New York representative Ritchie Torres.
"We all know once Black people get ahold of something, it becomes something completely different," Plaskett said. "Failure to support Black innovators stunts economic growth for everyone, for all Americans, for our world."
The new caucus exists to engage policymakers in championing the technological, creative, economic, and social advancements of Black innovators across all industries, Plaskett said, adding that the caucus was formed to confront the challenges Black innovators face.
"There are significant barriers and disparities that inhibit the growth of Black innovators, including inadequate access to capital, inequitable legislation, regulator hindrances, limited philanthropic support," Plaskett said. "CBI is uniquely poised to confront these barriers."
As a member of the House Ways and Means, Budget, and Agriculture Committees, Plaskett said she was well-positioned to address the structural and political problems Black innovators face.
Speakers at the Tuesday event told of the obvious hurdles — the racist remnants of slavery and modern systemic forms of oppression like discriminatory lending practices — and more subtle challenges like the lack of confidence some Black innovators feel after a lifetime of being told they aren't worthy.
Plaskett looked around the gathered invitees at the Capitol building's House Triangle and asked them to take a moment to appreciate each other's beauty. Then she gave a mandate: "Hold Congress to task. Hold Wall Street to task."
Achieving full parity between Black and white businesses would add $290 billion to the economy, she said. Just four percent of Black-owned businesses make it to their fourth year, compared to 55.5 percent of other businesses. Black female-owned businesses are growing faster than any other demographic, Plaskett said, but have lower capital investment than commensurate others.
"Black founders only received 1.2 percent — 1.2 percent — of the record $147 billion venture dollars invested in startups in 2021," she said. "We formed this caucus to provide a space to confront these realities."
The caucus was backed by the like-minded organization Black Innovation Alliance.
Those gathered or speaking at events later in the day included Fay Cobb Payton, chief programs officer at the Kapor Center, which works to remove barriers to Science, Technology, Engineering, and Math education and tech careers for underrepresented people of color; Henry McKoy, a faculty member and director of entrepreneurship at North Carolina Central University; Kimberly Tignor, executive director of the Institute for Intellectual Property and Social Justice; Fallon Wilson, co-founder of Black Tech Futures, a research institute, and national black tech ecosystem association; Ivory Toldson, professor of Counseling Psychology at Howard University; futurist and economist Catherine D. Henry; Cleve Mesidor, executive director of the Blockchain Foundation; crowdfunding expert Ruth E. Hedges; poverty and social justice researcher Alex Camerdelle; and data security innovator Jessica B. Lee; among others, according to the Black Innovation Alliance.