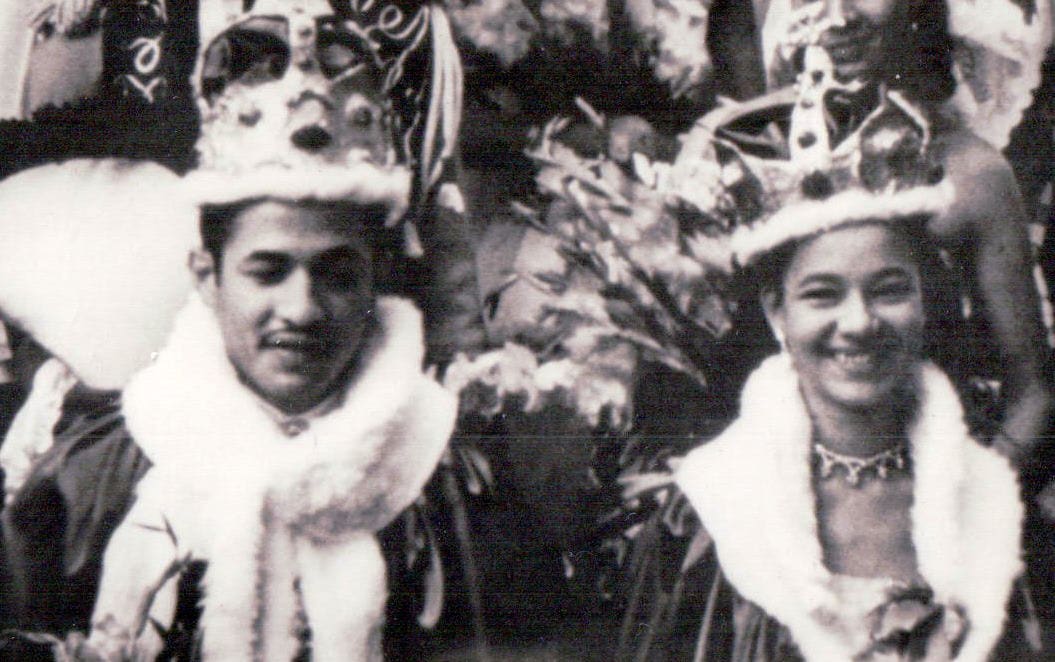 A lifetime working, raising a family, giving to her community and serving her church, has not dimmed Carmen Sibilly's memories of the pageantry 70 years ago when she reigned as queen over the U.S. Virgin Islands Carnival on St. Thomas.
As part of the anniversary observance, she will wear the crown again next week for the festival which has been St. Thomas' signature annual event ever since 1952.
Back then she was Carmen Nicholson, a head-turning 19-year-old girl who had graduated from Sts. Peter and Paul Catholic High School a year before and was living at home and working downtown at the Bolero Store. Like much of the island's population, she was also a regular radio listener, and Ron de Lugo's morning show was a favorite.
De Lugo, the territory's first delegate to Congress, is being honored posthumously this year for his role in helping to establish both Carnival on St. Thomas and the similar Crucian Christmas Festival on St. Croix, also in 1952. The St. John Festival centered around July 4 began in 1960.
There had been a few one-day celebrations in the early years of the 20th century, before the U.S. purchased the islands from Denmark. What was being proposed at mid-century was a carnival to run several days and to bring the entire community together.
The idea began to catch fire. Local businesses were sponsoring contestants to run for king and queen of Carnival. Bands were lining up to take part in a parade. Stores were offering items for decorating and dressing up. Eventually Carnival was scheduled for Labor Day weekend, running from Sunday, Aug. 31 to Tuesday, Sept. 2.
It was probably in June or July that she received a call from a prominent island matron, Gertrude Lockhart Dudley (later Melchior) as Sibilly remembers. The family business, Lockhart Department Store, had decided to sponsor a troupe for the parade and they wanted a couple to compete for the royal title. Would Carmen be their queen contestant? And did she have a boyfriend or just a friend who could run for king?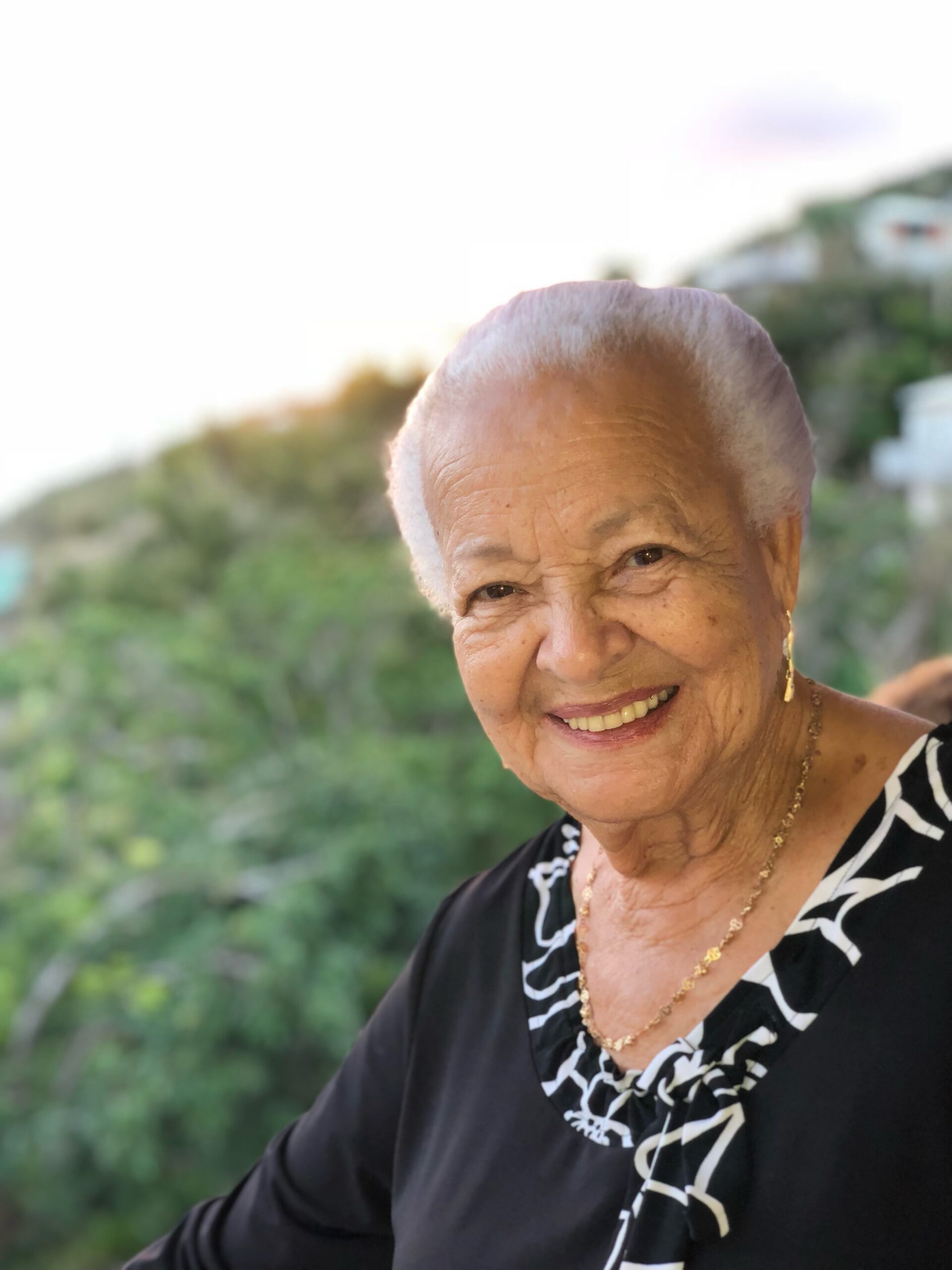 "I said, 'No one at the moment,' Sibilly recalled. "She said, 'Leave it to me.' "
It took a day for Carmen Nicholson to think it over and to get her mother's advice before agreeing. Dudley had a young man in mind. Leo Sibilly had just returned home from Howard University; did Carmen know him?
"I said, 'No, I really don't know him, but I know of his sisters … (so) she introduced me to him."
The day after she agreed to run as the Lockhart contestant, Sibilly went to her job and Bolero's owner Irene Bayne asked her to be the store's queen contestant. Although she had worked for the Baynes since she was in eighth grade and came to be good friends with them, she declined, explaining, "Mrs. Dudley asked me first." She said she was sorry she had to decline, but "I'd given my word."
Eventually, nine couples ran for the title of king and queen, she said. There was no talent show as in later years; rather, the winners were to be determined by how much money they raised, selling "chances" at 10 cents each.
About a month before Carnival, Sibilly said, the League of Women Voters held a ball at the Grand Hotel where the king and queen were to be announced.
"We all went there that night" and contestants continued to collect "votes" up to the last minute.
"I know you gave already," Sibilly quoted Dudley as saying, "but empty your pockets." At 11:45, there was a "last call" and a few minutes after midnight the royal couple was announced. Queen Carmen was hoisted on someone's shoulders and marched around the ballroom.
"It was so exciting," she said, "and Gertrude was all smiles."
If that was exciting, Carnival itself was overwhelming. Lights and flags were strung downtown, and Saturday night "every store was open on the Main Street." People were there buying balloons and confetti and masks for the upcoming parade.
There was horse racing the next afternoon but the pageant that was to take place at the Coast Guard dock that night was rained out, Sibilly said.
On Monday, when the royal couple came to the dock, they were greeted by boats decorated for the occasion and military men saluting from the decks of Coast Guard vessels. When they stepped onto dry land, they were welcomed by the Community Band.
The parade was filled with music, as she recalled. There were the La Motta brothers from St. Croix, Casablanca Steel Band from down island, the Roy Wallace Orchestra from St. Thomas, the Sexteto Tropical, the McBobo Band, the Gravediggers, and more.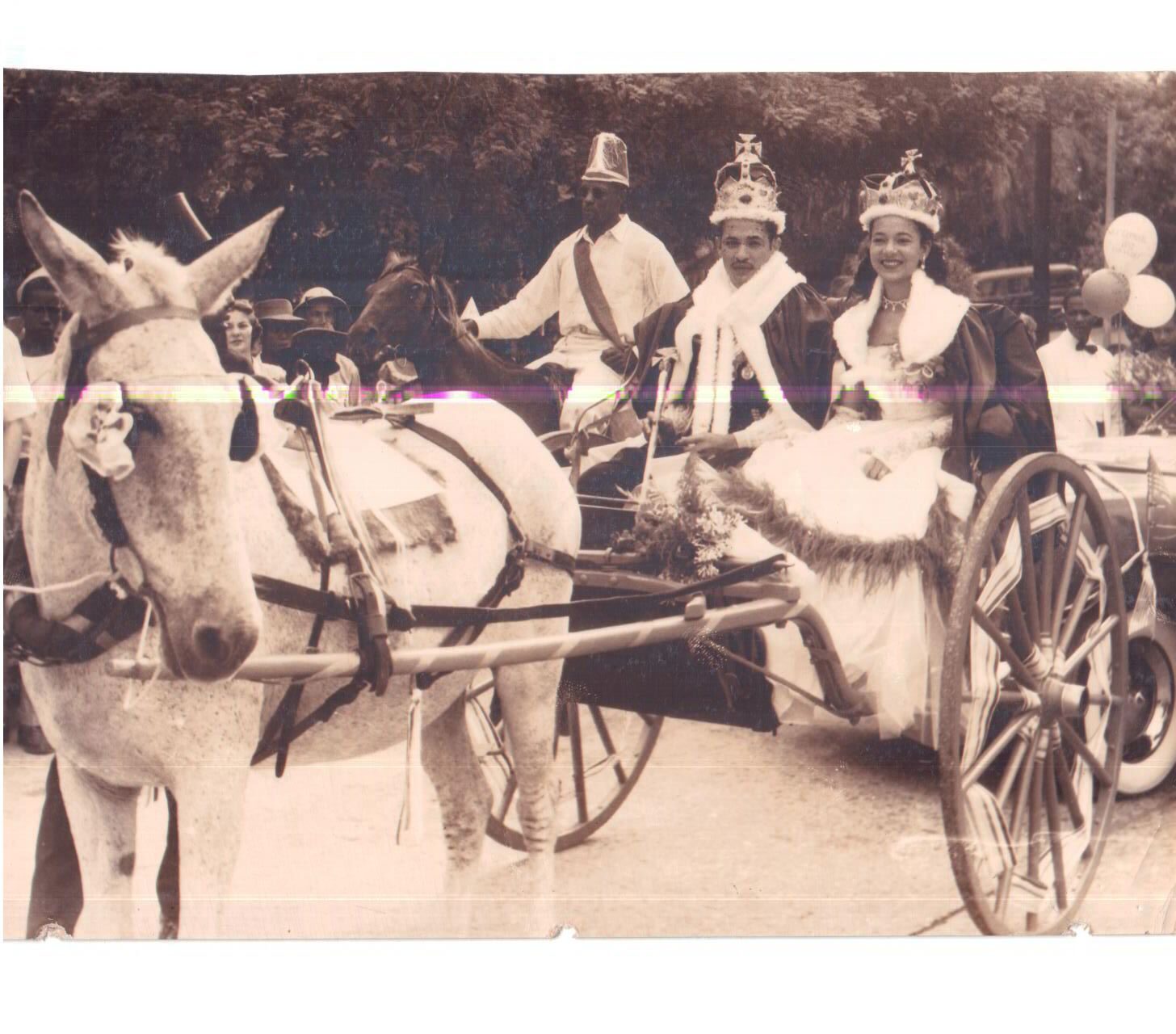 Even after Carnival, the young couple received royal treatment. Various hotels invited them to their restaurants where they were feted as part of a tourism promotion. Meanwhile, the king and queen were getting to know one another.
Sibilly said she told her "king" that she didn't know where she was going, and he told her "I know where I'm going." It turns out he wanted to stay on St. Thomas, with her.
Being Carnival queen "changed my life, because that's where I met my husband," she said.
The two raised six children, four girls and two boys. There are six grandchildren and two great-grandchildren. Leo passed away in 2013.
Besides raising a large family, Carmen Sibilly worked at a number of retail outlets and then went to work for the government, at the Budget Office. Her community contributions included being a charter member of Partners for Health that raised funds in support of the hospital, and chairing fundraising committees for Sts. Peter and Paul Catholic School and for renovations to the Sts. Peter and Paul Cathedral.