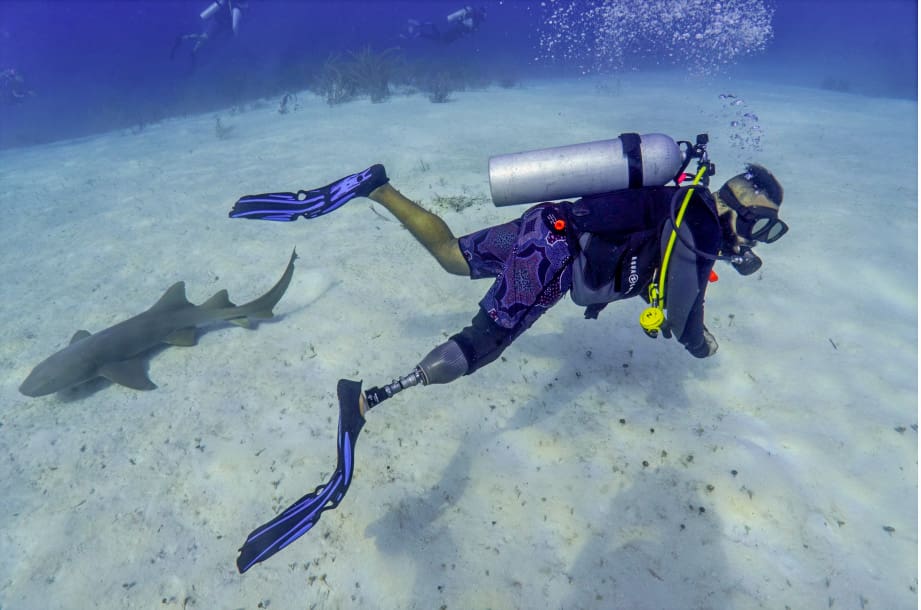 Eight testifiers came before the Committee on Government Operations and Consumer Protection Wednesday in support of a resolution commending Kemit-Amon Lewis for "his outstanding service and contributions to the marine science industry in the Virgin Islands."
His supporters, however, wandered from his contributions to marine science to talk about his resiliency and dramatic recovery from a medical setback.
Roy Watlington, a retired professor at the University of the Virgin Islands, testified, "After suffering a near-death health calamity, the magnitude of which could easily incapacitate most people, Kemit-Amon Lewis has recreated himself and returned to doing much of what he was doing before."
Sen. Kurt Vialet, who sponsored the resolution, noted Lewis's achievement in coming back from the rare bacterial infection that rendered him a quadruple amputee in 2019. However, he added, "I am not honoring him for his medical challenges, but I am honoring him for the work he has done since then." Vialet said the coral restoration project that Lewis instituted is a "big thing" and that it is still ongoing.
Lewis told Senators that coral degradation is a big deal, and it is one of the reasons he has done the work he has. He said, "The Virgin Islands without coral is not a place that I want to imagine or would even want to visit."
The resolution gave a history of Lewis's career and accomplishments. His coral restoration project started when he worked at Coastal Zone Management. He has also worked at the St. Croix Foundation as a disaster recovery manager, in the Marine Science Program on the St. Thomas UVI campus and as a professor of science on the St. Croix campus, and as a coral conservation manager with the Nature Conservancy Caribbean which led him to develop reef restoration programs across the Caribbean and throughout the world. The resolution said one of his greatest achievements had been applying these best practices of coral reef restoration and using them as the template for assisting Cuba and China in developing their coral nurseries.
He told the senators that his most satisfying moment occurred under the ocean around St. Croix in 2017 when he witnessed the natural reproduction of coral he and his team planted in 2012.
The resolution said Lewis's passion for restoring life to the territory's waters blossomed into a worldwide effort to assist with the establishment of coral nurseries in other countries, such as the British Virgin Islands, the Bahamas, Curacao, the Dominican Republic, Grenada, Guam, and Jamaica. Lewis has also played a key role in developing the Reef Responsible Sustainable Seafood Initiative in the territory. The initiative educates chefs, fishermen, and the community on best practices for fishing and sustaining the ocean environment.
Lewis's passion for the environment came through when he was called upon to answer some questions from the senators. He said the time for arguing about whether climate change exists is over. He said climate change exists naturally, but the way man has accelerated the change is concerning. The continued use of single-use plastics is another problem, according to Lewis. He urged all individuals to do whatever little they could do to stop damaging the environment. He said both landfills in the territory should already be closed.
Watlington also said about Lewis, "His perspective has been that of a patriot who is simultaneously a competent scientist, an appreciator of the need for enterprise, and a patient explainer."
William Coles, chief of environmental education at the Department of Planning and Natural Resources, has worked often with Lewis. He testified, "He (Lewis) has not only made a big difference here in the USVI but also many other locations around the world." He said Lewis's strength was his ability to emphasize individuals being responsible resource users.
Lewis has also managed the St. Croix Jack and Isaac Bays' sea turtle conservation project.
Lisa Terry, a coworker at the Nature Conservancy, testified that Lewis every year would "put in countless night shifts to monitor the nesting populations of Green, Hawksbill and Leatherback turtles. He would train technicians, volunteers, and interns and managed the data collection process. He worked with other turtle experts around St. Croix as a part of the St. Croix Turtle Assist and Rescue (STAR) team rescuing and helping injured turtles."
Lewis told senators his desire to become a marine scientist grew out of early childhood trips with his family to Dorsch Beach south of Frederiksted.
Nicholas Durgadeen, currently a marine biology student, said that when he was in high school he took an internship where Lewis was one of the mentors. Durgadeen testified, "During the internship, me and the five interns would listen intently as Kemit spoke of how dependent our community is on our coral reefs and how we must take pride in our waters and our homes."
Jennifer Nugent-Hill, director of Governmental and Community Affairs at Tropical Shipping, where Lewis was employed during summers when he was at college, testified, "He has turned this greatest of life challenges into one of the most inspiring life lessons."