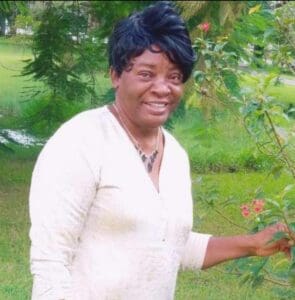 Our hearts are deeply saddened to inform you of the passing of our precious mother, Janise Brookes-Martin of Liberta Village, Antigua, and St. Thomas, USVI. Janise was born on April 8, 1950, and passed away in Florida on March 11, 2022, at the age of 71.
She was preceded in death by her parents: Hubert "Jefe" Brookes and Beatrice "Bea" Knight; her beloved husband, Durham "Den" Martin; siblings: Joseph Phillip, Studley Brookes, Ruthlyn "Perfect Mistress" Richards, and Rebecca "Naomi" Simon.
Janise leaves to cherish her memory, her sons: Vaughn Martin and fiancée, Shakira Byers, Anderson "Andy" Martin and wife, Joan Morrison-Martin; daughters: Vonette Martin, Cerene "Rosetta" Frederick and husband Luke Frederick; adopted sons: Roshaun Halliday and Tyriik Battiste; her grandchildren: Aiden Freeburne, Anjonique Martin, Kevino and Kadeem Frederick and Tevin Goodwin.
She is also cherished by her brother, George Spencer; her sisters: Patricia Francis of Liberta and Ruth "Rosita" Barton on St. Thomas; special spiritual mother, Gloria David of Swetes Village; in-laws: Isa Burton and family, Shelomin Martin-James and family, Johanna "Evelyn" Phillip and family, Samuel "Sam" Barton and Charlesworth "Hustler" Richards.
Janise will also be fondly remembered by her many nieces and nephews and their families to include: Standrine, Billy and Ted Francis, Nicole Richards, Stacey Francis-Brown, Kaydie Francis-Ferris and Jerry Francis, Gayden, Alma and Jasmine Brookes, Dawn and Hyacinth Spencer, Glenette Edwards, Blondell Athill, Cassandra Thomas, Laurie Richards, Itacha Michael, and Dexter Barton and family, Judith Liburd, Arlene "Joycelyn" Blundel, Claudette, Steve S. and Randy "Colour-Colour" Simon.
Her cousins include the late Eunetta Thomas of English Harbour, Avril Evanson, Heather Wade and Jackie Bailey of St. Johns Antigua, Cynthia Matthew, Elwood Brookes, Nell Baltimore and their families, and the Brookes family of Swetes Village.  Her many friends include Linlie Brookes, Yvonne Byers, and Heather Bertram and family of Florida, Carlene Carty and family, Roma Jarvis and family, Blondelle Hastings, Celestina Appleton, Erica Francis, Allison Cornelius, Janet Garvey-Edwards, Carolie and Christopher Gilkes, Goldine and Linda Bailey, and Mrs. Gwendolyn Soans.
Janise will ever be remembered by her many other friends and relatives who are always in our hearts but are too many to mention.
A special viewing will be held from 2-4 p.m., Friday, April 15, at the Vans Orsdel Funeral Home in Midtown Miami, Fla. The viewing will be webcast for family and friends.
The funeral arrangements for the late Janise Norma Brookes-Martin will be handled by Turnbull Funeral Home of St. Thomas, USVI. The scheduled viewings for family and friends will be held from 4-6 p.m., Thursday, April 21, and from 9-10 a.m., Friday, April 22, at the Blyden Memorial Chapel in Altona, St. Thomas.  The celebration of the life of Janise N. Brookes-Martin will begin at 10 a.m., Friday, April 22, at the Blyden Memorial Chapel with interment at St. Thomas Western Cemetery No. 1. The family intends to livestream the service for family and friends.