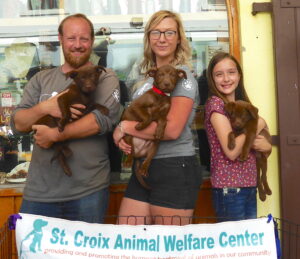 The need is "dire" to find foster and adoptive parents for the dozens of puppies dropped off or collected by the St. Croix Animal Welfare Center, said Managing Director Andreas Groggengielsen.
Just this week, two dozen puppies have been added to the already overflowing cages at the AWC and Pet Place. In total there are 76 puppies and 107 dogs and cats Groggengielsen said.
The Landing at Cane Bay and Leatherback Brewery are sponsoring monthly events to raise funds and find foster parents on the second Saturday and third Sunday respectively.
To learn more, including how to donate, volunteer, and adopt, visit the center's website, or call the Pet Place at 340-725-7387, or the Animal Welfare Center 340-778-1651.