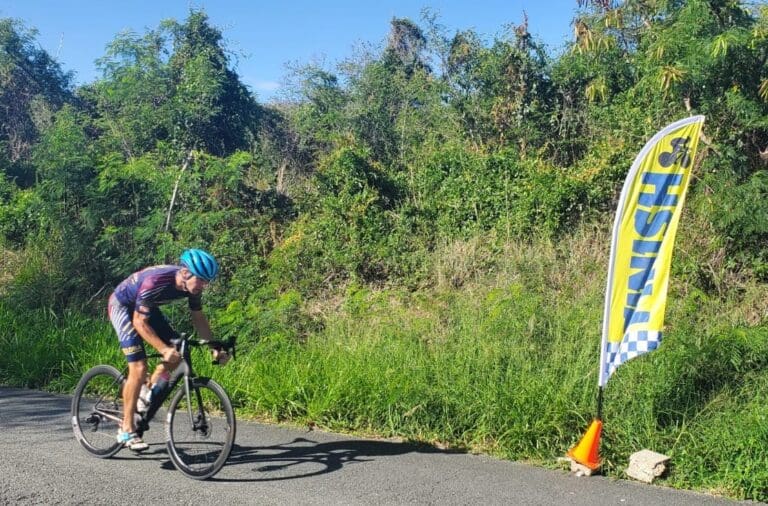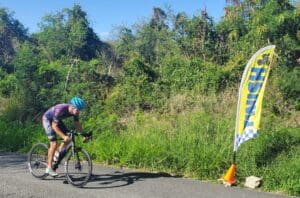 On Sunday morning, the Virgin Islands Cycling Federation (VICF) held its first road race of the 2022 season. The Triple Bypass Road Race challenged 19 riders while they faced the strong wind and tough hill climbs, proving that their hearts are strong enough to take on the bypass.
The small Elite group took off first from the corner at the former Cafe Kaleidoscope on St Croix's Southside Road.  From there they rode over Lowry Hill, then along East End Road to the Christiansted Bypass, continued through Beeston Hill, turned left at Cool Out Bar, then on to Southside Road and back to the start.
Stephen Swanton, Joey Swanson and David Parris worked together on lap one (12 miles) and passed by the checkpoint in 39:17.  On the second lap Swanton made his move on the first climb of the bypass.  Swanson responded but fell behind on the second climb of the same stretch.  Swanton jumped ahead nearly 3 minutes on lap 2 and got progressively faster on the third and final lap.  His finish time on the 36-mile course was 1:55:47. Swanson finished in second place in 2:05:13.  Parris crossed the line with the same finish time.
The Expert group was led by last year's champ, Wayne Nichols, with Jerry Remie and Mario Peters at his side on lap one, in a time of 40:58.  Chris Dorsey, Tim Smith and Ralph Bartlett trailed behind by over one minute.  Nichols increased his lead by another minute on lap 2 by the overlook on the bypass and finished the 24-mile race in 1:23:43. Remie was second in 1:25:06.  Chris Dorsey nudged out Tim Smith for third place.
The Sport class completed one lap with Kevin Williams and Ted Prosper fighting to the finish line.  Williams finished first in 39:12; Prosper crossed in 39:13. Mario Butcher made it the line in third place, just a few seconds ahead of James Meyers.  Yves Abraham (47:14) was the solo Masters rider.
Three women braved the 12-mile course as well.  Laverne Fredericksen led the group, while Jan Powell and Judy Gario were second and third, respectively.
Triple Bypass Road Race 2022 (1)
The next race on the VICF's schedule is the Two-Person Time Trial.  The 18-mile course will go out and back from the Divi Casino to Ha' penny. Date to be announced.
For more information about cycling in the Virgin Islands, call 643-6420.