In 1738, an Antigua-born missionary was arrested on St. Thomas, along with her husband. A V.I. History Month event took place Sunday at the jail where Rebecca Protten was detained after her arrest.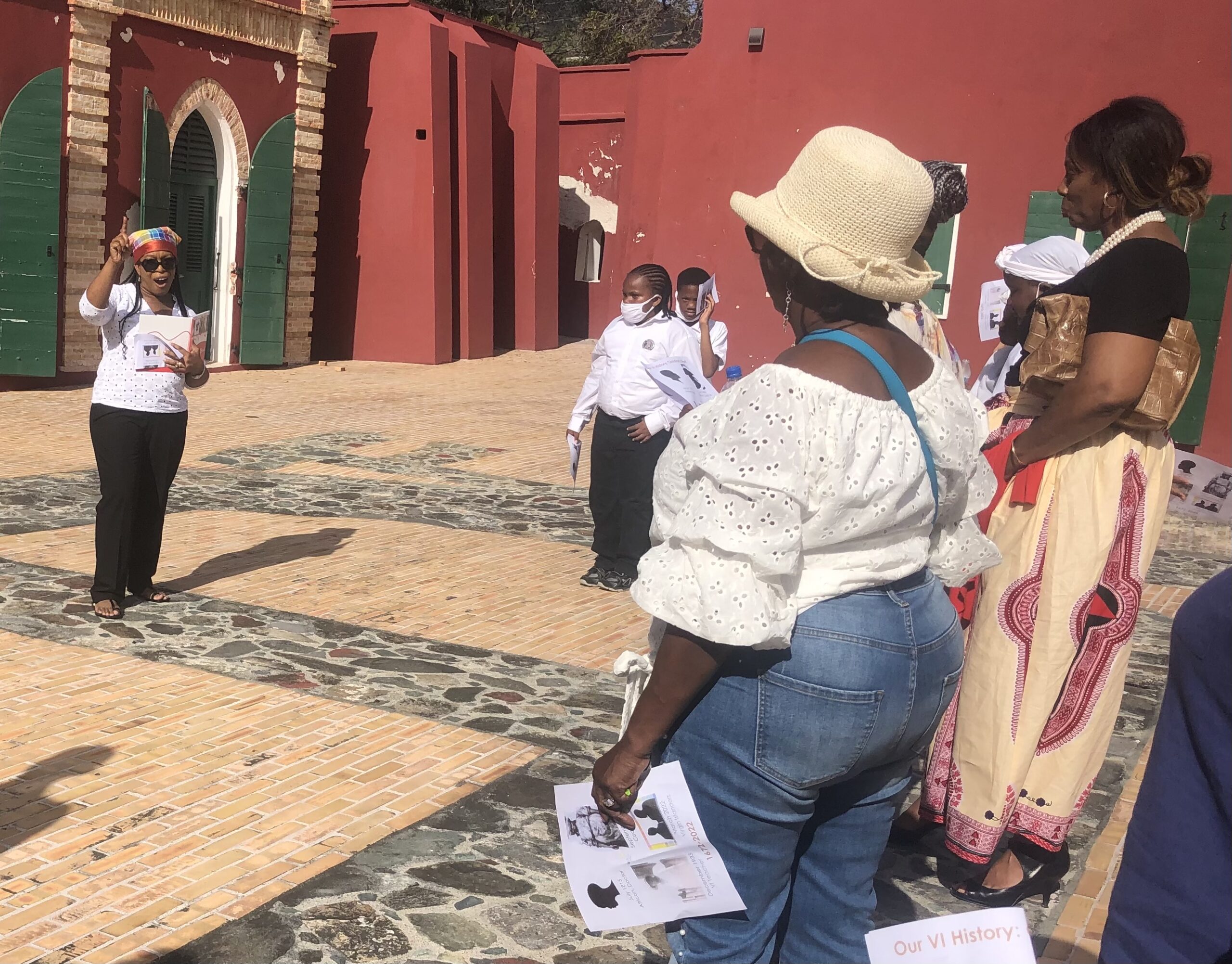 Virgin Islanders and their visitors know the name of Fort Christian, the oldest continuously used public building on St. Thomas. Some also know the fort as a historic site that once housed a church, a police station, a court, and a fire station.
At Sunday's history event, those who came learned more about who passed through the fort and why they came or were brought there.
Protten's story was one of eight tales shared with participants at an event hosted by Delegate to Congress Stacey Plaskett. St. Thomas author and genealogist Nadine Marchena Kean led a group of two dozen participants around the courtyard at the Fort Christian Museum to mark the spots where history unfolded generations ago.
Plaskett said Sunday's event was one of two Virgin Islands history events organized by her office in March. A second event is set for March 28 at Whim Museum on St. Croix.
"In past years, we've done video contests with children, essay contests with children, and I said that I really wanted to do something with our whole community, not just the young people, something for all ages," the delegate said.
Those who could not attend in person were able to join virtually over the internet. The delegate said she valued the virtual presentations for the ability to leave a recording that could be shared in the future.
Kean's presentation was one of the highlights of the Sunday gathering. Those who were comfortably seated in a semicircle, in the courtyard, were treated to a performance by the Ulla Muller Elementary School Bamboula Dance Group and storytelling by retired educator Glen "Kwabena" Davis.
Then came the history notes from Kean and a segment called "Go back and fetch it" by former senator and historian Myron Jackson. Jackson's lecture illustrated the links between Africa and the place once known as the Danish West Indies.
"The emphasis was those African ancestors who found themselves in the Danish West Indies and Edward Wilmoth Blyden who founded the Pan African Movement," Jackson said. Blyden was born as a free Black citizen on St. Thomas in 1832, journeyed to the United States and later to Africa, where he became a writer, a diplomat, and a theologian in the nation of Liberia.
As for Fort Christian, Jackson described its role in the lives of St. Thomas' residents in the early days. It was the place where taxes were paid, where enslaved Negroes were stored, along with other items for trade. During times when pirate ships approached, the fort was a place to find refuge from attack and invasion.
Kean said it's time to abandon the idea that Virgin Islands history can be represented as something that happened at a single point in time. In preparing the Sunday tour, she said she searched the entire 350-year history of Fort Christian as the oldest, continuously open public building on St. Thomas.
"We have a tendency to think of certain buildings and certain neighborhoods within a certain time period. When we look at neighborhoods and buildings, we should look at layers of time periods in history," she said.
And in the final portion of her presentation, Kean turned to the gathering and asked about their role in preserving and presenting local history. A lot of people get it wrong, she said.
The task of Moravian missionaries, introducing Christianity to enslaved plantation workers, was almost forgotten. Protten's story reemerged in the modern world with the publishing of a 2005 book, "Creating Black Christianity in the Atlantic World."
Kean said Protten, her husband, and the local Moravian minister were tried and convicted. Protten — a former slave woman of mixed race — was sentenced to be reenslaved and sent to St. Croix for hard labor.
But some time later, Kean said, a Moravian church official arrived from Germany and asked the Danish governor what had become of his missionaries. Apologies were offered, Protten and the others were freed.
And, Kean said, the married couple traveled to Europe, where they continued their work with the Moravian church. Christian Protter, Rebecca's husband, died a few years later. So did a four-year-old daughter who was a product of their marriage.