With only 11 new cases of COVID-19 recorded since Friday in the Virgin Islands, no fatalities in three weeks, and a .84 percent positivity rate, Gov. Albert Bryan eliminated the mandate for masks worn indoors Monday at the weekly media briefing.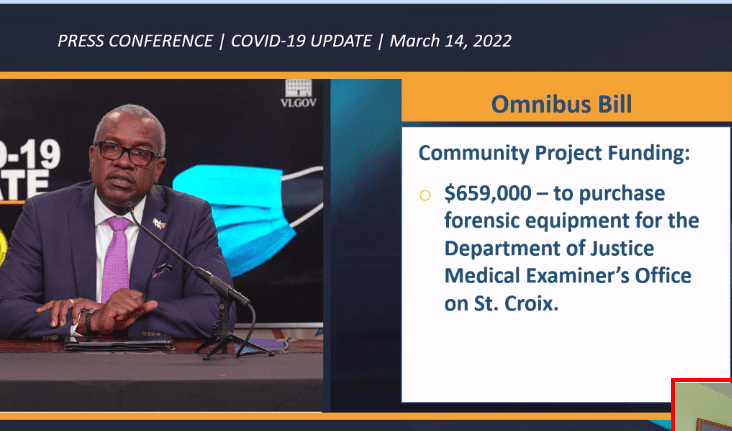 "We've put in the work. And all good work deserves a reward, so effective immediately, immediately, we are not requiring masks indoors in commercial or government establishments. We are still evaluating the use of masks at points of entry, schools, and health care facilities, so all those mask restrictions remain in place until further notice," he said.
Health Commissioner Justa Encarnacion said she had not seen any day since the beginning of the pandemic when there were no new cases of the coronavirus. As of Monday, there are 38 positive cases in the territory, with 22 on St. Croix, 15 on St. Thomas, and St. John has one infection. There are two people hospitalized at the Juan F. Luis Hospital, with one on a ventilator and no hospitalizations on St. Thomas.
"It's also good to report that the omicron variant is fading," she said.
In non-COVID-related topics, Gov. Bryan listed the funds that will flow into the territory from the federal government after the passage of H.R. 2471. Most important, he said the bill postpones the Medicaid funding cliff for the Virgin Islands and extends the 83 percent reimbursement rate for Medicaid through Dec. 13, 2022.
Other funding includes:
An additional $6.5 million from the Interior Department to the territories.
$659,000 for forensic equipment for the V.I. Justice Department's Medical Examiner's Office on St. Croix.
$750,000 for improvements to the Department of Planning and National Resources marine enforcement pier at Krum Bay on St. Thomas.
$750,000 for improvements to the DPNR marine enforcement pier at Gallows Bay on St. Croix.
$960,000 for V.I. Waste Management Authority to improve residential wastewater collection sewers.
$1,120,000 for VIWMA to improve wastewater treatment facilities across the territory.
$1,200,000 for VIWMA to improve municipal water security infrastructure across the territory.
Encarnacion reported that this is the lowest flu season yet due to COVID restrictions and reminded people to get a flu shot because the territory "is not completely through it."
Vaccinations on St. Croix will continue at the Nissan Center for all ages over five, Monday through Friday. Those on St. Thomas can receive immunizations from 8 a.m to 4 p.m. Monday through Friday at the Schneider Regional Medical Center. Vaccinations on St. John continue to be administered at the Port Authority gravel lot from 1 to 4 p.m on Wednesdays, and testing is available from noon to 3 p.m. Register to cut down on wait time at www.covid19.usvi.care/testing, the commissioner, recommended.
So-called pop-ups will continue on St. Croix from 10 a.m. to 1 p.m. at the Market on Tuesday, Wednesday, and Thursday and from 7 a.m to 11 a.m. at Saturday's Farmers' Market. On St. Thomas Cost U Less will provide vaccines from noon to 3 p.m. on Tuesday and Wednesday.
Travelers to the Virgin Islands continue to be able to enter the territory with their vaccination record. Everyone in or outdoors at the airport or marine facility is required to wear a mask, per federal mandate.