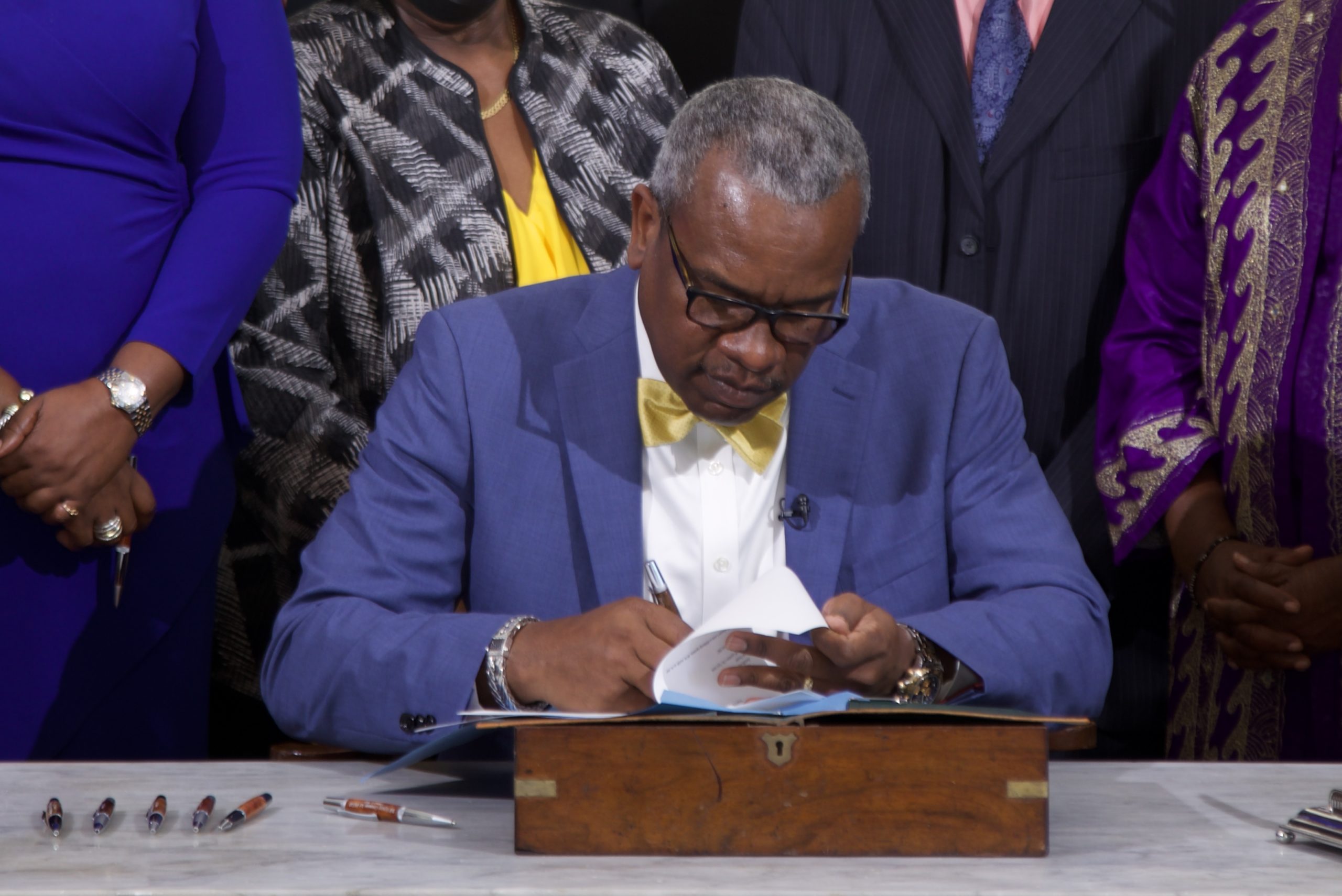 Returning to Government House on St. Thomas for the first time since it was damaged in 2017, Gov. Albert Bryan, Jr. made it his first order of business Tuesday to sign into law a bond refinancing bill that proposes to stabilize the Government Employees' Retirement System for the next 30 years.
The fourth attempt at the bond securitization proposal – which allows the government to refinance the territory's rum cover-over Matching Fund bonds and use the interest rate savings – passed the V.I. Senate last month. With this approval, the administration plans to move quickly on its plans to sell the bonds and fund the ailing pension system, according to a release from Government House.
"When we first introduced this concept to create a special purpose vehicle corporation to refinance our rum bonds 18 months ago, we did it with the people in mind. We did it to protect the pension benefits of our almost 9,000 government retirees and with the goal of protecting the pensions of the more than 8,000 other active employees who are relying on the Government Employees Retirement System to be able to achieve a decent quality of life in retirement," Bryan said before signing the measure into law.
The governor added that a stable pension system also enhances the government's ability to retain and attract new employees to the government.
Bryan first submitted the bill in August of 2020, proposing the refinancing in hopes of reducing the government's bonded debt and using the proceeds to reduce GERS' unfunded liability, which stands at over $5 billion.
Although that bill and two subsequent revisions failed on the Senate floor, it prompted the formation of a Senate Subcommittee on GERS and the passage of the final proposal, which the governor said was a collaborative effort between his executive team, the Senate subcommittee, the GERS board, and the system's actuary, Segal and Company.
Since the bill passed, the governor's team "immediately" began working to secure the bonds and offer them to investors on the market, according to the release.
Bryan credited David Paul of Fiscal Strategies Group as the primary architect of the proposal and thanked his financial and Public Finance Authority leadership teams for cementing the language and terms.
The Governor also thanked Attorneys Karol Denniston, Pedro Hernandez, Dynda Thomas, and Pedro Miranda of Squire Patton Boggs, which serves as the bond counsel on the new matching fund bonds and will oversee the arrangements with the U.S. Treasury and the structure of the financing.