Forty years ago, almost to the day, Steven Callahan set sail from the Canary Islands bound for the Caribbean – a trip he expected to be smooth and relaxing, but his boat sank, and he barely lived to tell the tale. During his voyage of more than 1,800 miles, he managed to survive for 76 days on a five-foot life raft.
"It's hard to let go of life. You really keep going," he told the Source, adding that despite what others say, he is not "a hero."
Callahan's life-changing challenge began after he left the Canaries in January 1982, bound for Antigua in the 21-foot sloop, Napoleon Solo, that he designed and built. During an intense storm and in the middle of the night, the boat was struck by an unknown object – a whale, he thinks. The next morning, he managed to retrieve a few items, including some food, flares, a solar still, and a copy of "Sea Survival," by diving into the hold of the sinking vessel several times. During the last dive, the door slammed shut, and he fought his way out. Then the still heaving seas broke his connection to the sailboat, and his beloved Solo sank.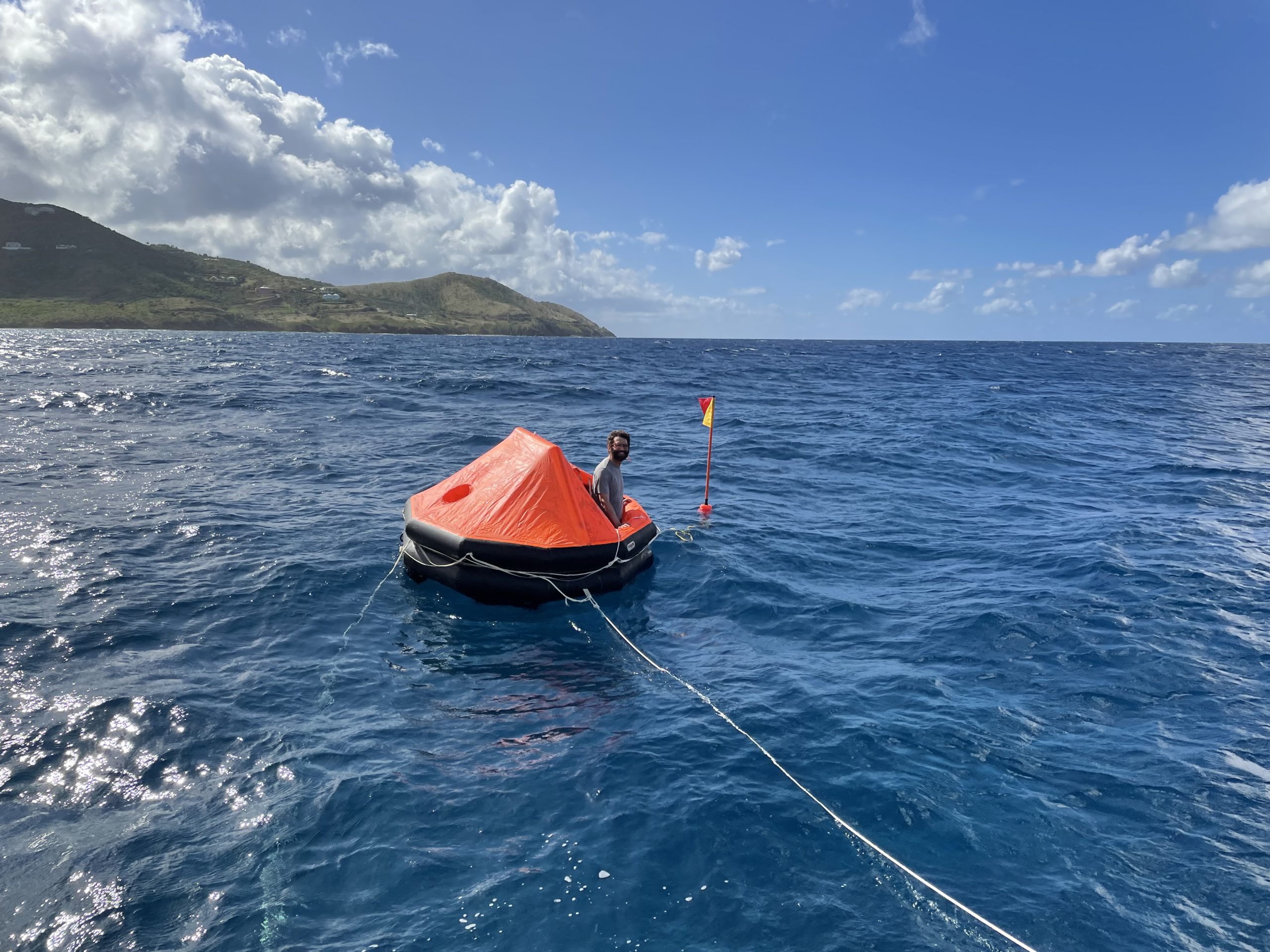 After shark and dorado (Mahi) attacks, unrelenting sun and sea, and the scarcity of food and water stripping away one-third of his body weight, he continued to fight for life, wringing water from a still and eating fish raw when he was lucky enough to spear one.
He said he had always thought keeping a positive attitude was the key to keeping physically fit but discovered that "your physicality also controls your psychology." Starving affected his body and mind.
Callahan told the Source he dreamed about food as he wasted away – not meat or sugar– but bread, vegetables, and fruit. His body told him what he needed.
"The liver, the roe, the heart, the fatty bits on the bottom of the fish became the prize parts, not the flesh. That was an awakening to me," he said. "My attitude's being controlled, actually how I feel about things and what I want, is being controlled by what's going on with my body."
On the 76th day, Callahan was rescued by fishermen near the coast of Marie-Galante, a small island off Guadeloupe.
After his rescue, it took about six months for his body to return to normal, he said. At first, as he rehydrated, he retained fluid, and his legs were so swollen he could barely walk.
Callahan said his knowledge of boats and having lived aboard undoubtedly helped keep him alive. He has always been a loner and a philosopher, which also contributed to his fight for life.
In 1986, Callahan wrote "Adrift" from the log he kept on a tiny notepad during the voyage. National Geographic said it was "one of the 100 best adventure books of all time."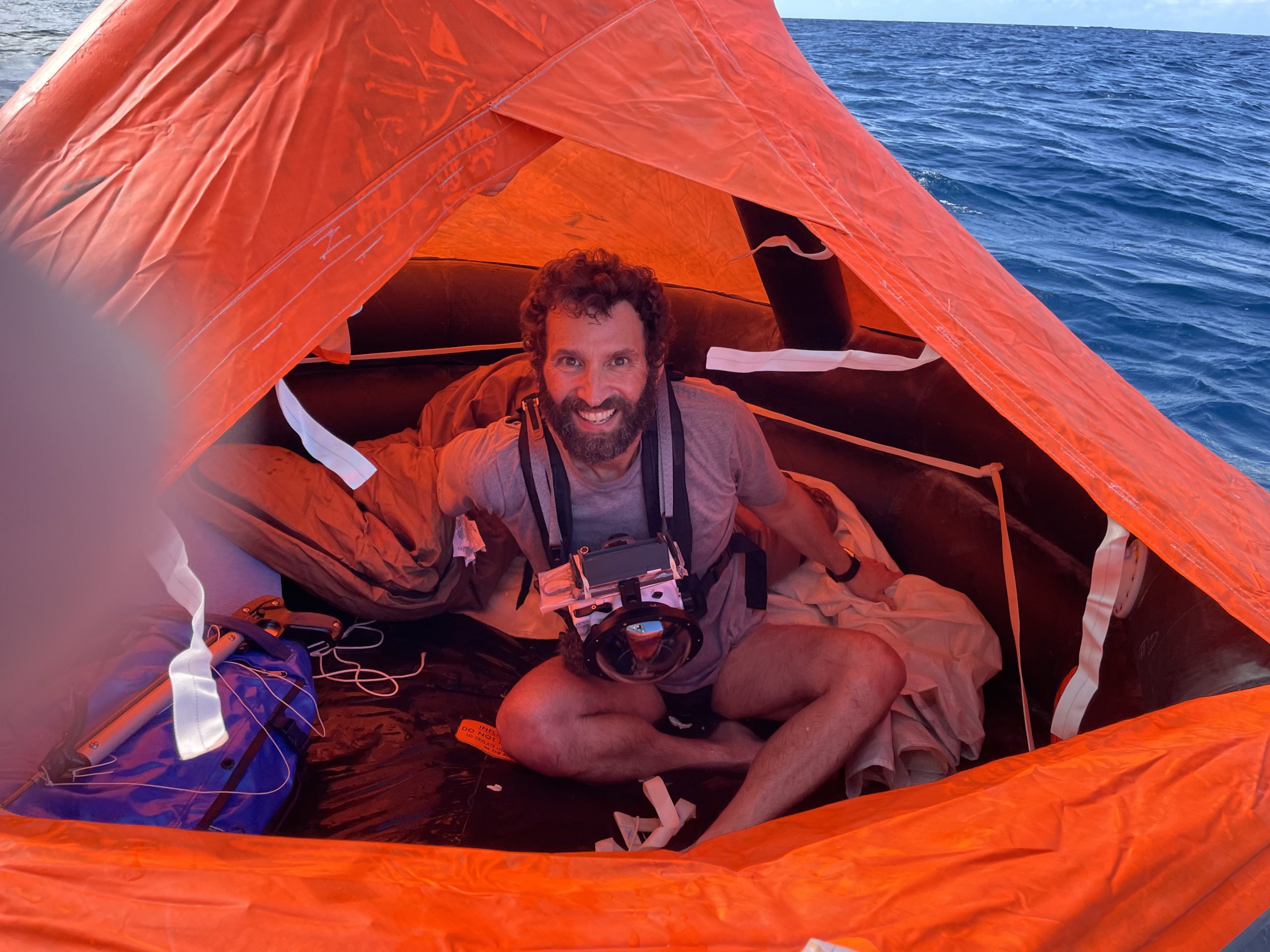 Last week, Callahan and writer/director Joe Wein filmed scenes north of Salt River Bay for the upcoming documentary film, "76 Days." Filming in the water at night was a challenge, Wein and Callahan said. They towed a life raft similar to Callahan's home for two and a half months and filled it with the few supplies and tools that kept him alive. Wein filmed underwater, from a distance, and inside the inflatable.
Wein wrote the script for the feature film "Scorched" with Woody Harrelson and John Cleese.
His short film "Goldfish" received the Grand Jury Award – the Audience Award at the Austin Film Festival. It also was awarded best comedy short at the Savannah Film Festival and was an official selection of the Tribeca Film Festival, the Palm Springs Film Festival, and over 100 more. Wein was listed in Variety Magazine as a "Top Ten screenwriter to Watch."
"It's a metaphor for how to survive any type of situation," Wein said about "76 Days."
See the website and Facebook for more information.
There are seven other crew members, including Callahan, executive producer, and Roger Hatfield, co-founder of Gold Coast Yachts, who serves as the marine coordinator and works with the crew on St. Croix.
Since his adventure, Callahan has given many talks and written articles about survival in general and his efforts to stay alive. He co-wrote "Capsized," about four men adrift for 119 days, and was a consultant on the set for the film "Life of Pi."
Callahan survived a second life-changing challenge when he was diagnosed with leukemia in 2012. He underwent surgery, chemotherapy, and a stem cell transplant. He said his experiences have made him a better person.
The better person lives in Maine with his wife, sails frequently, and returned to his career designing boats and preparing sailors for voyaging. There is more about Callahan at www.stevencallahan.net.