Gov. Albert Bryan Jr. signed an agreement in Washington, D.C., Tuesday that could pave the way for unprecedented port improvements and long-term maritime industry jobs.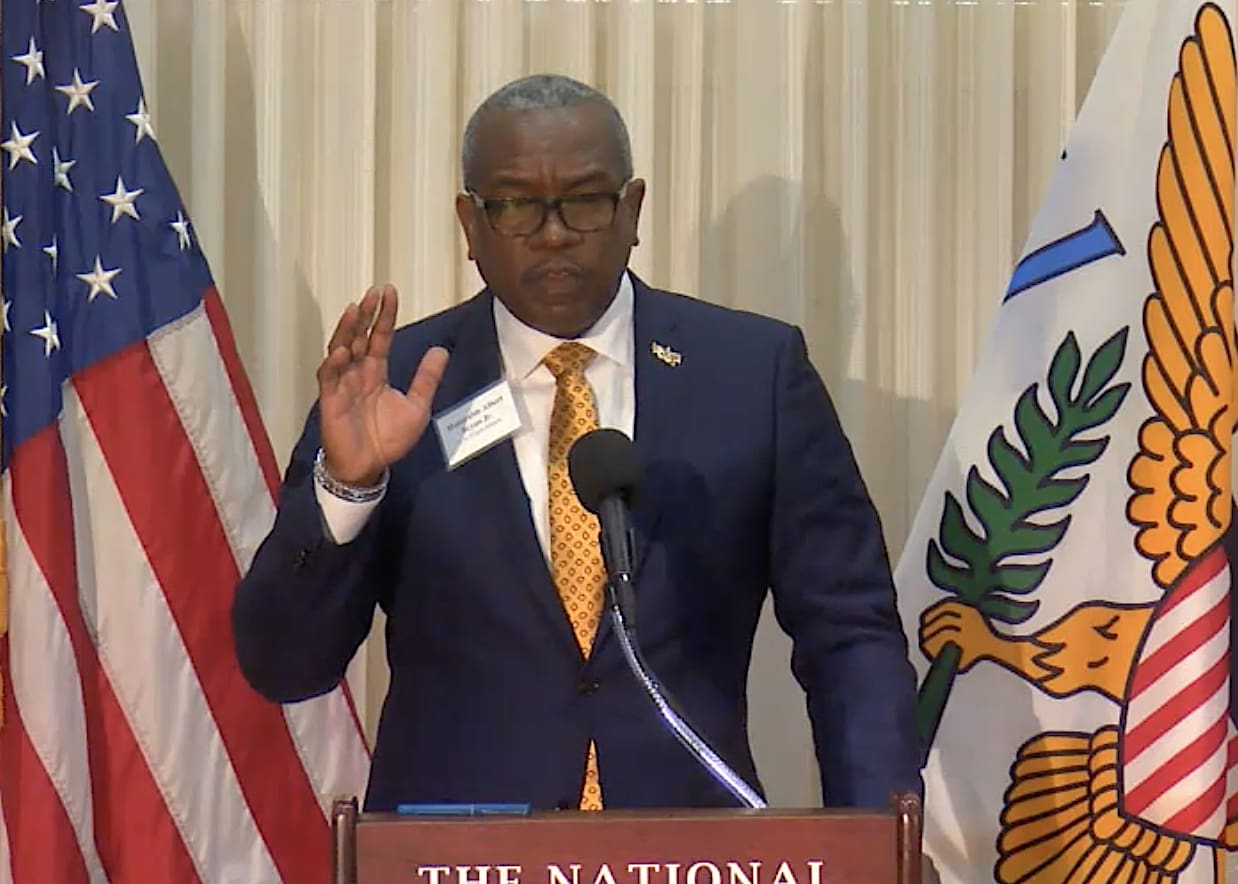 The memorandum of agreement with Massachusetts-based Northeast Maritime Institute seals a commitment to reshaping the seafaring industry in the United States, making the U.S. Virgin Islands the center of an international shipping fleet. Private investors could deposit $2.3 billion in port infrastructure to launch the project, said Eric R. Dawicki, the institute's president and co-signer of the agreement at the National Press Club.
The resolution, called A Revitalization Plan for U.S. Maritime Trade Commerce and Strategic-Competition, is sixfold, beginning with creating an open registry in the Virgin Islands. This new flag state would allow foreign container, cruise, tanker, and other commercial vessels to register in the territory. Those ships, however, will be held to the highest safety, labor, and environmental standards, Dawicki said.
Currently, that market is dominated by Liberia, Panama, and the Marshall Islands. These so-called flag-of-convenience states are often criticized for lax oversight that could lead to labor abuses, irresponsible environmental policies, and opaque financial reporting rules favored by criminals, according to the report.
Dawicki and other maritime experts at the signing event said the new USVI ship registry won't compete with perceived bad-actor countries that allow the ships under their purview to flout environmental, labor, and safety rules.
"The USVI flag will be defined by conscientiousness, not convenience," he said. "World-leading standards will be implemented in quality, operational excellence, and sustainability."
With just 0.4 percent of commercial ships registered in the United States, American sea trade is vulnerable to market volatility, global upheaval like COVID-19, and potential financial attack by a rival.
"The significance of a new American maritime flag, ship registry, and transshipment hub extends beyond the Caribbean," Dawicki said. "These endeavors, and the rest of the plan, will establish a highly transparent and rules-based maritime system, and purposefully guide the practices and processes of global trade entering the United States."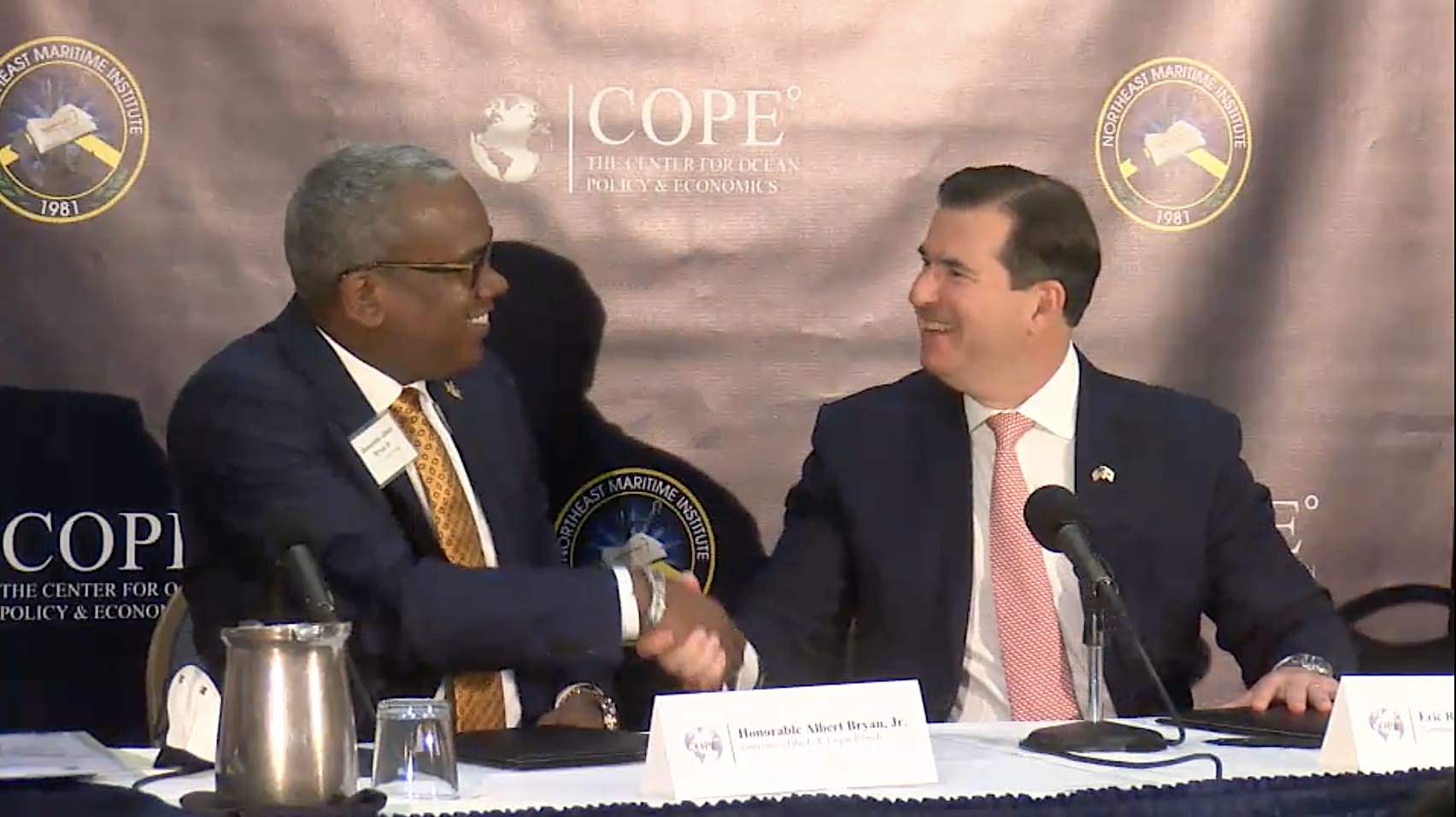 Any change in the Virgin Islands' flag status would need Congressional approval, Dawicki said. He claimed both Republican and Democrat members have responded positively to the idea.
Bryan said he was "shocked" and "dismayed" to learn of America's almost-complete reliance on foreign-flagged cargo vessels. He said it was a major concern for U.S. security.
"As an American citizen, I look at the numbers, and they make me nervous about our participation in the world trade market," he said. "At the end of the day, it doesn't really matter so much whether it's the Virgin Islands or Florida or Puerto Rico. The bigger picture is we have an opportunity to widen, to broaden our fleet reach."
Bryan's case for investment in the USVI was clear: The territory has the only U.S. ports fully exempt from the Jones Act, meaning they are an ideal transshipment point. "It's the best-kept secret in the world," he said. "Our tax incentive programs are so good that most people think it's spam when they get the email."
He said the USVI had long tried to find a way to best benefit from its Jones Act exemption. This might be it, Bryan said.
Beyond our shores, Bryan said the Caribbean as a whole could benefit from a renewed seafaring industry. "To produce maritime workforces from within the Caribbean, whether they're from the Virgin Islands or other places, is a tremendous opportunity," he said. "There are so many countries in the Caribbean that are under duress for energy, food, most of the goods. Ninety percent of the goods that come from the Caribbean come from the sea. And that's incredible that we haven't been a bigger player in partaking with that."
He said a USVI trade hub could bring together the Caribbean nations from South America to Florida, as could a maritime industry training facility.
Bryan also hoped the revitalization plan could help throw off seemingly counterproductive rules, such as those that limit where harbor pilots can work. He noted USVI ports need $80 million in repairs.
Dawicki, who has worked on the revitalization plan for two years, said there's a pool of environmentally conscious investors eager to use shipping services with honest, truly transparent financial record keeping and responsible labor practices. His hope is the new USVI registry will be that service.
"All U.S.-flagged vessels will adhere to environmental standards that reduce their impact on fragile ecosystems and ensure their carbon footprints are measurably reduced and eliminated over time. We seek Congress' support in these initiatives in the establishment of incentives-based programs for USVI-flagged vessels which maintain the highest compliance in evaluations. Let all know who ship cargo, sustainability has a new ally in the open international USVI flag. You can carry your shipments on the cleanest, most responsible, and transparently operated vessels in the world. A new era has begun. Let all who ply the seas, the mariners and seafarers serving on these vessels, know you have a new and committed ally, a registry that will work alongside you to help develop your careers, provide better maritime education and training tools, and a certification that supports you and assists in bringing the industry into a higher operational standard," he said.