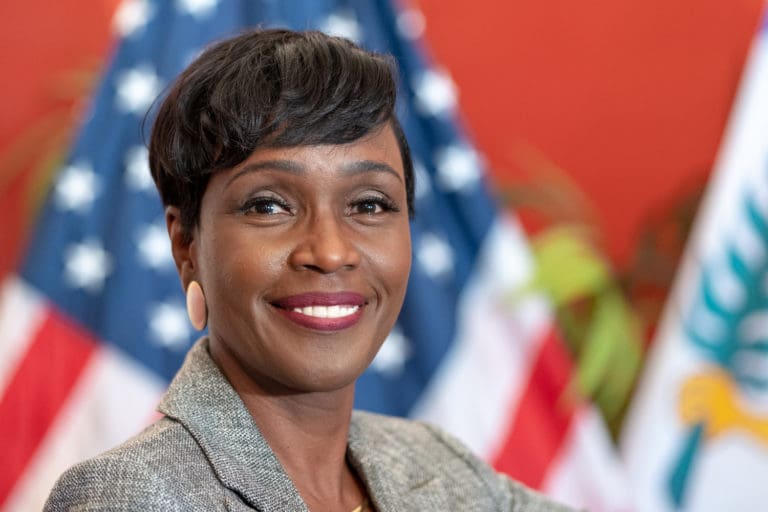 The attorney general of the Virgin Islands says in spite of a recent verdict against an associate of Jeffrey Epstein, it is still up to the territory's Justice Department to win their civil case in court. Attorney General Denise George recently issued a statement about the conviction of Ghislaine Maxwell in federal court on Dec. 29.
At the time of his death in a New York detention center in August 2019, Epstein was already a convicted sex offender and was facing new charges after being arrested again. He was also a resident of the Virgin Islands as a landowner of one cay off the coast of St. Thomas and a portion of another cay nearby. Maxwell, described as his longtime companion, was arrested in July 2020 charged with related offenses.
The jury found Maxwell, 60, guilty of sex trafficking where the victim was under the age of consent. She was also convicted of transporting a minor for the purpose of engaging in criminal sex acts.
On Jan. 14, Judge Alison Nathan set a tentative sentencing date of June 28. Maxwell faces up to 65 years in prison at that time. These developments occur as George continues to pursue a civil lawsuit against Epstein's estate to compensate victims of sex trafficking that allegedly took place in the U.S. Virgin Islands.
But George says while the federal conviction against Maxwell is significant, it is separate and apart from the efforts of the V.I. government's litigators to win their civil case in court.
"While the Government must still prove in court the allegations in its complaint, the jury's verdict validates the accounts of numerous victims of sex trafficking having occurred at Epstein's properties, including Little Saint James Island," the attorney general said.
In an amended complaint filed Feb. 12, 2021, Justice Department officials said they'd uncovered evidence of a criminal sex trafficking enterprise led by Epstein and aided by associates. Those associates "used deception, fraud, and coercion to entice and lure vulnerable girls, some as young as 13 years old, into human sex trafficking …"
But in the statement issued Jan. 13, George did not name Maxwell as one of those associates, although evidence and testimony presented in her trial described activities matching the description. Through Justice Department spokeswoman Sandra Goomansingh, the attorney general was asked if the recent conviction of Maxwell would expand the liability being sought through the civil case.
Without ruling out the possibility, George said it's not an option Justice is prepared to pursue now.
"The Superior Court recently designated the Government's case as a complex case, governed by a special civil rules of procedures to follow as we move the Virgin Islands' litigation forward," George said.
The attorney general was also asked if victims who testified at Maxwell's trial can now qualify for compensation from the fund established between Justice and the Epstein Estate. George said now that there's a guilty verdict, those who claim to be Maxwell's victims can try, but there are no guarantees.
"As for the victims, the compensation fund established by the Epstein Estate was open to individuals abused by Epstein (along with others) but has wound down its operations," the Jan. 13 statement said. "The Attorney General's office remains committed to hearing from all victims who were trafficked and sexually abused in the Virgin Islands."