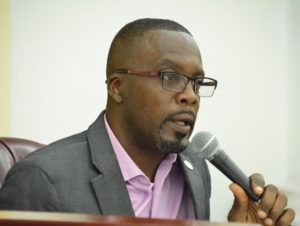 Just a night shy of Christmas Eve, senators imposed sanctions against Sen. Marvin Blyden on grounds of unethical conduct for flouting COVID-19 protocols when he reportedly tested positive for the virus and was under orders to quarantine but attended a party.
The resolution, Bill No. 34-0185, strips him of his position as majority leader and imposes a 160 working-hour suspension. Blyden was the only senator to vote against the bill, which will now go to the governor's desk for signing.
"We believe our recommendation is fair based on the infraction," Sen. Milton Potter, chairman of the Ethics Committee that was convened when news of Blyden's conduct surfaced in September, said at Thursday's hearing.
Beyond the Legislature's censure, Blyden faces a single misdemeanor count after the V.I. Justice Department charged him with "willfully exposing the public to a contagious disease" after he tested positive on Sept. 15 and was under orders from the Health Department to quarantine, but three days later attended a party at Tillett Gardens on St. Thomas.
Blyden, who said at the time he had taken three home tests that were negative for the virus before attending the party, pleaded not guilty in court on Oct. 1 and was released on his own recognizance.
Blyden issued a public apology two days after the gathering at Tillett Gardens, saying he would not intentionally endanger anyone's health and calling his actions a "terrible lapse in judgment" and blaming his "workaholic" tendencies and "pandemic fatigue."
"I had a meeting scheduled for Saturday night with some potential investors who had already flown down for the meeting, and I let my desire for economic development opportunities for our people overcome my better judgment and common sense," Blyden said in his apology, but provided no further details about the meeting that reportedly included attending a gathering of about 70 people at Tillett Gardens.
"Regardless of what I believed or even knew, I should have followed the guidelines set by the Department of Health and the CDC. Plain and simple, regardless of my intentions, my actions were wrong. I am deeply sorry, and I humbly apologize to the people of the Virgin Islands," Blyden wrote.
Meanwhile, Senate President Donna Frett-Gregory convened the Committee on Ethical Conduct in late September to move forward with a formal disciplinary hearing. Chaired by Potter, the committee also included Sens. Dwayne M. DeGraff, Kenneth L. Gittens, Carla Joseph and Kurt Vialet.
Blyden's actions drew condemnation from the Democratic Party of the Virgin Islands, which issued a statement in September saying, "We emphatically, categorically and unapologetically condemn Senator Blyden and others who willfully violate these standards and implore them to do better going forward because nothing is more important currently than the safety, health, security, and well-being of our people."
"While we are sympathetic with his contracting the disease, as officials and leaders of government, we are expected to be more responsible. We must maintain proper standards and set appropriate examples in accordance with our Democratic national, state and local policies," the statement said.