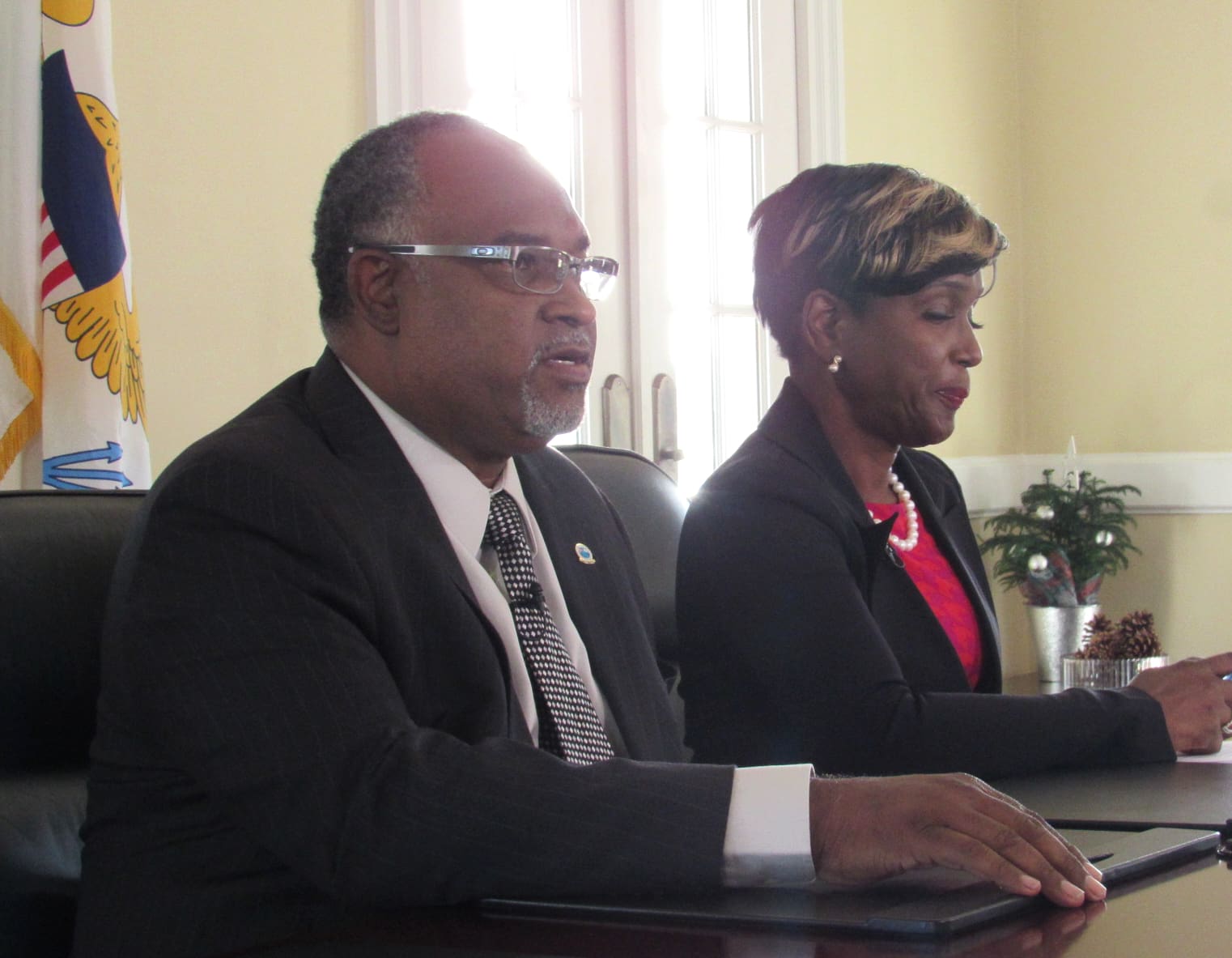 Three minors arrested and charged Thursday in connection with the armed robbery at Glitters Jewelry Store may soon be charged as adults, said Attorney General Denise George.
George appeared at a Friday press conference, along with Police Commissioner Designee Ray Martinez. The two top law enforcers announced the arrest of four people – one adult and three minors – in connection with the robbery and shooting that left a security guard and a female shopper wounded.
At that press conference, the attorney general also gave details about the initial court appearance of an 18-year old suspect on Friday morning. A magistrate judge found probable cause to charge the suspect, Miciah Cozier, with 21 criminal counts.
George added that because of the serious nature of the Dec. 4 robbery and shooting, additional charges might be added by the time Cozier appears at a scheduled arraignment hearing. As the press briefing wrapped up, the attorney general said the Justice Department is looking at charging the unidentified minors as adults.
But when and how that might come about could not be disclosed right away, she said. "The other juveniles – because of our laws, we cannot provide any information about those juvenile offenders," George said.
Charges include attempted murder, first-degree robbery, first-degree and third-degree assault, attempted kidnapping in furtherance of a robbery, aiding and abetting attempted murder, mayhem, possession of unlicensed firearms, and grand larceny.
Officials acknowledged that merchandise was taken from the jewelry store, but no estimated value was given at the Friday press conference.
Martinez also updated the public on Friday about the arrest of two other individuals on St. Thomas the day of the robbery. Investigators initially thought the pair were robbery suspects, but the commissioner says that has since been ruled out.
"We've ruled them out at this time, but our investigation continues," Martinez said.
Both officials alluded to the prospect that additional suspects could be sought as the work of the VI Police Department Investigations Bureau continues, supported by special investigators from Justice and the VIPD Special Operations Bureau.
George and Martinez thanked the law enforcement teams that helped identify and arrest the four suspects. Cozier is being held on $500,000 bail; the minors have been turned over to the Superior Court Family Court division, pending an initial hearing.
Martinez also thanked the public for their assistance. "I would be remiss if I did not thank the community for information that played a critical role in providing our investigators with much-needed leads," the commissioner said.