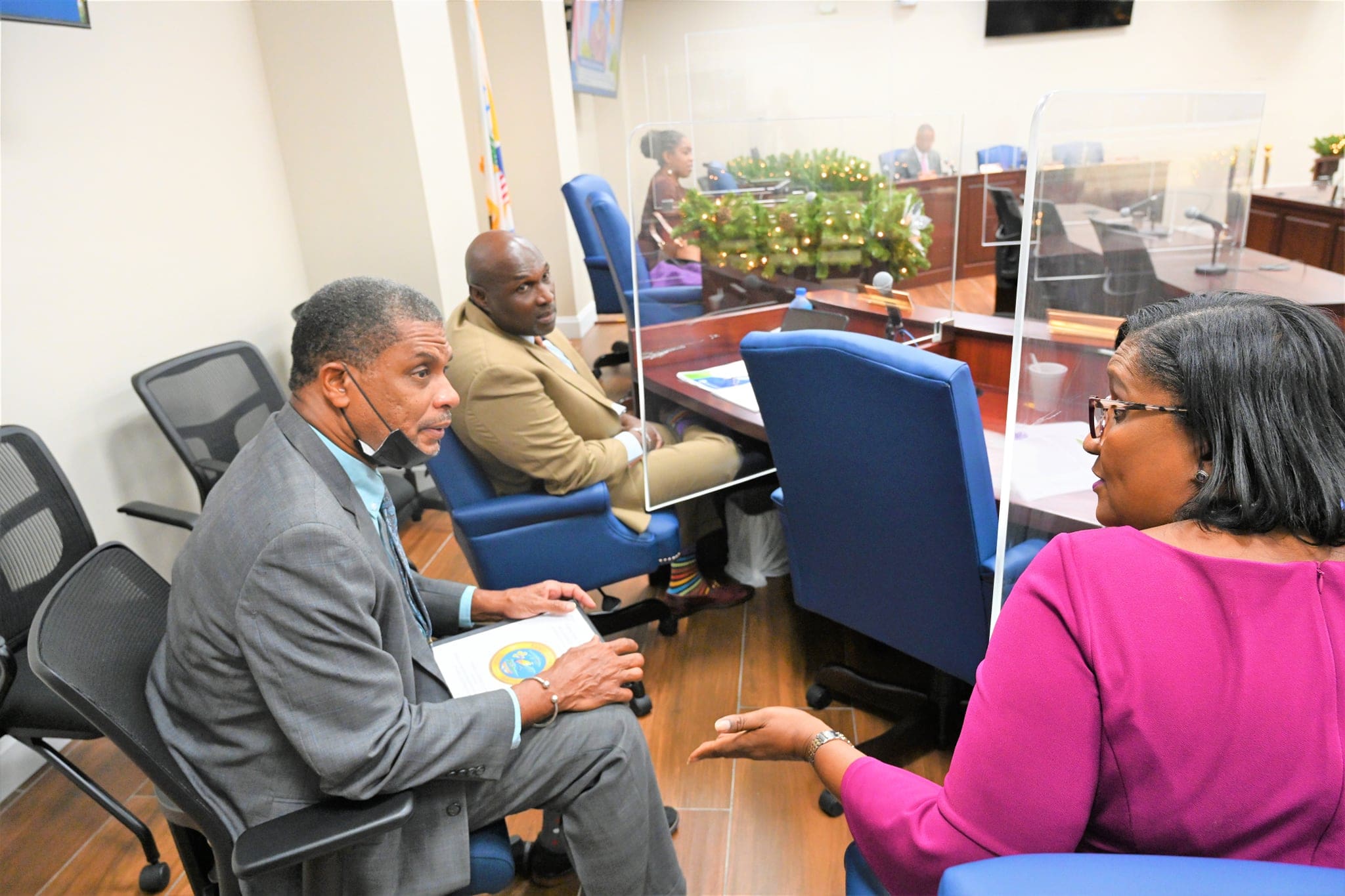 During Tuesday's Education and Workforce Development hearing, committee members had concerns over the readiness of U.S. Virgin Islands public schools when they were told the V.I. Department of Education is aiming to reopen on Jan. 10, 2022.
Education Commissioner Racquel Berry-Benjamin said beginning the second week in January, students attending Lockhart Primary, Special Education Self Contained Classes, and Career and Technical Education will continue learning as scheduled.
Students in grades 4-6 at Ulla F. Muller, Jane E. Tuitt, Joseph E. Sibilly, Joseph A. Gomez, and Yvonne M. Bowsky will return to a full-time campus schedule five days per week, as will all grades attending Bertha C. Boschulte Middle School.
Berry-Benjamin said students in grades 4-8 at Addelita Cancryn Intermediate and Junior High School will be doing part of their schooling online and partially in the classroom, returning to school two days a week and online three.
High schoolers will also be participating in a mix of online and in-person learning. Berry-Benjamin said those in grade 9 at both Charlotte Amalie and Ivanna Eudora Kean high schools would be on campus four days per week, excluding Wednesday, which is planned to take place virtually.
The remaining high schoolers in grades 10-12 will attend virtual classes three days a week, coming to campus the remaining two days of the school week.
"The school's principals have created school reopening plans for students and staff to return to their specific campus," Berry-Benjamin said.  "As students return to our campuses, they will be acclimated to new procedures that will keep them safe as they traverse the campus while adhering to the new guidelines and procedures."
But V.I. Board of Education Chairman Kyza Callwood, along with committee members, were "concerned" about the school's preparedness and upcoming walkthroughs in Jan. 2022.
Callwood said after conducting walkthroughs of the school sites on Nov. 22, and 23 "staffing shortages and maintenance issues remained the primary concerns."
"It was noted that there is visible progress in preparing the classrooms and the grounds. However, maintenance-related matters remain at schools such as St. Croix Central High School and Eulalie Rivera. Furthermore, there is a need for the completion of work in bathrooms and kitchens, an increase in pandemic related signage, placement of barricades or other security measures to cordon off areas that are unsafe or not being utilized at the sites, and timely receipt of supplies needed to ensure compliance with the pandemic related protocol," Callwood said.
Sen. Kurt Vialet inquired about the installation of kitchen equipment that's been sitting for two months and wanted a completion date for the project as it is impacting both kitchen crews and water supply.
District Operations Manager Charlesworth McCarty said the district had intended to install the kitchen equipment but was told the structure was not up to code and had to make changes before the installation could be completed.
Vialet said, "The code violation didn't just pop up a week ago, or a week before. The code violation existed for longer. We have been waiting on this equipment for over a year. Now we have the equipment, and we have no installation and no water for five or six weeks. No water."
Within the next two days, a contract will be signed, McCarty said, which will remove 400 feet of corrosive copper line, replace it, and refurbish three pumps which should restore the water to the campuses.
"The reason the pumps were destroyed or burned is we have copper lines throughout the facility that were seeping. As you know, copper lines have a life span of 20 years, and the school was built in the summer of 95′," McCarty said.
Until the problem is fixed, Vialet said multiple schools are operating out of one kitchen.
"Complex kitchen staff can't cook in the Complex. Woodson kitchen staff is not cooking in Woodson. So, you have Complex, Woodson, and Alfredo Andrews in the same school … fixing these kitchens would alleviate having staff from three institutions."
The committee was told the kitchen equipment would be installed before the remainder of the territory's students return in January.
Sen. Samuel Carrion was concerned about the school bus plan and what preparations were being made to ensure pandemic-related safety.
St. Croix District Superintendent Carlos McGregor said Abramson Enterprises is providing transportation for students in the district, and students "will be two to a seat instead of three and required to wear a mask at bus stops and while riding the bus."
The same is true for students attending school via bus on St. Thomas and St. John, though two other companies separate from Abramson Enterprises have been contracted for those services.
Additionally, Berry-Benjamin said the department has also "focused its attention" on a vaccination drive for students ages 12-18.
Separately, the committee also received testimony on contracts held between the V.I. Department of Labor and ICF International LLC for the training and certification of 640 individuals in occupational trades like construction, leisure and hospitality, and information technology.
Sens. Genevieve Whitaker, Janelle Sarauw, Donna Frett-Gregory, Kurt Vialet, Milton Potter, and Carla Joseph were present for the hearing. Sen. Kenneth Gittens was absent. Additional non-committee members were also present.