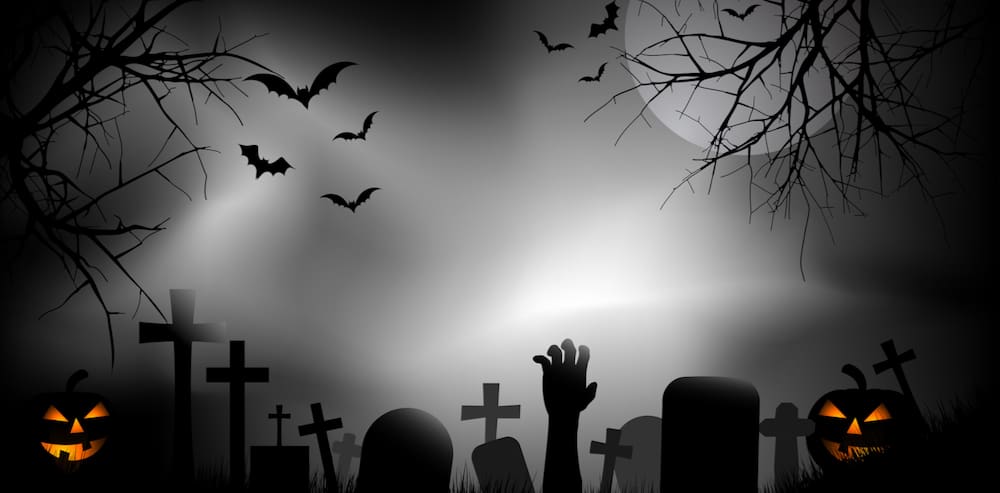 It's not Halloween without a witch, a pumpkin, a full moon, and bats – lots and lots of bats.
Maybe that's why someone chose October as Bat Appreciation Month and Oct. 24 to All Hallows' Eve (Oct. 31) as Bat Week.
Of course, it's not the spooky version of the flying mammal that wildlife experts are celebrating.
Forget about Count Dracula's transformative black-winged cape. Don't imagine dark shapes emerging from caves and swooping around with ill intent. Never mind tales of flying intruders getting tangled in your hair.
Think instead of what Nicole Angeli, director of Fish and Wildlife, says are "fascinating animals" and "underappreciated" contributors to the Virgin Islands' ecology – unassuming creatures that help control the insect population, pollinate flowers, and scatter seeds.
Sometimes they are even pleasant companions.
Just ask Renata Platenberg, the University of the Virgin Islands professor who has been studying bats in the Virgin Islands for many years.
It was Carnival 2011 when she went to the Children's Parade with a friend who told her she had fished out a dead bat from her swimming pool that morning and asked if Platenberg would want it for her research. So, she went to her friend's home to fetch the offering and made a lucky discovery.
"As I approached it, I could see it moving its little ears," she said. It was a baby Jamaican fruit bat (Artibeus jamaicensis). "I called around" doing some research on what to feed it.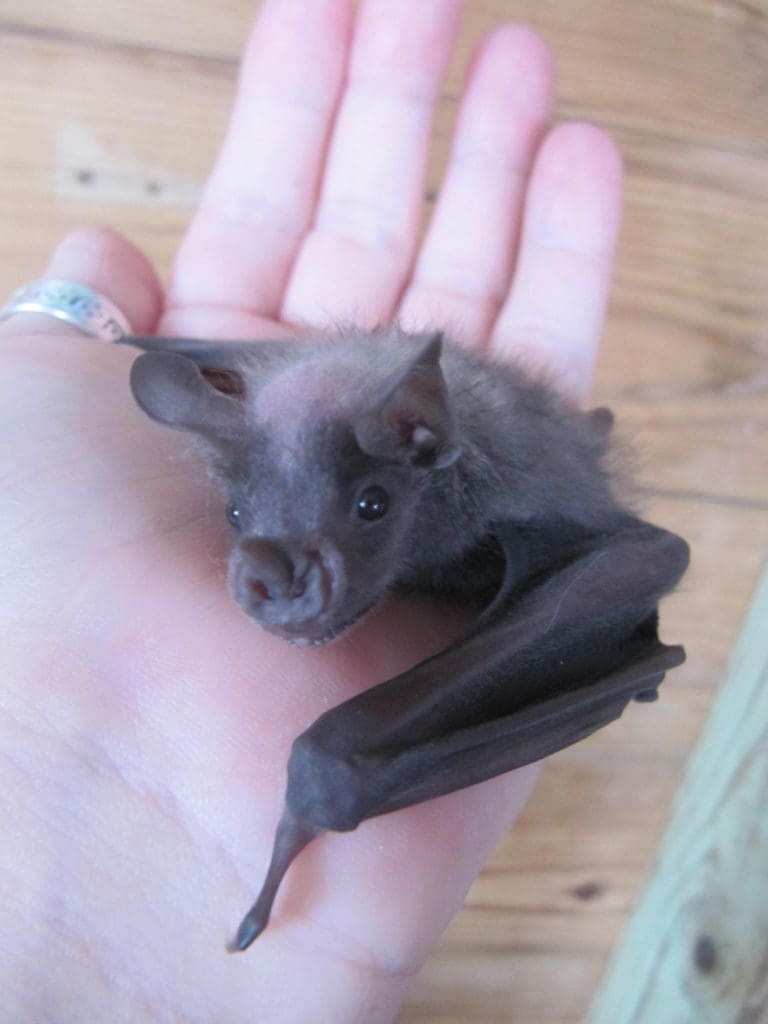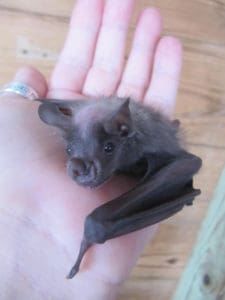 She made up some formula and housed the tiny visitor in a butterfly cage. It's difficult to determine a very young bat's gender and Platenberg's initial inspection led her to name the bat "Napoleon." Later she realized it was a female but the name stuck.
When Napoleon outgrew the butterfly cage, Platenberg moved her to a larger flight cage.
After some time, they put in another bat – a female of about the same age, that had been caught in a research net. The pair got along well. "They were hanging together."
They put field cams in the cage, hoping to document bat behavior in captivity, and trained the cameras on the food, but they didn't get much in the way of photos. The bat is too fast for the camera.
Platenberg had better luck when she took her own photos one-on-one.
Two or three months after Napoleon first arrived, it was time to release her back to the wild, along with her friend.
"I opened the flight cage, and off they went," Platenberg recalled. "I was so sad."
She doesn't know whether the feeling was mutual, but she does know that various studies have shown that bats "do seem to have recognition" – at least of one another. A mother bat entering a cave or other roosting site filled with bats will fly directly to her own baby, and the pup seems to be able to distinguish its mother too.
"It may be she has a unique voice, or it could be a smell, perhaps," suggested Platenberg.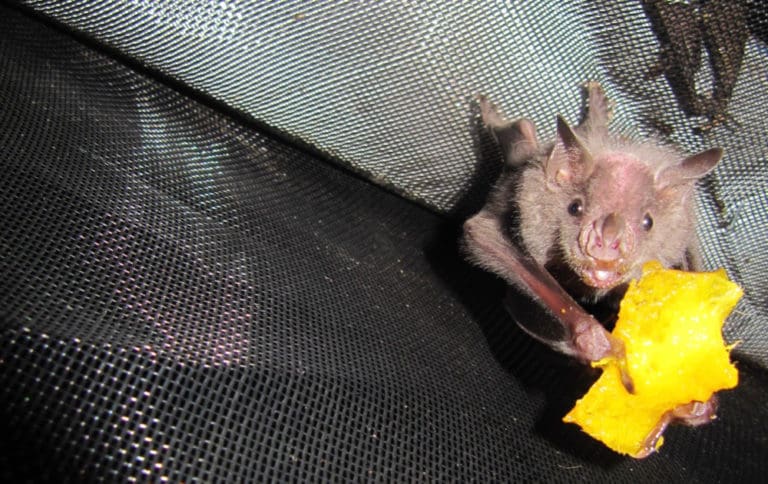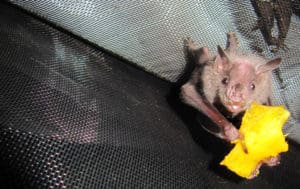 Vampire bats (which are not found in the Virgin Islands) sometimes present altruistic traits, she said. Researchers have watched them bring food (yes, blood, stored in their stomachs) back to roosting sites to feed bats that were unable to gather food for themselves. Early studies concluded the bats only fed family members, but later research showed they will help non-relatives too. Further studies have shown that both the donors and the recipients exhibit behavior that indicates they recognize one another if they meet up again later.
Along with volunteers and university students, Platenberg has been monitoring V.I. bat populations since 2008 and tagging animals caught in research nets since 2011. More recently, she has been using audio recordings to track their movements.
She has identified five different species as territory residents: Pallas Mastiff (Molossus molossus); Greater Bulldog (Noctilio leporinus); Antillean fruit-eating bat (Brachyphylla cavernarum); Red fig-eating bat or Red fruit bat (Stenoderma rufum); and the Jamaican fruit-eating bat (Artibeus jamaicensis).
A sixth species, the Mexican free-tailed bat (Tadarida brasiliensis) has also been found in the territory. "It's an occasional visitor, but they don't live here," Platenberg said.
"We have tagged probably about 600 bats since 2011," she said. That's only a portion of those the researchers have studied. "Fruit-eaters don't tolerate the tags" which can irritate their bodies "so we stopped tagging them when we realized that." But they do measure and weigh them.
The 2017 hurricanes were especially hard on the territory's fruit-eating bats. The widespread destruction of trees and other vegetation left them with few resources and apparently many starved to death, Platenberg said.
The storms also destroyed bat habitat, ripping roofs off old buildings and damaging both man-made structures and natural shelters. Some colonies previously known to the researchers disappeared from their homes. While Platenberg believed they survived and relocated to new roosts, she couldn't actually find them.
"Last month we caught our first Brachyphylla (Antillean fruit-eating bat) since before the storm," she said. It was at a Magens Bay site where the researchers conduct monthly counts. "It's exciting that we did catch one four years after the storm."
In 2019, the UVI researchers teamed with the V.I. Health Department to survey bat populations, looking for pathogens that could be transmitted to humans. They found no sign of rabies, Platenberg said, nor any other diseases that affect humans.
In fact, while bats in cold climates are declining in numbers due to white-nose disease, Platenberg said she's never seen a bat in the territory that appeared to be ill. She has nursed many a distressed bat over the years, but their problems were not disease-related. She's helped bats with injuries and pups that have gotten lost and separated from their mothers. She's also seen the occasional disoriented adult that has eaten too much fermented fruit. Typically, she'll provide food and shelter for a few days and then send them on their way.
The release from Fish and Wildlife reminds residents that bats are protected in the Virgin Islands, under the provisions of the native wildlife law.
"Individuals wishing to free their property of bats should never use traps," the release states. "Instead, encourage exit by creating slits in screening or using down spouting caulking methods."
For years, as part of a public awareness campaign, Platenberg conducted free, public, Meet the Bats sessions at Magens Bay, where children and adults could observe live bats and learn about them. COVID-19 restrictions have limited those, but Platenberg urged people to check out the Meet the Bats Facebook platform this week and visit the V.I. Bat Team.
There is also information available at the Fish and Wildlife website or by calling the division at 340-773-1082.
Information on bat research and advocacy across the globe is at the Bat Conservation International's website.