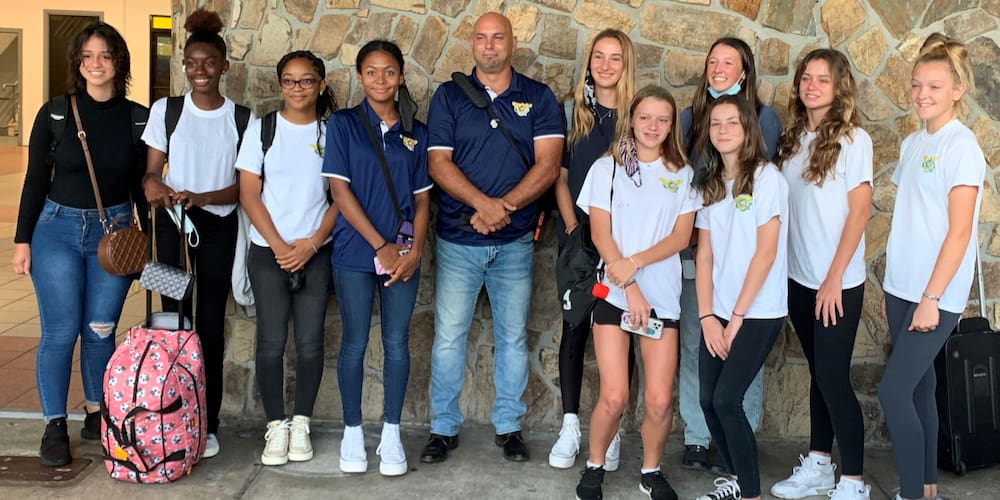 The U.S. Virgin Islands Soccer Association sent a team of young women to compete in the first leg of the FIFA 2022 Under-17 Women's World Cup, with their first game scheduled for Wednesday morning.
The USVI girls' team will be one of 10 teams from this region participating in the Confederation of North, Central America and Caribbean Association Football qualifying event. The teams are divided into three groups; the winner of each group along with the top second-place finisher will move on to the next round scheduled to be held in January.
This qualifying tournament is being held at the IMG Academy in Bradenton, Florida.
Head Coach Joseph Limeburner is very optimistic about the team.
"In the past our teams have traveled to tournaments with players much younger than the acceptable age requirement. This has placed us at a great disadvantage," Limeburner said, "This is the first team that I have ever coached with at least 15 age-specific players. I expect our girls to do well in our group."
The USVI girls will face the team from St. Kitts and Nevis in the first game at 11 a.m. Wednesday. Their second and final match will be at 11:10 a.m. Friday against the girls from Suriname.
Here is the complete USVI delegation.
Jada Browne – Player
Chasity Febres – Player
Gabriela Garcia – Player
Zia Gibbs – Player
Flame Gonzales – Player
Kirsten Howell – Player
Leia Johnson – Player
Maylinda Leader – Player
Samantha Lecuyer – Player
Leea Lopez – Player
Soemili Perez – Player
Ella Popple – Player
Aliya Richards – Player
Eliise Rogers – Player
Mikaela Rodgers – Player
Madison Roy – Player
Taylor Roy – Player
Kyara Simon – Player
Maia Tolud – Player
Azlin Williams – Player
Joseph Limeburner – Head Coach
Izler Browne – Assistant Coach
Vin Blaine – Director of Football, Head of Coach Education