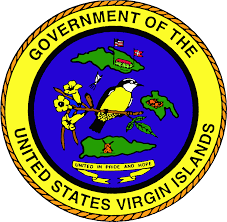 Congresswoman Stacey E. Plaskett, Governor Albert Bryan Jr., Office of Disaster Recovery Director Adrienne Williams-Octalien and senior Bryan-Roach Administration officials met Tuesday with a team from Witt-O'Brien's and FEMA's Acting Region 2 Administrator Chad Gorman and his team about the status of recovery projects throughout the territory that resulted from the 2017 hurricanes Irma and Maria.
The daylong discussions centered on how the Federal Emergency Management Agency (FEMA) is applying the mandates and requirements regarding the funding and federal assistance for the U.S. Virgin Islands' recovery from the back-to-back Category 5 storms that are dictated by the U.S. Congress' Bipartisan Budget Act of 2018.
Discussions focused on about three dozen recovery projects from the education, emergency services, healthcare and communications sectors, as well as dozens of repairs and resiliency upgrades to roads, sewer and water systems, and other needed infrastructure projects.
Gov. Bryan hosted the meeting from Government House on St. Croix and virtually with federal partners in Washington D.C. to accomplish a number of goals:
Getting clear guidance on implementation of the BBA and supplemental provisions for USVI projects
Achieving a clearer understanding of road eligibility determination
Reaching agreement on solutions for the fair application of cost factors
 Reaching agreement on timelines and extensions for fixed cost offers
Finding resolutions to lingering issues that are affecting progress of the recovery.
"I am grateful for Gov. Bryan calling a summit on recovery with key members of FEMA leadership. My team and I were pleased to be a part of very important discussions with FEMA that we hope will facilitate a clear understanding of how our disaster recovery projects will move forward. It's been unfortunate that to date we have not seen the high rate of FEMA's approval of projects and the determinations of what will be repaired and what will be replaced," Plaskett said.
"Today, FEMA committed to making these determinations expeditiously and in accordance with the provisions laid out in the Bipartisan Budget Act of 2018. Congress purposefully designed specific law for the Virgin Islands and Puerto Rico to create resilience. Our office, the Office of Disaster Recovery and the Bryan/Roach administration will work together to ensure that the proposed timelines are met.  So much of what we are working to do here in the Virgin Islands falls directly within President Biden's commitment to make sure that every community is not only resilient but has a foundation for the community's success," she said.
"I am grateful for Regional Administrator Chad Gorman and the FEMA delegation agreeing to spend the day with us to work out some of the technical issues affecting several important recovery projects," Bryan said.
"Delegate Plaskett and I were able to make significant progress in ensuring FEMA understands that the intent of Congress in passing the Bipartisan Budget Act of 2018 was to allow the territory to not only recover from the storms but to build back better in a resilient and sustainable fashion. I believe we are all on the same page following this discussion," he said.