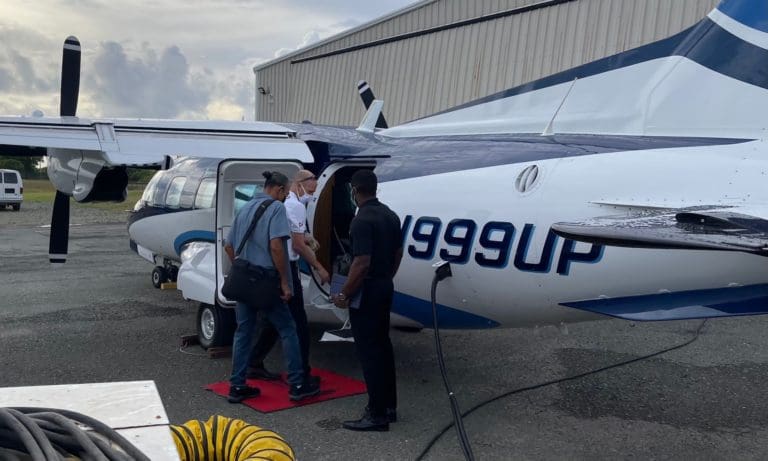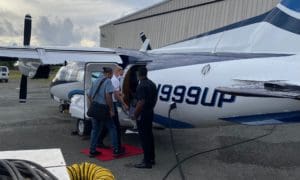 Victorino Concepción, an Army veteran from St. Croix, U.S. Virgin Islands, recently became the first participant of the inaugural charter flight that provides recurring roundtrip air transportation services to eligible veterans who fly to Puerto Rico.
"This has been an excellent experience. When I arrived at the airport, they were waiting for me. This is truly a first-class service to veterans," said Concepción.
The flight provides services from the U.S. Virgin Islands to the Luis Muñoz Marín International Airport located at Carolina, P.R. Transportation originates in the Cyril E. King Airport located on St. Thomas, V.I., and the Henry E. Rohlsen Airport located on St. Croix.
"The plane departed on time and arrived earlier than expected both to San Juan and back to St. Croix. I felt like I was still in the military. I am glad to see that the Veterans Administration Caribbean Healthcare System (VACHS) knows how to properly treat veterans," said Concepcion.
The aircraft can carry nine passengers with wheelchair and oxygen capabilities. There will be approximately four flights per week, depending on need.
"This inaugural flight is a clear indicator of the VA Caribbean Healthcare System's commitment to our veterans residing at the U.S. Virgin Islands.  It shows how we want to continue developing creative solutions to facilitate equal access to care.
"As part of our continuous process improvement approach, we are excited about the opportunities to continue enhancing the model of health care provided to veterans in the region as we become their healthcare destination of choice. This is our commitment, and we take it very seriously," said Carlos R. Escobar, executive director/CEO at the VA Caribbean Healthcare System.
The flight service is for Beneficiary Travel Program eligible patients and medical companions. Each flight will be coordinated by the VA Caribbean Healthcare System.
"I encourage all veterans from the U.S. Virgin Islands to use this transportation method. This is the best way to travel to obtain medical services at VA. I felt like a VIP," said Concepcion.
With an operational budget of approximately $600 million, the VACHS is a system of care for veterans, consisting of a tertiary-care medical center located in San Juan, P.R., and 10 outpatient clinics located throughout Puerto Rico (Arecibo, Ceiba, Comerio, Guayama Mayaguez, Ponce, Utuado, Vieques) and the USVI (St. Croix and St. Thomas).