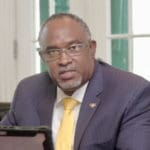 Police are looking into whether two crime scenes on St. Thomas – leaving one man badly burned, another shot and a third dead – are related. V.I. Police Commissioner Ray Martinez said at this point there's not enough proof to confirm, but there are similarities between the victims that are being investigated.
Reached by phone early Saturday, Martinez was heading into a briefing after what he described as a "bad Friday evening," but said he didn't see the incidents as indicative of another crime wave, though he did maintain that no matter what, police and the community have to remain aware and vigilant.
Separately, police also recovered Friday afternoon a decomposing body found in a shallow grave in Smith Bay on St. Thomas. Martinez said that while police have an idea of who it might be, no identification has yet been made, though he confirmed that there have been no additional missing persons reported in the past few weeks, ruling out that possibility.
4:25 p.m. – Smith Bay
Chronologically, the call about the decomposing body came into 911 first, with the resident who reported it explaining that a strong, foul odor in the area is what led them to the overgrown brush area where the grave was found. Martinez said that while the address is Smith Bay, the location was more above Red Hook, close to a residential condo community.
The body was in a trash bag, wrapped in plastic and tied with cords. Police suspect foul play and think they "have an idea of who it is," though time is needed to confirm. Martinez said VIPD teams went in to recover the body, which has been turned over to the Medical Examiner to make an official identification and determine the cause of death.
6:20 p.m. – Estate Bordeaux
Separately, callers into 911 reported being approached by a man in Estate Bordeaux who was badly burned, beaten and in need of medical attention.
"The victim ran up to someone's home requesting assistance and at that point had burns over most of his body," Martinez said. "The responding units got there and the man was taken by ambulance to the hospital where he continues to receive treatment."
The extent of his injuries kept the victim from making a statement to police Friday night, but Martinez said VIPD began to comb the area Saturday morning as part of its own investigation while waiting for more details on the condition of the victim.
10:25 p.m. – Havensight 
Another call of shots fired in Havensight around 10:25 p.m. may be related to the incident in Estate Bordeaux, though police are investigating. Officers responding to the scene found an unresponsive male in the roadway next to the portion of Al Cohen's Plaza on Havensight hill, while another male had a gunshot wound to the shoulder.
"There were numerous shots fired, and we received calls from a number of citizens and patrons of the businesses in the area," Martinez said. "Witnesses also indicated there was a dark-colored vehicle that sped from the scene so, at this point in time, our detectives are working on making that identification."
Both victims were V.I. residents. While the unresponsive male was later pronounced dead and the third treated for his wound, a fourth report, this time from a nurse at the St. Thomas hospital, came in around 10:58 p.m. about another gunshot victim who had walked in and could also be linked to the Bordeaux and Havensight cases.
Police are asking residents with information on these or any other cases to call 911, VIPD's Major Crime Unit at 340-715-5544 or Crime Stoppers USVI at 800-222-TIPS (8477).