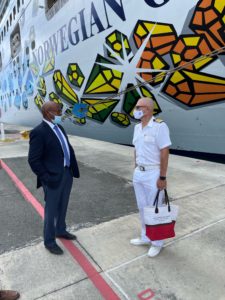 The West Indian Company welcomed the passengers and crew of the Norwegian Gem at least 30 minutes earlier than anticipated on Wednesday, according to a WICO release.
"We are extremely pleased to welcome old friends and new visitors to our port as we mark the company's return to regular activity," WICO President Anthony Ottley said in the release.
Reportedly, 1,349 fully vaccinated passengers and 1,059 crew members were onboard the first cruise ship to berth at the WICO dock in more than 500 days.
Norwegian Cruise Line recently announced a 100 percent vaccinated policy for passengers and crew, exceeding the U.S. Virgin Islands' 85 percent requirement.
Ottley presented Capt. Kim Karlsson with a USVI welcome bag at a brief and subdued outdoor event at which safety protocols were observed.
"We are living in different times, but the tradition of showing Virgin Islands hospitality and appreciation will live on regardless," USVI Commissioner of Tourism and WICO Board Chairman Joseph B. Boschulte said.
Two different V.I. government entities operate cruise ship piers in the territory: WICO and the V.I. Port Authority. The Port Authority began seeing cruise traffic in July.
There will be two cruise ships berthed at the Port Authority's Austin "Babe" Monsanto Marine Terminal in Crown Bay, St. Thomas on Thursday, marking the first two-ship day at the cruise port since the COVID-19 pandemic was declared.
The Port Authority reports it received notice Wednesday afternoon that the Celebrity Equinox has changed its itinerary and would be visiting St. Thomas Thursday. The ship was initially scheduled to visit Antigua on Thursday. But it changed its route and is now scheduled to arrive in Crown Bay Thursday at 7:15 a.m. and will depart at 6 p.m. Royal Caribbean's Allure of the Seas is also scheduled to berth in Crown Bay from 7 a.m. until 3:30 p.m.
"We welcome this unexpected visit by the Equinox. Both the Equinox and the Allure will have approximately 2,000 passengers and about 2,000 crew on board. This is fantastic news for our merchants, restaurants, taxi and tour operators, and other tourism-related businesses," said Port Authority Executive Director Carlton Dowe. "Almost all the passengers on both ships are fully vaccinated, and VIPA continues to work closely with its private and government stakeholders to ensure that all cruise visits are safe for the community and our guests."
Cruise ship schedules for the territory are posted on the seaports section of VIPA's website, www.viport.com. All schedules are subject to change.