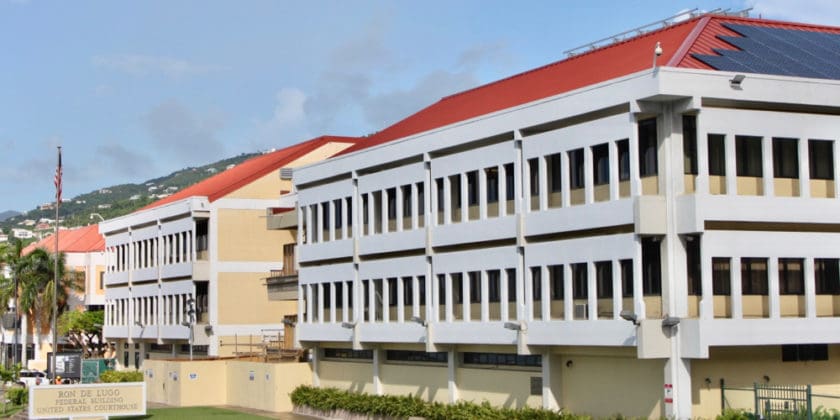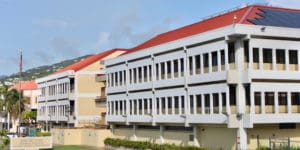 Twenty-three-year-old St. Thomas man Justin Matthews has been ordered to appear in court Sept. 24 to face charges related to a fatal shooting in the parking lot in the Market Square East shopping center.
Until then, Matthews is being held on $1 million bail in the Criminal Justice Complex on Veterans Drive. Superior Court Magistrate Judge Carolyn Hermon-Percell set bail after Matthews appeared at an initial hearing on Monday. He is charged with first-degree murder, first-degree assault, assault with a deadly weapon, reckless endangerment and possession of an unlicensed firearm.
Percell found probable cause to uphold the charges after investigators from the Virgin Islands Police Department Major Crimes Division put together details related to the shooting death of 20-year-old Keoner Baron in the parking lot outside the Home Depot hardware store in Estate Donoe. Assistant Attorney General Brenda Scales argued that Matthews posed a great danger to the community and to any witnesses in the case.
Scales also appeared at the Monday hearing, where she told Percell the defendant was also an extreme flight risk.
Percell also appointed a territorial public defender to serve as Matthew's legal counsel.
According to court documents filed in the case, witnesses told police they saw someone wearing a black face mask emerge from the bushes near the parking lot, armed with a hand gun. Baron was shot multiple times and was transported from the scene to the Roy L. Schneider Hospital, where she was pronounced dead.
Police were able to identify Matthews as a suspect when they got a description of the vehicle driven from the crime scene, according to the probable cause fact sheet filed with the court. He was arrested Sept. 5 and brought into the major crimes bureau for questioning.
Arraignment is scheduled for 10 a.m. Sept. 24.