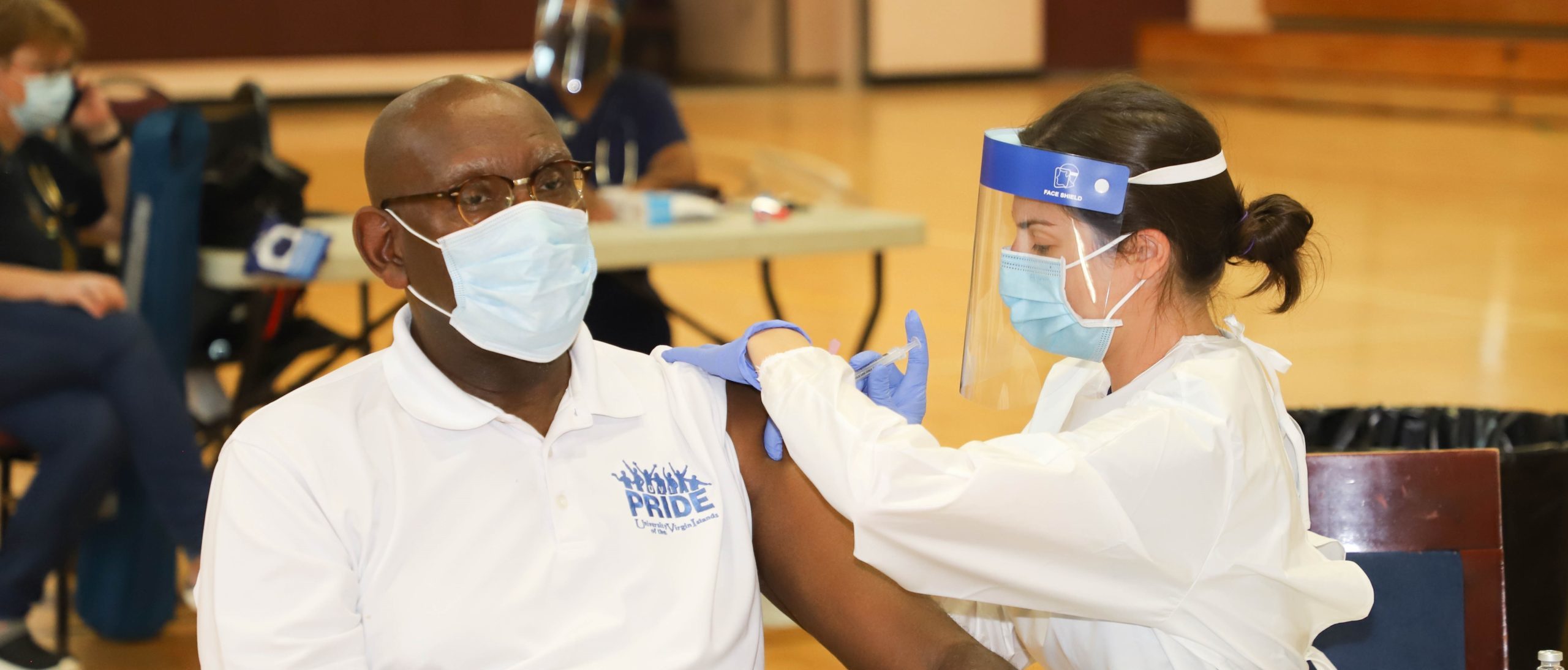 Of the hundreds of U.S. Virgin Islanders so sick with COVID-19 they were admitted to V.I. hospitals, not one – zero, none – were fully vaccinated. Of the tens of thousands of U.S. Virgin Islanders vaccinated against COVID-19, zero have been admitted to the hospital due to reactions or side effects of the vaccine.
Meanwhile, the coronavirus is spreading faster, filling up more USVI hospital beds with unvaccinated patients faster than at any time so far during this pandemic.
As of Aug. 3, 92 St. Croix COVID-19 sufferers had been admitted to Gov. Juan F. Luis Hospital with life-threatening symptoms. Of those, 30 were admitted in all of 2020 and 62 in 2021 so far, according to JFL spokeswoman Chivonne Thomas.
"I would also note that just for July 2021, we had 30 JFL hospitalizations," Thomas said in an email to the Source. Thomas confirmed that zero, none of those patients, were fully vaccinated.
The numbers – and deaths – have been much worse on St. Thomas.
As of Aug. 10, Schneider Regional Medical Center has admitted 203 patients with severe COVID-19: 99 in 2020 and 104 in 2021, according to Schneider Infection Control Coordinator Dawn Grell. None were vaccinated. The numbers are rising right now. As of Wednesday morning, Schneider had 15 COVID-positive patients, with two to three more admitted during the day.
To date, COVID-19 has killed at least 41 U.S. Virgin Islanders. None were vaccinated.
Neither Schneider nor JFL has admitted even one patient for side effects of the vaccine. There can be mild side effects, due to the body's immune system being activated by the vaccine. Some experience one or two days of nausea, stomach issues, arm soreness and fatigue. There is one report of a V.I. patient coming to the hospital for side effects, but going home without requiring admission.
Many of those infected with COVID-19 who become sick enough to require hospitalization face serious, long-term health issues. Sen. Steven Payne Sr. of St. John shared his first-hand experience during a recent committee hearing.
"I don't have the strength I had before March 8. I don't have the endurance anymore. … I almost died because of COVID. I used to snorkel all the time; three times a week. I can't snorkel anymore," Payne said at the Aug. 3 hearing, adding that his joints haven't been the same either. He said he will be going back to the doctor soon to see how much permanent damage has been done to his lungs.
There is misinformation circulating in the territory, feeding into hesitancy to take the vaccine, leading to more COVID-19 illnesses and deaths. For example, some inaccurately say that it is illegal to mandate vaccines or that V.I. hospitals are the only ones mandating vaccines.
In fact, 123 other hospitals, plus two states – New York and California – join the USVI in requiring vaccination for healthcare workers. In addition, employees at JFL are required to have several other vaccines given the sensitivity of patient care. Most public school systems throughout the nation routinely mandate students have a number of vaccines as a condition of going to school. The U.S. military requires multiple vaccinations.
Extremely rare serious effects are being exaggerated and used by some as reasons to avoid vaccination. These include the possibility of heart inflammation and of life-threatening allergic reactions. The risk from COVID-19 is vastly worse. Data so far show the odds of getting heart inflammation from COVID-19 to be about one in 50. If everyone caught coronavirus, about 2,000 U.S. Virgin Islanders would have heart inflammation. The odds of getting it from the vaccine are about one in 62,000. If everyone is vaccinated, about 1 to maybe 2 U.S. Virgin Islanders might.
Severe allergic reactions are even rarer. The Pfizer vaccine has the highest rate, at 11.1 per million, or about 1 per 100,000. That would mean that statistically if every single man, woman and child in the USVI were vaccinated, about one person might have a serious allergic reaction. Most happen within the first 15 minutes. There are zero reported fatalities.
Some residents have cited worries about long-term effects from the vaccine that may not appear for years. In fact, vaccines of all types have been extensively tested for over a century and shown to be statistically extremely unlikely to cause long-term effects. The provisionally approved COVID-19 vaccines have been extensively tested for safety already and the general type of vaccine has been studied and tested for years, with no evidence to support that worry.
COVID-19, on the other hand, has caused extensive long-term and permanent health damage to tens of millions of people, including damage to the lungs, heart, brain and liver.
More information about the delta variant of coronavirus currently circulating in the territory is available in the video below.